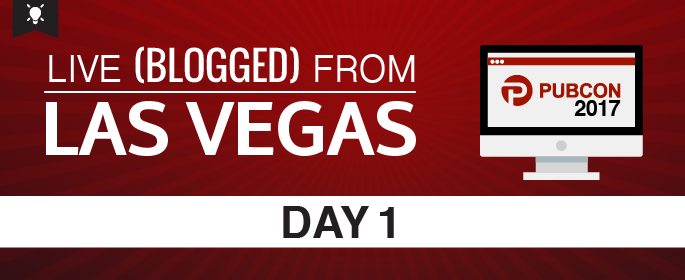 Still with us? Good! Next up we're going to talk influencer marketing with the very smart Kristina Libby and Matt Siltala. We're starting this session a little early. That's how I like it.
Up first is Kristina.
She starts by quoting Lazerfeld & Katy Theory from 1940 which found opintion leaders are most succesful in conveying an idea to people who share certain demo criteria. Krisitina performed an influencer survey to learn more about the influencers themselves — what's important to them, how do they want to work with brands, etc?
What people want to know:
How to work with influencers?
What do influencers want?
How much to pay?
Secrets to find a good deal?
Influence as Entrepreneur
"I'm a business owners and as a normal part of that, I want to pich. However, when I do, I tend to get rejected as being needy or desperate — brands only want to approach me. Why is that? "
Influencers think of themselves as entrepreneurs. So when you hire them, they want to be looked at as a business. This means they want the same acces you give your employees or other agencies. They want to hear your stories, your campaign goals, your KPIs. They need FEEDBACK from the business. Don't make them disconnected from what you're doing.
Influencers Want to Get Paid
"I make money from sponsorships — but I find this hard. There is an expectation that I'll do this work for free. They don't see how difficult this is for bloggers. This is my business. This is how I make money."
Kristin says that people are spending anywhere from $800 – $2,500 to mantain their influencer brand.
Influencer Pricing
Set a fixed price in your mind before approaching an influencer based on business impact. In 72% of cases this price ends up being the final price.
Influencers Have No Data
…and they know this.  The questions you need to be asking:
Do you have any successful case studies?
Do you have any sales data showing your ability to convert followers to customers?
Do you have any data showing your ability to increase engagement rates and conversion for products in our category?
What has performed best for you in the past?
Can you share testimonial data?
Remember Local
"In Seattle when fashion influencers see success, often times they will leave and move to NY or LA, respectively. I personally wouldn't move. The competition becomes much harder and it becomes a numbers game. You don't stand out."
For brands looking to drive local penetration, these local bloggers cost substantially less and are hyper-targeted. Look for small cities likes Nasville, Miami, Seattle, etc.
Influencers View Succes in Physical Products
Influencers think other influencers have "made it" when they have physical product for sale. Companies in the US are cashing in on helping influencers manage supply chain and create brands.
The Next Wave: B2B Influencers
Focusing on creating internal social media programs to grow influencers can help you retain greater control, authentiicy and development of influencer engagements. With enough budget and marketing smarts, you can build your own social influencer. Taking 10% of influencer marketing budget results in long term gains for you and your brand.
Next up is Mat Siltala. 
Mat started a company called Viola. Before the company launched, Mat created relationships with influencers to take advantage of their reach. Before they even launched, they were averaging $80,000/month in sales. Influencer marketing works.
There are all different levels of influencer marketing. Mat shares an example of how his recommendation of a local waste removal company helped them to quickly get new customers. He might not be Michael Jordan, but that's influence. Understanding your industry and the level of industry you need. It's not the platform that matters, it's the engagement you can get.
He shares a number of influencers through time -and how they've evolved (or devolved).
The Stats
1.86 billion users on Facebook
600 million Instagram users
84% of marketers say they plan on launching one influencer campaign in the next 12 months
Nearly half of online consumers use ad blocking (47%)
How are brands responding? By getting the beloved personalities and thought leaders of today's social platforms to tell their fans and followers what andwhen to buy.
Benefits of Influencer Marketing
Credibility
Social proof
Let real people tell your story
Trust
Those influence have curated their audienc
Mat says livestreaming influencers will become more of a thing and to put more focus on influencer strategy.
He encourages us to ask ourselves whether we're shooting too high. You don't need a Michael Jordan. You just need someone with an engaged audience.  Select people who are on brand for you.
Case Study: BlendTec
Created list of relevant influencer lists
Compiled their media kits
Choose compenstation (free product, cash or both)
Decide which influencers to approach
Partnered with influencers with 20-100k followers and one with 1 million+
Mat says not to use influencer marketing as your only strategy.
Important: If the influencer has sketchy views or opinions or has a tendency to be scandalous, you have to prepared to answer FOR them on behalf of your brand.  If you can't talk an influencer down to a reasonable rate, say goodbye and find another one. Don't be afraid to negotiate. Watch out for disingenuous followers.
Tools He Uses:
Demographics Pro
Social Edge
LocalFluence
Wooly
Collabor8