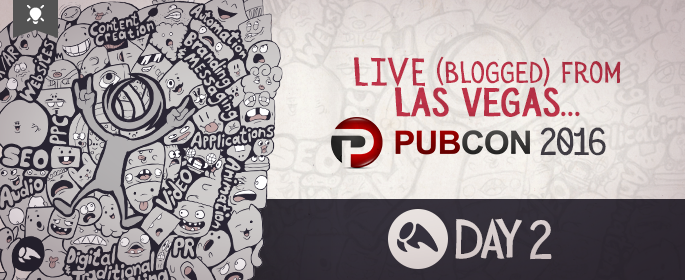 How many of us go through our inbox inbox first thing in the morning? Most of us.
How many times do we check our phones throughout the day? 200 times.
We're interrupted at work every 3 minutes, and it takes us 23 minutes to refocus.
Debra Jasper challenges us. It's easy for us to get a message out. It's hard to get a message in. We need people to slow down and tune in to what we have to say. This requires a passion for storytelling.
We warm up by discussing new technology that's cool. She likes Magic Leap.

But, anyway. There is so much information in marketing right now that is incredibly complex. The challenge is to get executives and peers to understand the value of what we're doing, and boil it down to what you need to share.
People are tuning in to the informal these days. We need to recognize this. Warren Buffett does.
Warren is in the house.

— Warren Buffett (@WarrenBuffett) May 2, 2013
See Mercedes-Benz's response to getting trolled on Twitter.
Mercedes-Benz Smart Car The Poop Tweet from Steven Tapia – Motion Designer on Vimeo.
We're all in the P2P space. Person to person. People are your brand. In terms of being human, humans have the advantage.
We're up against so much information, shorter attention spans, and the need to communicate via multiple methods, devices, screen sizes, etc.
Debra wants us to know what the backchannel is and how it works. She says you have to break it down, not dumb it down. Your audience has an audience. They may be tweeting, or posting. Whoever you're talking to can tune you out, or they can take you out. It's a #GameOn world. You can embrace this backchannel of information – the conversations going on.
Can't miss example from this keynote? The #GiveGregTheHoliday story.
McDonald's showed we might be living in a post-hashtag world when it succeeded in giving away everything advertised during the Super Bowl via social media, all without a hashtag.
Today, we're taking an incredible amount of photos. Logan Paul's Vine videos have been viewed 4B+ times. The power of visual storytelling has taken off tremendously. We need to adjust how we're presenting information to audiences we need to engage.
Pro tip: Think short, organized and skimmable when writing your emails. No one's reading your wall of text, or getting to your request at the bottom.
Bold what's important. Break out into lists. Don't use more than 3 three-syllable words per paragraph. We're not puzzling through big paragraphs any more. Think ARC: Action, Recommendation, Context.
Take your email text or website text and bring it over to readabilityscore.com. You want to score a 65.
Write like you talk.
Have a colleague that's a bit wordy? Struggled with too-wordy websites? Want a laugh? You have to watch the video in this post.
A lot of how you communicate is how you design your presentation. Too often, we focus on verbal (or written) delivery, but not the visual part of the delivery.
Make charts bigger, bolder. Hit hard on the key points. Make sure your key points are clear and given proper emphasis.
Side note: Debra Jasper has 353 slides in her 50-minute presentation. Whoa. She says slides are free. Use more slides. Use 80 point type when you're presenting (seriously!) A well-designed presentation can elevate an average speaker. But remember slides aren't handouts. Summarize your content in a more appropriate format when you're giving handouts.
Communication styles are changing.
If you think things are moving fast now, consider this: 92% of U.S. toddlers have an online presence, with digital footprints going back to while they were in the womb. Brains are changing. When it comes to vision, Gen Z have the hardest time reading black text on a white background (… you know, like a book).