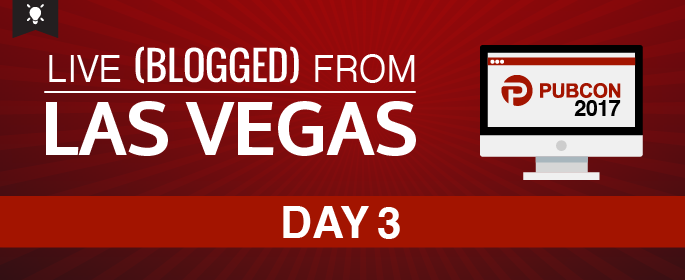 From an Iron Man Breakfast straight into our morning keynote! I'm pretty excited about this. Keynoting this morning is Lee Odden of Top Rank Marketing. Lee is the ultimate gentlemen of marketing and of my favorite friendly faces. I'm excited to see him on stage and hear what he has to say.
Lee says he has history with Pubcon. He shows pictures from the old days which show he's been here for awhile. He happens to include a phot of the two of us from way back at SES New York.
Lee says he makes a living via content marketing. Content is optimized, socialized, publicized, advertised, influencer activated and integrated. A lot of people are just making content. They've forgotten the marketing of the content. He's thoughtful about bringing that together. He operationalizes integration.
He's very proud of his company's client portfolio. One of the things he enjoys most is investing in his people to help them become the best they can be as individuals and as a collective. There's so much focus on ME in marketing. Your busines, your marketing, etc. When you have huge goals to achieve, it's hard to accomplish those all on your own, with only with the resources you have at hand. WE is so much bigger and more impactful. That's a simple transition but it's one he made years ago.
He wanted to grow his business but he had no resources, He had to stand out. He thought, how about if I connect with people who are already in a position of influence? To become better known and trusted, how about if I co-create content with people who are already there? He had done interviews with search marketing people for quite awhile on his blog. He thought, okay, I'll do that again. He thought he was being clever asking keyword-rich questions to get keyword-rich answers. He thought he was being really smart. But when you send someone an email with a 10 question inteview in it, nobody replies. Especially if they don't know who you are.
Let's talk about participation marketing
6 Marketing Nightmares
Ad blockers
Data overload
Google hates SEO
Buyers don't trust ads
Content doesn't scale
Organic social is dead
What about PR, does it still work? It's a different dynamic. The effect is being felt in traditional publications. BuzzFeed has eclipsed New York Times in traffic. We're in a post-trust, post-truth era of news. The way consumers consume information has changed. Information sources have changed, the news cycle is shortened, brands are now publishers. Brands dont have to rely so much on publications anymore. They now have the permission and access to communicate with customers directly. If you want to be in the media, become the media.
Brands have answered the call for content. PR people are now expected to deliver marketing outcomes. They are expected to contribute to lead generation. Content isn't king, it's the kingdom. We're creating more and more content. The solution to that is this intersection of marketing and PR. It's called integrated marketing communications.
We have a quesiton to answer – is it going to be me/your 10 person marketing department or is it going to be of the many. Is it about about the we? He challenges us to think about the we.
Participation marketing is a confluence of content marketing, UGC, employee advocacy and influencer marketing. It's all those things. It's democratization of content. Benefits of crowdsourcing content is more authentic voices, variety, it's more trusted, it scales better.
If you want your content o be great, invite your community to particiate. That includes your employees, members of the media, industry influencers, prospective customers, etc. Imagine making content with the people that you are trying to sell to. He's been doing that 6 or 7 years and it works amazingly.
Collaboration Comunity: HitRECord. Started by Joe Gordon Levitt.
iFunny: 100% UGC. 10 million users, 3 million active daily, 300 million views/day, average 1.1 minute per post. It costs them NOTHING to make the content but the resources.
Create contest that drive content where mutual exposure drives mutual succcess
Collaborate with prospective customers and influencers in episodic content
Parter with major influencers that share your cause to CO-CREATE content and PR
Types of influencers to use: subject matter experts, industry experts, microinfluencers (niche influencers).
Everyone is influential about something. We are all empowered to publish and to communicate our passions and to attract likeminded individuals. We are all influential to our peers, coworkers and family. That holistic view is the way forward. The cool think about working with influeners is they deliver value across the entire customer lifestyle.
$9.60 EMV for every $1 spent.
content created with influencers had a 10x increae in converstion rates
content created with influences delivers a 37% higher retention rate
5 Keys to Success
Story planning: In search, you have to do KW research so you have an idea of what the demand is for the topics. The same thing needs to happen in social media and influencer identification. Data-informed storytelling is what we have found to be most successful. Use social media data, CRM data, KW research, web analytics, etc. It should inform the story you need to tell to your customers across the customer journey. What do they need to know to lead them from one part of the conversion funnel to the next?
Activate your content participants: Don't reach out to people only when you need something. Think about what you can do in the inbetween moments to keep the love alive.
Co-Creation: What kind of content can you co-create? video interviews, written intervies, contests, surveys, blog poss, ebooks, webinars, email campaign, social content, expert resources, testimonials, case studies, newsletters, infographics, in-person events, etc.
Amplify content: What's the point of creating great content if no one can find it and no one can interact with it. ID specific influencers who are most relevant. Make sure they align topically with the search keyword.
Performance optimization: Is the influencer good to work with? If they're an ass, it doesn't make sense to work with them. How is what they're doing helping you to acheive your goals? If the influencer is doing great, but the community is not reacting, what's the point? They'r really not that influential, are they?
Why influencers? Influencers are liked, they are focused, they favored by Google, they are trusted, they can make content, and influencers create the kind of signals that social platforms reward.