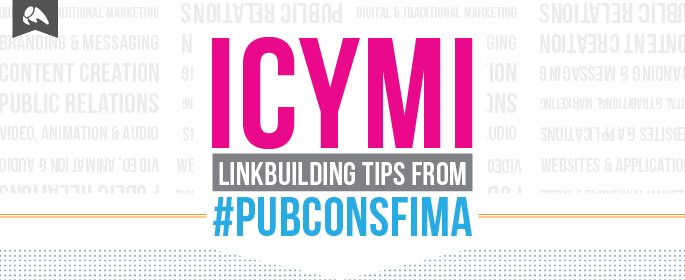 February 24, I escaped the… okay, unusually sunny winter weather of upstate NY… to speak at Pubcon SFIMA (South Florida Interactive Marketing Association) Summit 2016. Speaking on the "Linkbuilding 2016" with Kyle Olson from Third Coast Media, we covered some of the issues linkbuilders have to navigate this year.
I touched on the importance of not just more links, but quality links.
First, Some History
It's always difficult to talk about where we are or where we're going without covering where we've been. The last few years have been fraught with changes to the linkbuilding landscape, particularly with multiple iterations of Penguin updates. Penguin updates have changed the game, turning short-cut tactics that once worked into a recipe for disaster. With update-related wreckage behind us and a new iteration on the horizon, there is continued reason for caution.
However, throughout all of the changes, links remain a leading factor in Google's determination of which websites should occupy the top organic space for any search. It's still as important as ever to get back links. It's just more important than ever to focus on quality.
Linkbuilding Opportunities: What To Look For & Avoid
So how do we know a quality linkbuilding opportunity when we see it? There are a lot of red flag factors to look out for and avoid. Some of the key ones are:
Overly Optimized Anchor Text
When it comes to links, there can be too much of a good thing. Too many links with keyword-based anchor text may tip the scales against you.
Poor Co-Citation
You are only as good as the company you keep and if the other links on the page, or even the site, around you are low quality sites, that's not good for you. In addition, if a site linking to you has an overabundance of external links bearing keyword anchor text (see above) that can be a bad sign too.
No Relevance
Not every site linking to you needs to be dead-on in terms of relevance. However, the more you stray outside of a general theme the more the links become questionable in terms of authenticity and value.
So how do you tell if a site is worth having a link from?
The first question I always ask is: Would a real person EVER use this site?
If you're thinking "No," then you already have your answer. If it's a "Maybe," then, no. Still no. Use this measure to eliminate the bad pages. If it's a "yes, a human would use this site," then you can continue vetting out if this is a good placement for you.
Getting Better Links
With a little perspective on what not to do, there's a whole wide world of what to do instead.
There are so many different kinds of content, from whitepapers and ebooks to videos, calculators and quizzes about what color your Aura was in a past life based on how your friends behave at parties.
Ok, I'm stretching but we've all seen the clickbait in our streams. Aim for better content than that.
The idea is to create content that is compelling by knowing your audience and understanding what matters to them. Whether we're getting them to share an article via social media or to share it through a link on a web page, the driving sentiment is the same. We need to convince web users that what we have to offer is of enough value, be it educational, entertainment or otherwise, that it's worth endorsing. That starts in the creation phase. From there it extends to the manner of promotion, and using the right approach for the right channel. Whether it's social media, press coverage or direct outreach, the conversion rate depends on the foundation laid in creation and getting the approach right for the target.
The truth is, content marketing is link building by a different name. There may be more goals based around brand awareness, click-through or other non-link based metrics, but a link can be a great result that stems from good quality content.
My Other Half
For the rest of the panel, Kyle Olson dug into the ins and outs of using PR strategies to acquire high authority links on major publications. Some of my key takeaways from his presentation:
Never skimp on research. The groundwork you lay now is the path to future opportunities.
Don't get "stuck" when it comes to relevant, there's a cross section between what you do and what people are interested in. Find it.
Your network is your greatest asset. Relationship building is always worth the effort even when it doesn't provide direct, immediate results.
@BecauseSEO sharing his #SecretSauce on all thinks #LinkBuilding #PubconSFIMA #SFIMASummit pic.twitter.com/ATXObhiAgc

— Suzy Andaya-Gomez (@SusetteAG) February 25, 2016
For the rest, you'll want to follow Kyle.
Highlights of the Keynote
As a bonus here are a few of my favorite quotes from the Keynote address by Scott Stratten from Unmarketing:
"Sometimes, if not most of the time, marketing, branding and somewhat sales is out of your control."
"What people say in response to your brand, is what your brand is."
"You don't tell the story, your customer does. You just try to influence it."
"People spread emotion. If you evoke it, they will spread it."
"Everybody plays a part. Everybody in your company is the brand."
"Integrity is not a renewable resource."
If this kind of stuff is your thing, then you have more chances to be a part of Pubcon this year. Next up is Pubcon Austin in May, and then the ever-epic Pubcon Vegas in October. Hope to see you there!