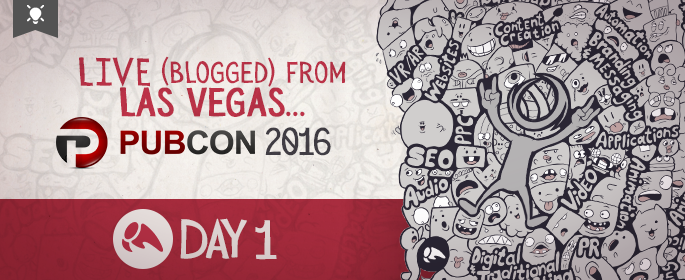 Search is just one damned thing after another.
It's easy to feel like that, says Dixon Jones, marketing director of Majestic SEO. But it's not actually true. It's the same damn thing, over and over again.
It's links.
There is so much information in a link. Links involve content, reach, influence, power, meaning, context, passion, intent, relevance… Links are connections.
Dixon Jones was here last year talking about whether we should be measuring the power of links to every page versus chasing links to a complete entity as a whole. There was new(ish) research from Google's Research Blog – Teaching Machines To Read Between The Lines. We're seeing how Google is evolving its definition of authority.
He used to worry about ranking for SEO. Now he has to worry about ranking for Majestic. Majestic Wine is much, much bigger than Majestic SEO. Google's starting to figure out that Majestic Athletic is relevant to certain audiences, too.
All the sudden, his world is about gaining credibility for his entity, Majestic.
Our question as marketers: how do we get credibility for our entity or concept in the wide world of Google? #pubcon @Dixon_Jones @Majestic

— Kelcey Piper (@kelceypiper) October 11, 2016
We have to understand these points:
We used to need to get links from quality pages to our websites
Now, we must become an entity, and get links from entity data sources
Let's think more about building links to entities and concepts, not page by page. @Dixon_Jones #pubcon

— Kevin Wagstaff (@ColoradoSEOguy) October 11, 2016
How do we find entity link sources? You can't use Freebase anymore since it closed done. However, developers.google.com/freebase has tons of data still available. That's the last known data set Google was using that tells us what it thinks about entities.
Dixon wants you to try to get into Wikipedia. Do NOT screw this up. Look at all the edits on competitor sites already listed to see how editors have removed words like "best" or otherwise screwed up the listings. When you're entering the Wikipedia world, use an expert, or start by learning before you get too involved.
Get the entity fundamentals right – Get on Wikipedia and Wikidata @Dixon_Jones #pubcon — Kevin Wagstaff (@ColoradoSEOguy) October 11, 2016
WikiData is the new Wikipedia. Once you're in there, you've got an entity. And eventually, you'll get picked up by Google. Don't build links just to your site, build authority to underlying assets such as your Wikipedia pages. W3C has a list of data sources, and LinkedData.org provides interesting information, as well. But… which are Google's data sources? We don't know for sure. Their reconcilable data sources had been moved to Github, and we can't be sure which sources are current.
Try to find data sources Google uses in YOUR ecosystem. It's challenging, but it's super important. @Dixon_Jones #pubcon

— Timothy Mummycutt 🎃 (@timothuney) October 11, 2016
Then, once you are an Entity, develop schema. Connect the dots and links of your presence. This work completes the Graph for Google, but it really isn't fast. Some schema works faster than others.
Dixon wants us to make sure we know entities are the new link directories. Entities require TLC to develop into robust concepts. You have to be the only "Majestic" as it relates to search. Developing entities requires effort, but even small businesses and ideas can get in on this process. You don't have to be big – you just have to be the one known by Google.
Dixon's recap: Get into Wikipedia. Expand using WikiData. Develop usign Schema. Find other Entity Data sources used by Google. And finally, get links from sources those sources if you can't be the source.
Next up, Loren Baker.
Loren's been doing this for 18 years, and he's always considered content a key part of linkbuilding. If your content rises to the top, people are going to keep finding it. And linking to it. And linking to it. And linking to it.
"Content serves many masters." You can determine content themes that support your your goals (think SEO, think social, think PR and outreach). And you must use data to support your tactics and direction. When starting a campaign, Loren starts by writing Google searches to see what searches autopopulate. What are other people searching for? What are the long tail keywords? Google gives you a ton of information, easily.
He reminds us that, as we're examining our keywords and our linkbuilding strategies, we're not just looking to build links for authority, we're still looking to build links for traffic. Don't forget that part.
We can research things such as what kind of content Google is serving (rich, answers, normal, video, etc), the sites Google is serving, the relevant topic matter people are searching for, and more. With this information, we can develop the content that people want – ebooks, blog posts, infographics. We can use the same topic to feed multiple types of content.
A good, strong piece of content can get broken down into a myriad of other content pieces. @lorenbaker #pubcon — Timothy Mummycutt 🎃 (@timothuney) October 11, 2016
But we have to make sure to see what types of content people actually want to see. What's getting shared? What's getting linked to? Align your content production with that. And reference the links you've seen when you conduct your outreach to connect the dots and reiterate why your link is relevant.
He also advises us to look for competitive intelligence – look at co-citation links. Find out where your competitors are being linked to and from. Find out what sites have equity that would be beneficial to be linked from. Google News search results for words like "Infographics" to find where people share them.
He wants you to work with PR to make sure you leverage PR coverage for linkbuilding purposes. Don't waste opportunities to connect the dots between your marketing tactics.
Use proprietary data. Be the source. When you own the data, people will link back to you when they cite it. Data you can provide is critical.
Work with EXPERTS that can contribute value & authority to your content @lorenbaker #pubcon

— Irma Hunkeler (@irmahunkeler) October 11, 2016
And remember that email lists can be your best friend. Get in front of influencers who are going to be interested in your content, so your content might be picked up.
Loren reminds us to help the sites that link to you!
Finally, monitor links you've acquired – and pay attention to notice if they disappear. Raven Tools and Majestic are both great for this process. In addition, keep a shared spreadsheet of your contacts and influencers. Monitor their feedback, from whether they're friends to if they said, "I'm never linking to you. Don't contact me again." Pay attention to links that have been built to pages that have moved. Take the lead role in site migrations. This isn't just a PageRank thing – this is a site performance issue, as well. If you can change the links, do so – that's better, in Loren's opinion, than just relying on 301 redirects.