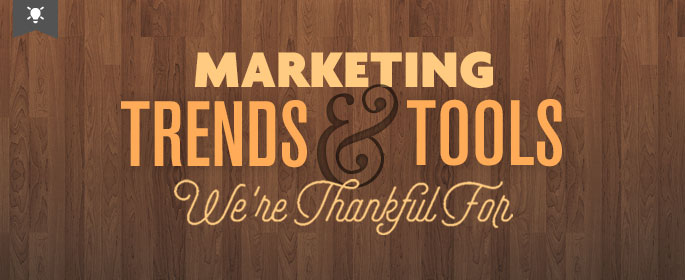 In light of the holiday season, we're sharing some of the trends and tools that our team is thankful for. Whether they help us improve our skills or make us better marketers, more creative, more efficient or happier, we all rely on a few tools to propel us through our day and allow us to create really cool stuff for our company and clients.
We asked members of our team to share what tools impact their work, with a few notable trends they're thankful for as well.
Account Management: Our Account Managers are the main vein between the creative departments at Overit and our clients. Beyond being responsible for facilitating communication, staying on top of client industries and ensuring expectations are understood and achieved, they bring to the table plenty of marketing insights and strategic direction.
Our director of account services, Arte Levy, uses Slideshare to uncover topics, trends and data sources to inform further research. He also finds a few Chrome browser extensions useful, including Colorzilla, Awesome Screenshot: Capture & Annotate, and Page Ruler.
Public Relations:
Our PR team works in a fast-paced industry, keeping up with press conversations across print and digital publications. PR manager Alison Krawczyk is thankful that Google Drive, and Spreadsheets in particular, has come into her life. Before, media lists were managed in Excel. Any time that reporters left their publication or changed beats, the Excel file would have to be updated, and then sent out to the rest of the team that was working from that file. Now, updates are easy to make, right in one place where the entire team can access it.
SEO & PPC: Search engine optimization serves a pretty important function for your website – getting it found. Our SEO analyst, Jaimyn Chang, loves to research SEO by studying competitor backlink strategies. One of the most useful websites he's found for this tactic is Ahrefs.com. Using the site, he can see social shares for almost every link, whether it's hidden, an image or text.
Tim Jensen, director of web strategy, has found Google Tag manager incredibly helpful over the past year. In short, it helps him save time in setting up complex tracking and reduces the need for extra involvement from development.
He's also grateful for participants in #ppcchat on Twitter, where he learns from others in the industry and can also often get better, faster help than from official support channels when he has questions.
Design: Good design is essential for creating user-friendly and visually-stunning websites, print pieces, applications and more. To get the creative juices flowing, our art director, Patrick Branigan, relies on his headphones to crank out the good tunes.
[For Patrick, good tunes can be described as "primarily the genres of dance, progressive house, deep house, progressive trance, ambient, cosmic down-tempo, experimental electro, and the occasional trap tune delivered in the context of the electronic arena post '06 (not to be confused with Trap popularized and reflected in pre '05 commercial hip hop and 'dirty south' production)." You dig?]
Or, when he's writing, he'll turn to Noisli for customizable background sound.
Patrick's also fond of InVision, a prototyping and collaboration tool that streamlines work flows, allowing for interaction, discussion and revision between creatives and clients. It also acts as a really great tool for presenting low-to high-fidelity mock ups to clients or other creatives. Brackets, an open-source text editor, is another tool he's using to practice his knowledge of HTML and CSS. He also follows the advice of CSS Guidelines when writing and testing his CSS.
Outside of design, Patrick is a big fan of Grooveshark for music streaming, Medium for informative and inspiring writing, and A Book Apart for reading up on a variety of creative topics.
Development: Our 'Devs' are the engineers of the website universe. They take a problem, and turn it into a solution, building the functionality your website needs with user experience at its center. One of our developers, Luis Ortiz, is thankful for the push towards web standards and open source software, "one big gift with many individual gifts within," he says. He's also grateful that software from the "browser wars" is generally under the one-percent level (not sure what that means?).
Another Overit developer, Ethan Georgi, says his tool of choice is whiskey. Cheers!
Motion: Our motion team members are the creative behind planning and producing stimulating visual effects. From 2D and 3D animations to live-action videos, graphics and more, they work to bring your brand to life. Nick Hansen, our lead motion director, attributes music to being the only tool that has transcended his artistic career, and one that is definitely a necessity.
Content: Ah, the department I call home. Content is all about providing valuable information to build a trusting relationship with your audience to become the go-to resource for your industry or niche. Doing so increases interactions with your site, positive social impressions, conversions and more.
Our VP of strategy, Lisa Barone, is thankful businesses are waking up to the importance of making content and SEO part of the larger marketing process. Content has become more than just the words on the page. It's the strategy for the rest of your site. For specific tools, Lisa uses BuzzSumo as an effective content and outreach tool, allowing her to analyze content performance and social shares. Another favorite of hers is Coffitivity (aka productivity magic). It mimics the sounds of an ambient café, so it feels like you're working from your favorite coffee shop, wherever you are.
We've all got our tricks and tools – our team is always looking for new ways to be more productive and creative (and new trends to watch) so please feel free to share your own tools or favorite trends! in the comments below.