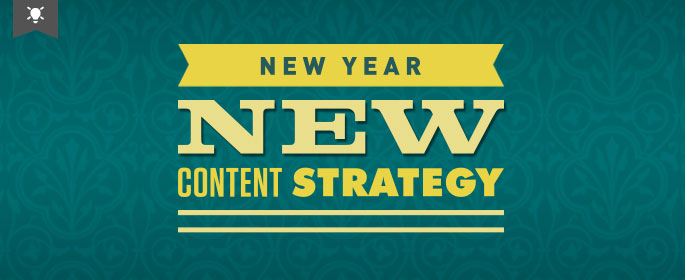 We're down to just two weeks left in 2014. Did your content help you hit goals this year? Raise brand awareness, start conversations with your audience, boost interest in your products or services? Based on a search of content marketing and 2015 and the plethora of trend prediction posts out there, everyone's still expecting content to play a huge role next year.
And it absolutely will. Content – your website content, your content marketing pieces, your social media posts – is a tremendous opportunity to not only raise awareness of your brand, but get people to trust you, as well.
As the year wraps up, here are a few things you should do to make sure you're prepared to successfully create and promote your content in 2015.
Audit Your Existing Website Content
Remember, content isn't just your content marketing pieces (your ebooks, videos, infographics, etc.). Start the year by:
Dusting off any statistics that are beginning to appear dated. Stats from 2012 and 2013 aren't going to interest visitors who read your website content in 2015. Those stats show what was true then, but what's true now?
Removing references to "# of years ago." Revise any mentions of how many years you, your business or your colleagues have been doing a particular service or responsibility, and consider restructuring sentences to refer to specific start years. For instance, instead of a bio saying, "I've been a web developer for more than eight years," say "I've been a web developer since 2006." Instead of saying "We've been in business for 23 years," say, "Our work began in 1992." This restructuring eliminates any needs for future updates.
Replacing content that no longer applies to your core mission. You have a limited amount of time to tell your website visitor the story you want to tell. Make sure you're revising your key calls-to-action and headlines with the messages they need to hear right now.
Revising or removing inaccurate content. This may seem like a given, but if something has changed (your address, your product line, your tagline, etc.), make sure it's updated everywhere it is mentioned on your site. Sure, you probably see your homepage pretty often, but when was the last time you read every single page of your website? You may have forgotten an update or two.
People are coming to your website (and/or reading your brochures) to learn about what you can offer them. Don't throw them off that path with out-of-date information that hinders rather than helps.
Use Your Data to Review Your Content
There is so much you can learn from the data you have available to you. Dig into the numbers and patterns. Review:
Website data: What pages were the most visited? Why (and were those most-visited pages the ones you meant to be driving people toward)? What sources led your website visitor there? What content was being seen but proved to be ineffective? What content wasn't being reached at all? Your website analytics are a treasure trove of information that you should be paying attention to at all times. At the end of the year, look back over the past 12-24 months and identify trends. Find out when traffic to your site was at its highest, and what your visitors were doing then. Figure out when your site's engagement was at its lowest, and compare it to your business plan (did it mirror your anticipated slow period? What can you do to capture people's attention at that time next year?).
But remember, traffic is hardly an ideal measurement of website effectiveness. More importantly, identify who is visiting your website, and if those are the people you want visiting your site in the future. Don't start off 2015 by having content on your website attracting people who don't want your service, can't afford your product and/or will never convert.
Social data: You've just spent the past 12 months posting on Twitter 8x a day, Facebook 1x a day, LinkedIn 3x a week (or something like that). After all that effort, what's worked the best for you? What could you devote more time to, and less time to? If you're like most companies, your social media activity is bound to be a little slower during the holidays. Use this time to figure out what you should be doing next year. Data is available to help you make educated decisions. Look at where you've gotten the most engagement and the most feedback. See what posts from which platforms are starting conversations and brand awareness or driving people to your website effectively, and see how frequently that is occurring.
Online advertising data: There is so much to be learned here, regardless of which advertising methods you've used (display, search, video, social media, etc.). Review the data associated with your online advertising campaigns to identify what ad messaging was most effective. What ads led people to want to learn more about your brand? What led to more calls, sign-ups, sales or whatever you define as a conversion?
The amount of data available to help you understand the strengths and weaknesses of your marketing in 2014 is astounding, but only if you've set your campaigns up to be tracked appropriately. If you haven't, make sure you start capturing that data now. Set up Google Analytics, learn about how to add custom campaign parameters to URLs to signify particular sources and explore your social platforms' analytics tools (such as Facebook's Page Insights) so you can be informed in 2015 about the strengths and weaknesses of your marketing campaigns.
Revisit Your Content Marketing Idea List
Did you kick off 2014 with a content brainstorm? Create a list of 100+ ideas that you'd only have the time and resources to finish 15 of?
…Dare I suggest you throw that list out?
Okay, maybe don't throw it away in a place you'll never, ever retrieve it. But right now, wipe the slate clean. The ideas you thought would help your audience a year ago may or may not help them today. They may have since figured out that how-to on their own, your competitor may have created the exact same idea while it sat on your list, what was new and exciting a year ago may have been played and overhyped in the 12 months since.
So, start fresh. Ask yourself:
What can I offer my audience right now?
What questions does my audience have, and how can I proactively answer those questions?
What is my audience looking for, and how can I be a resource?
What creative resources do I have access to right now (writers, illustrators, designers, videographers…)?
What is my marketing budget for 2015, and how can I make the most of it?
What are my goals for 2015, and how can I outline an editorial calendar to make sure I'm prepared to achieve those goals?
Then, have that creative brainstorm. Bring in individuals from throughout your company who experience different interactions with potential customers and current customers, as well as those responsible for the development of your products and services. Your employees bring different perspectives to the table. Embrace that, learn from them and figure out how to best turn those ideas and their knowledge into shareable content.
Create Your Content Strategy
You can have all the ideas in the world, but if you don't have a plan, they won't ever make it off your brainstorming list. Create an editorial calendar that outlines not only the timeline for each piece you wish to create, but outlines all individuals who are responsible for your content creation, as well as its promotion. Break down each step and responsibility so that your calendar is immediately actionable.
Things happen and the plan may change, but preparing for your initial deliverables now will help you hit the ground running in 2015.
We could go on talking about your content strategy all day – what are you doing to prepare for 2015?