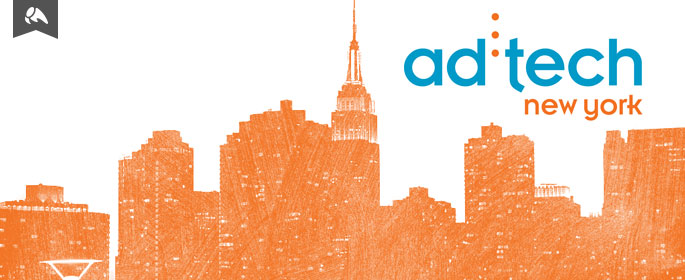 And we are back from lunch and back in sessions. Was your lunch as delicious as ours? I hope so.
Historically, it has been common practice to outsource development, bookkeeping, HR and much more for ecommerce companies, now witness the rise of outsourcing marketing so that you can focus on what is most important, your product.
In this session we'll look at:
Identifying when outsourcing marketing is right for you.
Collaborating with an outsourced marketing team.
Distinguishing the pros and cons that arise with outsourcing your marketing.
Our speakers today are Erik Huberman (Hawke Media) and Lizzie Alberga (Evite).
Erik starts off by asking Lizzie a question: What success have you had outsourcing tasks? Where has it benefited you? 
Lizzie breaks out some top benefits:
You're gonna get five experts at an agency. That's helpful. It's especially helpful when you don't know what channel will work for you. For example, her team had no experience in affiliate marketing, but Erik's team did. So they hired Erik's team. That helped them negotiate with networks and accelerate the learning curve for affiliate marketing.
The cost value of having many experiences.
Quicker learning
Cross-client learning. Lizzie is in the invite bubble. When you go to an agency, they have several clients. They can share what's working for those people and what you can expect to see in terms of cost.
Out of the box thinking
Erik says working with an agency also gives you access to early testing. As an agency, he gets advanced access to networks and gets to be an early adopter. An agency can take that head start and use it to benefit their clients.
What parts of your marketing are you comfortable outsourcing? 
Lizzie: Generally you outsource things you can measure, are self-contained and are not core parts of your product. For her, that's SEM, affiliate marketing or anything that is early stage. When they first started doing content marketing, they outsourced it as a way to learn. They outsource public relations.
Things they don't outsource: Email marketing, because it's a core part of their business. That's a choice. They also don't think you should outsource social media. Social media is the tone of your brand. It's your pulse and its opportunistic. You're talking to your customers all the time. That's how you get feedback. You can control your brand message and how people perceive you. If that doesn't come from your internal team, can an external team really put its best foot forward? When they outsourced their social media it didn't go well.
Erik agrees that companies shouldn't outsource social media. An agency is more expensive than hiring an in-house person. You're much better off hiring a savvy young person. It doesn't have to be the only thing they do, but they should be doing it. [I don't totally disagree that social media is done better internally, but you can get the social media strategy from an agency for your team to execute. That often works best. Gives you the smarts, while using your own manpower]
If there is any channel you don't have any expertise on at all, it's a good idea to go externally to see if someone can test it for you temporarily. Don't sign a one year contract, but test it. If you see return, and think you can do it better, take it back and do it in-house. She recommends learning from an agency, but then bringing it in internally if you think it will become a core part of your business. I'm sure the agency folk in the room appreciated that. 😉
What problems may arise when outsourcing? 
Lizzie: One of the cons is you have to be more organized and better at communication. You obviously want the type of information that, if you decided to get rid of the agency, you need the internal knowledge of what your metrics are, what you've been doing and what's worked. You have to be very organized with your reports and your followup, and that your agency is giving you your weekly recaps. That's really important.
It also takes really good communication. People undervalue the benefit of sitting in a room with someone. You're more plugged into what's going on. An agency doesn't get any of that. You have to be really deliberate about your communication. If one of your products is sold out, you need to tell your agency.
Another potential con is if you have an external person who needs to work across your departments. It gets tough to have that external person be included at the same rate. People internally tend to not respond to someone externally as much they would a coworker. Erik says hiring an agency is like hiring internally. You need to make sure it's a culture fit. Get on a Google Hangout, introduce yourself and make yourself friends to allow more seamless working. Frame the agency as a learning opportunity and a partnership, not that someone internally is going to lose their job.
What to look for when outsourcing:
When you look for an agency, interview them like you would a candidate. What skills do they have? What are their specialties? Are they a culture fit with your organization? Your agency should make you more efficient. Are they willing to jump on the phone when you need to jump on the phone? What technology do they have that you can leverage? Are they flexible? She won't sign anything longer than a 3 month commitment. Another thing to look for is does that agency have other clients "like you"?
If someone makes you sign a long contract, ask why. Don't get locked into year-long contracts for no reason. Get references to see what their retention is. Don't get references from the company, itself. We all have those three references we can pull from nowhere. Find people you know using that agency and ask them. If you get any red flags early on, leave. The beginning is when people are on their best behavior.
Hmm, a lot to follow up on in future posts for me. What are your thoughts?
Should social media always be done internally?
Should brands be wary of contracts?
Should agencies be used as a testing ground?
One more session to go, hang with us. 🙂