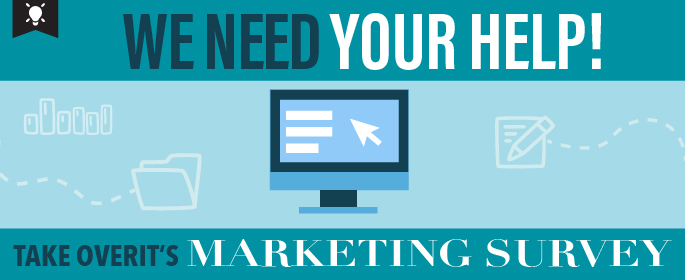 We need your help. Okay, I need your help.
One of my big goals this year has been to help Overit design better customer experiences. Experiences that will allow us to provide you with greater "stuff," most often through content initiatives. After spending my first quarter elbow deep in sales and other excitingness, I finally feel ready (worthy?) to get to know everything that I can about you — those who read this blog, those who are interested in smarter marketing, those who have a passion for digital, and those who self-identify as data nerds. Obviously, we can't learn all that you are in one day or even with one conversation, but this just the beginning.
This is where I make the ask. Where I ask you to take this super-short, super-painless marketing survey to answer questions like:
What marketing challenges are you currently facing?
What marketing tactics are you employing today?
What do you hope to begin to employ?
What's keeping you up at night?
And this is where I hope that you take our survey so that we can get smarter together, and so Overit can create the kind of content that will help you. I know where our clients' struggles are, the new tactics we are implementing for them and what we are excited by, but that doesn't mean that's what's interesting to you.
To sum up all of the above:
[Note: This survey will NOT ask you for an email address, sign you up for anything, or otherwise bug you. It's really designed to help us be better for you.]