As far as custom social networking websites go, an incredibly popular pick around the world is SocialEngine.
We all know the stats. Roughly 500 million Facebook users. It's no secret and its not a flash-in-the-pan fad to belong to a social network, but what many of the uber-popular social networks lack may just be a focused niche. That is a loud call for a valued, useful, customized experience when it comes to new networks.
While SocialEngine allows its users to create their very own social network, having the ability to customize your network beyond that of the competition is crucial.
That's where Overit Media comes in.
Overit Media has recently been listed as an Integration Partner with SocialEngine based on recent custom websites we built atop the engine and our overall world-class design and development skills.
By way of custom design and development Overit produced two niche social networks; one for the online dating industry (oppositesconnect.com) and one for the extremely large Tattoo Community (skinpoison.com).
Opposites Connect
Larry Wilson's Opposites Connect has been spreading like wildfire in regards to users, but also noticeable is the amount of national press that Larry and his site have received. Based on the old adage that 'opposites attract', Larry's site seeks to (through a custom quiz algorithm) connect those who have differing opinions, likes, dislikes and more in order to bring that spark back to dating — making it fun again and not necessarily based solely on how quickly one can find soul-mate.
Skin Poison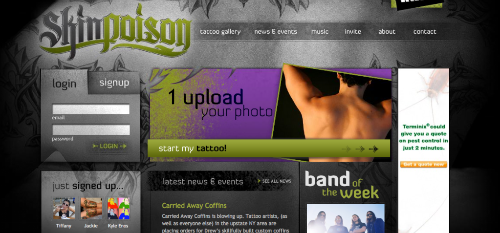 Tattoos went from taboo to mainstream a while back, but the community of the inked now has a custom social network all their own with Skin Poison. Not only did Overit Media custom design and develop a useful network, but we also custom developed (the world's first?) a virtual tattoo tool that allows the network users to experiment with the -try it before you buy it'  tattoo application.
Users are able to upload a design (or choose from tattoo flash on the site) and realistically 'apply' it to a photo of themselves (using the Realistify application). This way  tattoo enthusiasts can plan their next ink session while newbies can decide whether their choice in tattoo is exactly what they want (and where they want it).
Thinking of your own custom social network? Contact us today and let's build a brand you can be proud of.