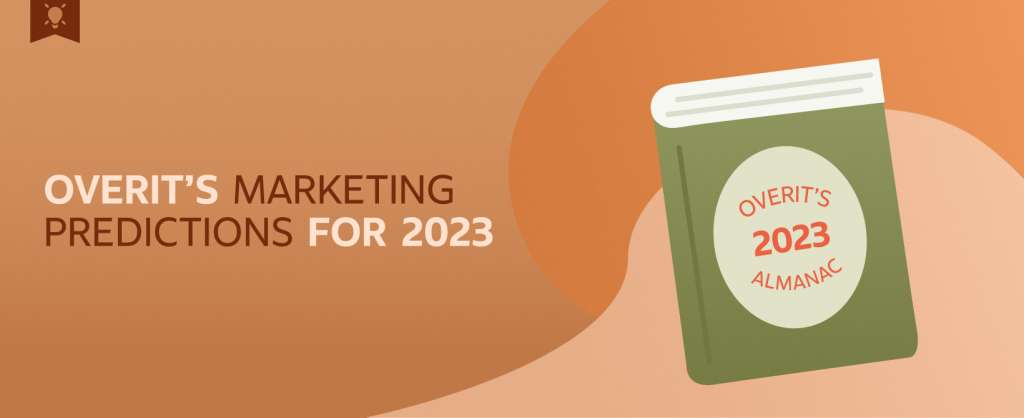 Marketing changes quickly, and it's important to know upcoming marketing trends so that you can plan accordingly and stand out in the cluttered marketplace. 
Being a disruptive digital marketing agency, Overit aims to know trends before they happen so that we can be effective for our clients.
We rounded up marketing predictions from our internal thought leaders and are excited to share what you can expect regarding marketing in the year ahead.
Dan Dinsmore, CEO
"I believe there will be lots of change in 2023. Here are a few items taking flight.
AI will take hold used for many facets of marketing from measurement to creative. Business intelligence will take big steps forward utilizing AI in creative digestible ways.

We will see shifts of leased media to owned media. Major investments into brand, content marketing and strong omni channel strategies. Paid is not going anywhere obviously… however, more diversification is something expected and also proving more valuable." (

Connect with Dan on LinkedIn

)
Paul Fahey, Vice President
"Well, I still can't believe that nobody has officially declared a recession. And the Fed forecast calls for a firm grip on interest rates to ward off inflation. Surprisingly, consumer confidence and spending has been strong despite all of these issues in 2022, but I think that will come to a screeching halt by the middle of 2023. So, we should expect competition across all business segments to be strong as we call battle for shrinking market share. CEOs will be relying on their marketing directors to sell their way out of this. It's going to be a hot summer when competition and the temperatures really heat up across North America. I can't see into the fall yet, but I'm optimistic things will cool down by then." (Connect with Paul on LinkedIn)
Lisa Barone, Vice President of Brand
"Marketers will double down on brand. 
With a recession looming, brands will use this as an opportunity for reinvention. Your brand is the gateway to connecting with customers—every piece of content you create needs to make an impact. Reassess your brand positioning to provide clarity and direction around who you serve. Tighten your messaging to focus on the most compelling stories. Use tightened budgets to create fewer but stronger content and campaign assets." (Connect with Lisa on LinkedIn)
Richard Skiermont, Creative Chief Officer
"AI will play a bigger role both user-generated and brand-generated. Omni-channel marketing will become more critical to brand awareness and sales enablement, providing a more holistic consumer experience. Interactive content such as quizzes, surveys, image sliders, interactive infographics, etc, will expand in 2023, giving marketers better data and consumer engagement. Additionally, video content will continue to grow and find more creative and interactive channels engage consumers." (Connect with Richard on LinkedIn)
Alex Tancredi, Senior Business Development Associate
"The pandemic changed so much about the way we do things, and it continues to have an effect on the marketing tactics being deployed by companies around the world. Emerging technology such as AR and VR that was on a fast track in the marketing world will see slower adoption as people reach for real-world experiences. And where some tactics see a dip, others will see a bump. People are looking to get back into the world, to plan the trips and events that they're still looking to reschedule as we all catch up from the last few years. Influencer and Experiential Marketing that drives people to new products and adventures will be key to engaging audiences and turning them into brand ambassadors." (Connect with Alex on LinkedIn)
Dan O'Leary, Senior SEO Strategist
"My prediction is that 2023 is the year that AI goes mainstream. Consumers and marketers alike will begin to acclimate to a seemingly new frontier in the realm of computer and human interaction. AI will go well beyond "Chat Bots" and begin to power more and more of our digital experiences online and will set new expectations and benchmarks for all digital channels. We'll also begin to see the other side of the coin as the limitations, biases, mistakes, and carbon footprints of AI become more visible and pronounced in 2023, as well. It will be a mixed bag, but one we won't come back or regress from, and 2023 will be the year we all look back on in 10+ years time." (Connect with Dan on LinkedIn)
Katie Sorce, Sales and Marketing Coordinator
"Brands will continue to leave or stop using Twitter. Only 17% of marketers plan to do paid ads on Twitter this year. So many will be pulling their budget out of Twitter and moving to another platform, perhaps TikTok or Instagram? 
For B2C products/services that have a Gen Z audience, they will move budget away from traditional Google ads and into TikTok content, as TikTok has become a primary search engine for Gen Z." (Connect with Katie on LinkedIn)
Adam Clairmont, Director of Studio Operations
"Since the pandemic, podcast listenership has spiked and is at all-time highs. I believe that 2023 will see more brands and small businesses take advantage and begin their own podcasts. This is a great way to drive traffic to your existing services and products while really amplifying the voice of your brand… literally. And since the tools and resources available to create podcasts have also taken a leap forward and are easier than ever to use, this is the year to do it." (Connect with Adam on LinkedIn)
Leanne Ricchiuti, Public Relations Account Executive
"I do think as marketers and businesses/brands make the shift to focus (even) more on social media channels, the lines between PR and marketing will become even more blurred. Everyone–even brands–want to be the next viral video–they want immediate gratification for their dollars spent, all the while forgetting that PR can sometimes take time. Some easy visuals (grandma at the nursing home turning 110 years old…or preschoolers reading to veterans…or even a ribbon cutting) are easy targets and will always be covered by the local media. But the long haul stories of awareness and garnering attention from the community or government can take time–but are no less effective." (Connect with Leanne on LinkedIn)
Want to stay ahead of the trends and utilize these predictions and strategies in your own marketing efforts? Contact us today for a free consultation.