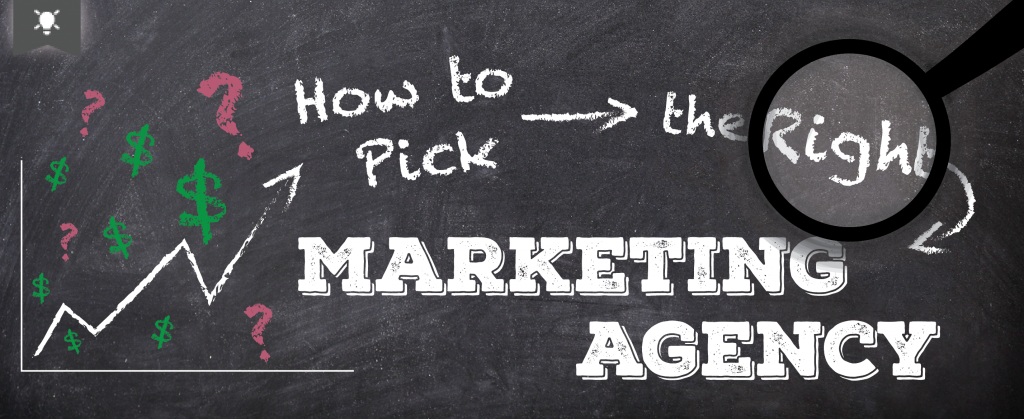 So you're considering hiring a marketing agency, but you're not sure what to look for or how to make sure you're picking the RIGHT agency.
You've come to the right place.
As a marketing professional who not only works at an agency (so I understand the ins and outs), but who has also done corporate and small business marketing and hired agencies (both good and bad), I'm here to help you save yourself the time, money, and headache of picking the wrong agency.
We'll take it step by step:
Selecting the Right Digital Marketing Agency
Before you select a marketing firm, there are some things you want to know first.
Step one: Get clear on your goals.
If you're considering hiring a marketing agency, it's probably because your marketing isn't doing what you want it to do: Drive traffic, generate leads, and increase sales. Or, it's doing things, but you want more of those things.
Your first step is to figure out what exactly you need help with, and in order to figure that out, you're going to want to take a look at a few key metrics.
Traffic: You can figure out the volume of traffic you're getting in Google Analytics. This tells you how many people are visiting your website.
Leads: These are the people in your funnel. They've likely opted in to your email list at some point – through a white paper, downloadable offer, or newsletter. Take a look at your CRM or email list to see how many leads you have in your funnel.
Sales: This is really the key measure of your success. At the end of the day, the goal of marketing is to bring in prospective customers who generate revenue for the business. If you're not getting sales, you're missing something.
Once you have each of these metrics, you want to compare them to one another.
Are you getting the volume of traffic you want? If not, this might be your focus for marketing.
Are you getting good traffic volume, but not seeing it convert into leads? Then your marketing focus may be to better convert your online traffic into leads.
Are you driving and converting traffic…but it's not leading to sales? Then you're either targeting the wrong people or something's missing in your communication or sales process. Either way, the metric you're looking to change is the amount of sales you're earning.
Once you've figured out what your goal is, it's time to move on to step two.
Step two: Figure out what's missing or what's not performing well
Now, this may very well be what you need outside help for! It can be very hard to take an objective look at your marketing funnel when you're working on it all the time. Sometimes an outside perspective is exactly what you need to figure out what's missing or what needs to change.
But maybe your issue with traffic is that your website doesn't rank high on search engines and you need some SEO support.
Maybe you're in a really competitive niche, and your competitors' ads are outperforming yours. Your solution might be some PPC or copywriting help.
Maybe you have a good size social media following, but none of those people are moseying on over to your website. That's a social conversion issue.
If your issue is with leads, you might find that your copy isn't converting. Maybe it's your web design or user navigation. Maybe your messaging isn't clear or it's not targeted to speak directly to your audience. Maybe you're looking at it and realizing you don't have an opt-in to get people into your marketing funnel! (Hey, it happens!).
Or maybe you're getting people onto your mailing list, but you're not seeing them take action from your emails (email marketing) or not really nurturing them further down your sales funnel (email marketing and marketing automation).
Maybe you've got all that lead nurture in place, but those people are never finding their way to sales / they fall through the cracks (sales enablement). You wouldn't be the first person to have this issue. There's an age old disconnect when it comes to marketing and sales.
The goal here is to figure out WHAT'S not working (or what's missing completely) so you can look for an agency to help you with that.
Step 3: Do your research.
Now that you've identified your problem, your next step is to do your research.
First, you want to find some agencies that offer the services you're looking for.
That one was probably a no-brainer, but let's look at what comes next.
What other services do they offer? While you might think that an SEO-only or PPC-only agency is the best fit for your needs if that's what you're missing, that may not necessarily be the case.
Here's why:
Anyone who sells one service is going to sell you that service whether you need it or not. I can't tell you how many proposals I've seen for clients that didn't take into consideration their audience or business model AT ALL. They sell their service as a one-size-fits-all marketing plan, whether it's a viable solution for the client or not.
In addition, your marketing should work as a cohesive unit. Whenever you start a new marketing channel or adopt a new tactic, it should factor into all the other marketing initiatives you have in play. No tactic should function in a silo. The agency should be diverse enough to have an understanding of how the service they offer will complement the other strategies you have in motion.
Evaluating a Marketing Agency
With some candidates in mind, it's time to do your homework.
Look at case studies
There's a difference between knowing what you're doing and getting results. Anyone can take a course in graphic design, PPC, or social media. Heck, any teenager can pick up a phone and take a video or post to Facebook. That doesn't necessarily mean they're doing it to a strategic end.
Case studies will help you determine if this person has applied their knowledge to produce results for other businesses.
Look at what other people are saying
Marketing agencies know how to sell themselves. That's what they're good at, so don't just listen to what they're saying about themselves, pay attention to what other people are saying about them.
What does the search results say about them? How about their executives?
What do online reviews say?
What are their clients saying?
Have they received recognition or awards for the work they've done? (This is standard in the agency world. If you produce quality work, people should be awarding you for it).
Ok, so now you've done your research. You've narrowed it down to some good potentials. Now it's time to make contact. Fill out their contact form or reach out to see if you can schedule a time to discuss your project and marketing needs.
When you first meet with them, ask them questions. Even if you don't totally understand it, you can get an idea of if they get it or not. Feel into it. As much as we marketers are data-driven, logical people, there are some times when you really have to trust your gut about people.
Have them ask you questions.
Your initial meeting isn't just about you sussing them out – it's about them getting to know you, too!
Pay attention to see if they're asking questions and what type of questions they're asking.
Of course they're going to talk about budget, but if they're only asking about budget, timeline, resources, and things of that nature, they're probably just interested in the sale.
But if they're asking you about your audience, business history, other marketing channels, and performance goals, they're probably a better bet when you're looking for an agency to partner with you on your marketing efforts.
Smart people ask questions. Always make sure you're working with smart people.
You've done your research. You've made contact and had some conversations. You've seen what your gut has to say about it. Now it's time for the final step of the decision-making process: comparing your options.
Considering cost, timeline, and what's included.
While budget is certainly a concern for us all (we gotta prove that ROI!), it ultimately shouldn't be the deciding factor. What's that saying? You get what you pay for.
When you're comparing your options, also look at timelines. Will the agency be able to meet your deadlines? Do they have a realistic process in place (meaning will they do their due diligence and not rush your project to completion for the sake of completion)?
And what's included? Some people do JUST the execution or just the initial strategy. Ideally, you want someone who can assess your current marketing efforts, develop a strategy that will generate the results you're looking for, implement the strategy, then track the success of that strategy to see if it really worked or not.
That last part is key: everything you do in marketing should be tracked and measured. Who knows if your increased sales were just a fluke or the result of improvement in your paid campaigns if you don't actually track it?
Make sure you look at what's being included so you can be sure that you're getting everything you need for your marketing campaign to be successful.
Alright, hopefully now you're feeling a little more confident going into this hunt for a marketing agency!
If you have any questions or need any help weeding out your options, drop us a comment and a member of our team will help you out.