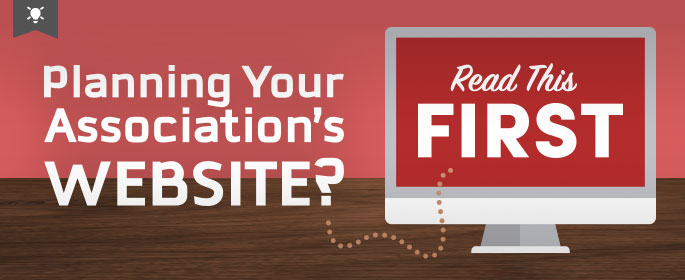 Creating a website tailored to the needs of your association's audience? It can be tricky. There are dueling priorities, laundry lists of competing Needs and Wants, and limited resources to contend with. But even with all that – you still must get it done. You still need a website that stands out, conveys your message, and successfully engages and retains your audience.
As you are thinking of, or even building out, your new site, you may have questions like:
Where should you focus your resources?
What site elements are critical for attracting and retaining visitors?
What matters and what is flash for flash sake?
So, where do you start?
If you're in the process of planning your association's website, start here. Below are the 5 areas to pay the most attention to (because they are what your visitors want).
1. Develop Resources & Educational Material
I don't mean to start out sounding self-serving, but the truth is, when a visitor lands on your association's website, they have selfish intentions. They want to know What's In It For Me (WIIFM). And they want to know immediately.
To gauge whether you are someone they want to, um, associate with, first-time visitors are checking out your resources and educational elements to learn how knowledgeable you are on your topic. What is your level of insight? Are you trustworthy? What would you have to offer me if I was to add my voice, or membership to your cause?
What types of resources are they looking for?
Any resources you may have created yourself. This includes an active blog, ebooks on relevant topics, one sheeters, glossaries, informational videos, etc. Anything they can use to vet you and determine how useful your association will be to them.
They are also looking for third-party resources that you may have aggregated. You may not have written the content yourself, but maybe you have compiled a list of the 10 best articles on a subject to help them find the signal in the noise. That's worth its weight in gold.
For example, the Resource section on the New York Council on Problem Gambling (client) website allows visitors to quickly access toolkits, ebooks, media and other assets with a single click. One scan of this page and I trust this association is an expert and that I will be able to learn from them.
2. The Why
The reason we love associations is because they have great stories to tell.
Whatever it is you do, you do it because it is something you are passionate about. That passion is what will unite others around you and encourage them to become part of what you're building. But to be moved by it, they must see it. And for them to see it, your messaging must be built-out and highlighted.
If you don't have that elevator pitch crafted, the one that says why you matter in 20 words or less, make that your challenge for the next month.
In our ebook on increasing association engagement, step one is identifying your branding and messaging. If you're still figuring out what your brand tastes like (wait, what? Read the ebook!), this is a great place to start.
3. Help Finding Likeminded Folks
A goal of many associations is to help your people find like-minded individuals. Whether you are a professional group or the association for underwater jugglers (which I guess may also be considered a professional group…), we all get excited to learn there are others out there passionate about the same weird stuff we are.
Help connect your people.
You likely already have something on your website that helps others to connect. Whether it is a discussion board, an email newsletter, a social media group or a hashtag, promote it. Put a ribbon around it and make sure it stands out so visitors know THIS is the best way to get in on the conversation. Don't assume they'll stumble upon it on their own. We all do better with directions.
4. Clear Member Benefits
Going back to our WIIFM acronym above… all associations offer benefits to supporters. Whether they are tangible ones (like coupons or discounts) or intangible ones (support, a sense of belonging), state them and put them on display so visitors understand the value they will receive by becoming part of your association.
The New York Dental Association (client) does a great job breaking out its benefits so members know what they are getting for their investment.
It's clear, it's simple, it works.
We're also big fans of the Museum Association of New York, which has a killer Membership page, allowing visitors to see the different tiers of membership and exactly what is included in each. This is not only incredibly helpful for current and potential members, it's also a great way to show off their full breadth of capabilities and offerings. Smart, very smart.
5. How I Get Involved
Having a website that clearly communicates your core values, points visitors toward great resources and highlights WIIFM is great. Ultimately, though, you want people to leave. You want them to get off your site and go do something. .
You want them engaging with you via social media
You want them sharing your content
You want them attending in-person events or conferences
You want them contacting their elected officials on behalf of your mission
You want them to be donating dollars and spreading your message
…but are you telling them how to do that in a way that is impossible to misunderstand, in a location on your site that is impossible to miss?
It's easy to think that you must be. That obviously website visitors know they are supposed to call, to write, to donate, to attend – but that's a lot to assume. Every association site needs a prominent Get Involved/ Join Us section that details, in no uncertain terms, what the visitor is supposed to next. They have found you…. Now what do they do?
It goes without saying that the ALS Association is pretty amazing. The work that they do and the awareness they bring is changing lives. What helps contribute to the great work they are able to do? Their ability to mobilize site visitors.
I love that ALS calls out, directly within their navigation, how to advocate for the cause, how to get involve, how to stay-up-to-date, and how to donate. This is a strong testament to who they are.
This is an area where many association sites are weak. They are afraid to make the ask or to hit people over the head with it. If you are providing value to your members and/or visitors, it's okay to remind them why you exist and what you need to continue to exist.
All in all, it's about perspective. When you're building an effective web presence for your association, it's about positioning yourself from the perspective of your current and potential members and partners. Identify what they want from you and make it easy for them to find it on your new or revamped site. In today's short attention span world, your visitors want to find what they need and won't exhibit the patience you might expect of them. But your mission isn't to get them what they want and send them on their way – you want them to see the value, embrace your mission and come back for more. With the right resources and materials at their disposal, a clear description of your story and value, access to your community and a clear call to action, your new site will deliver what your membership needs and desires.
Check out Overit's Association marketing resources for more tips, tricks and results!
Subscribe to our blog to receive all the latest tips & tricks from the Overit team!