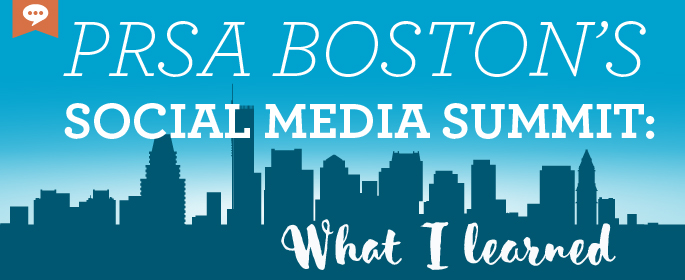 Last week, I attended PRSA Boston's Social Media Summit to hear insight from industry leaders on creating engaging content, using video for social, and the current and future trends in the sector. While I was overly excited about being named the conference's top tweeter for my live-tweeting efforts, I was even more excited about the new ideas and information I learned from the speakers.
Read on as I share what I learned at the Social Media Summit.
Opening Session with Josh Karpf, DraftKings
Josh came to the event with experience in his current role with DraftKings, but he also referenced his previous social media-related positions at GE and PepsiCo. His overall takeaway was that social media strategies should introduce the brand to new customers and further explain how the product works to current or previous customers.
Some of Josh's top tips and insights included:
Develop an editorial calendar five to six weeks in advance of the events or holidays that you can anticipate. Leave room in the calendar for breaking news or updates that you can't plan for.
Bring in your executive and legal teams into the conversation about guidelines for the brand's social media. With social platforms, it is incredibly important to be first and internal approval processes can sometimes cause bottlenecks.
Identify the social media influencers that mean the most to your audience and develop unique content or promotions that will really engage their networks. Social media users are very in-tune and can see through inauthentic partnerships, so avoid that by choosing influencers wisely.
When it comes to paid social media ads, tailor every message as much as possible based on geographic location or fan pages that they've liked on Facebook. With custom headlines, brands can hit the right fans at the right part of their customer journey.
At this point in the development of social media platforms, users don't want to create content that will live online forever. This is the major appeal of Snapchat or Instagram Stories. People don't necessarily have to worry about an unflattering picture or personal video being found on the internet later.
Breaking Through the Newsfeed with Matt Chagnon (Eversource), Melanie DiBiasio (Ocean Spray Cranberries), Amanda Goodwin (Life Is Good) and Jenna Reynolds (Planet Fitness)
The moderator for this panel noted that only 2% of the content on our Facebook newsfeeds is brand content. With changing algorithms and an overwhelming number of users, it's incredibly difficult for anyone – especially brands – to break through the clutter. The panel's key takeaway was to develop content that was authentic to the brand and ties back to the brand's overall mission.
Some additional tips and insight from the panel included:
Pay attention to your audiences on social media and target them with the right information at the right time. For example, Ocean Spray Cranberries has found that its audience actively engages with video recipes, so they have developed a strategy to leverage this.
Stay authentic to your brand and overall mission statement. As you're developing a social strategy or thinking about new content, ask "what is our brand's story and how are we inviting others to participate in that journey?"
Provide customer service representatives access to the brand's social media platforms and train the team on how to respond to customers. This specific process varies from brand to brand, but overall, customers expect a direct response from a business via social media – so be ready to do so.
Listen to your customers on social media and provide them the space to tell their own personal stories that correlate with the brand. For example, Life Is Good received a negative comment on a Facebook post. Before the brand could respond, brand advocates began to share their interpretation and defended the brand, without anyone from the marketing team having to step in.
Identify what social platforms your customers are using and develop tailored content for that audience. Think of how you use individual social platforms in your own life: Facebook is generally for family-friendly content; Twitter is for breaking news and updates; Instagram is for visually appealing graphics and photography.
Social in Crisis with Mike Nachshen (Raytheon Integrated Defense Systems), Elaine Driscoll-Holbrook (Massachusetts Gaming Commission) and Lauren Armstrong (MBTA)
This session was interesting because as publicists we are often asked about crisis communication strategies. Many times brands think that the only opportunity for PR is during a crisis, which isn't true. Much of what the panelists discussed were approaches that brands should implement regularly, not just during a crisis. They spoke about listening to your audience, being present and having a plan in place ahead of time.
The top tips that I learned from this session include:
Roll with the punches. In the case of a crisis communication situation, there are going to be a number of variables that you can't control. For example, MBTA had to respond to riders that were unhappy about train delays. The cause, though, were trees that were laying across the tracks. They couldn't remove the trees faster, but the brand responded to customer comments and kept them up-to-date on the train schedule.
Take a step back and assess the reality of the crisis. While your boss may be yelling at you to fix a situation, the outside world may not have noticed the big deal. Instead of rushing to release a statement on Twitter, identify the real problem areas, who and what has been impacted and then develop the most appropriate response. You don't want to emphasize a situation that, in reality, was minor.
Use social media to circumvent and hold media accountable. No longer do we have to rely on traditional media outlets to be a source of up to date information. In a crisis situation, brands can provide real-time updates directly to their audiences. For example, the Boston Police Department (an organization Elaine previously worked with) shared real-time Twitter updates during a high-profile protest. This allowed the department to demonstrate leadership of the situation and provide direct access to the most accurate updates.
Using Video in Social with Kerry Fitzgerald (Dunkin' Donuts), Emily Truax (Boston University) and Claire Oliverson (America's Test Kitchen)
I loved this panel discussion because it sparked a number of ideas that our motion design team can work on. Each presenter had a number of actionable tips for creating video specific to social media, but their overarching advice was to know your audience and the kinds of video that they most engage with. For example, America's Test Kitchen has learned that beautiful visuals of food as it bakes is very successful. Therefore, they make an effort to produce similar videos.
Other tips from this panel include:
Work with your video production team as they're developing creative. In these initial meetings, you can discuss how the long-form video can be tailored for different social media platforms.
Prioritize content and develop an editorial calendar of videos you want to promote. (Have you noticed how important planning can be?)
Put the product first. With all of the videos produced by Dunkin' Donuts, it's donuts or coffee are always front-and-center. In fact, one of it's most successful videos is a slow motion shot of someone placing a straw through whipped cream as it mixes with the coffee.
Put your best foot forward. Breaking through the clutter on social media requires authentic, quality content that truly engages your audiences. Take the time to produce relevant and exciting videos.
A huge amount of videos are watched without the sound on. Keep this in mind and still get your messaging across by creating title slides that explain what the video is about, use subtitles or incorporate text or animation to tell the full story.
As I left the conference, I walked away feeling inspired and energized to experiment and apply knowledge that I gained. While a video of swirling coffee might work for Dunkin' Donuts or letting loyal followers speak for the brand works for Life Is Good, that might not always apply to Overit or our clients. Social media, like all marketing mediums, requires strategy, measurement, and fresh ideas. Above all, though, social media should engage your audience and be authentic to your brand.