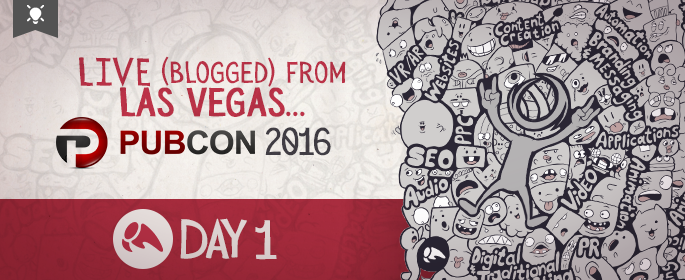 Good morning from Pubcon Las Vegas 2016! The Overit team is thrilled to be here (in booth #507) and ready for a few jam-packed days of sessions on all-things-marketing.
This is the first of many sessions we'll be covering this week (catch the full list here).
Pubcon's kicking off with a keynote by Scott Stratten of Unmarketing, co-author of books such as QR Codes Kill Kittens and UnMarketing Second Edition: Everything Has Changed & Nothing Is Different.
His claim to fame in the geek world is that he is one of us. He started in internet marketing, has been to every site on the internet, and loves, loves, loves being online. When he first logged online, he printed everything he saw, because he thought it would disappear. If he could go back, he would've registered some cooler domain names. Instead, he was "looking at boobies."
Times have changed.
He's known for the No Button, a site that has had nearly 30 million sessions. There's 1.15 pages per session (excellent, since it's a one page site). The average session lasts 27 seconds, remarkable since the Nooooo lasts 7 seconds. He ranks #1 for every version of the word "no" except the word "no" itself.
The data is fascinating.
Scott can't keep up with all the places to market – and he doesn't even have a job taking up time. There are so many places to market – including MySpace, still. 51 million people still go there every month. 
On Millennials 
He says his biggest mistake consulting was saying, "Everyone needs to be on Twitter. Why? Because I am." We're not making the right matches. Or we're saying everyone has to be on every platform. Why? Because the millennials are coming. Which means nothing. 
Half the keynote room is between 18-35. "OMG THEY'RE HERE."
When we say millennials, what we mean is people that are younger than us, and we don't like you. Period. Whenever you hear millennials, it's just hatred coming out of our mouths. It's a code.
The problem is we lump 18 years of people together as the same. We say millennials don't like meetings. Well, no one likes meetings (rattles off list of things that meetings include, such as claiming other people's ideas; throwing people under the bus). Millennials are just naive enough to think they don't have to go to meetings. They have something old people don't have: Hope.
"Millennials like to travel." No, nearly EVERYONE likes to travel. We just have mortgages, and laws say we can't leave our kids for 3 weeks to backpack.
He says the issue is we yearn for the old days. He doesn't know why, he likes today. What are we missing that we had before, in the 80s, earlier, that we don't have now? Polio? Scott likes streaming. He likes getting boarding passes on his phone.
Balancing New Technology & Client Preferences
But we have to understand how to use this new technology and where it fits in. We can't allow bias to happen. We have to grow with technology. We have to respect experience and ideas and preferences. We have to figure out what is best for the client, rather than force them down a path we're comfortable with.
Scott mentions how this whole talk was planned and booked via email. No phone calls necessary, because he'd rather not. Scott only listens to voicemails to get rid of the voicemail notification.
"You have to match the communication preference with the person transferring you the money. Match how the client wants to communicate."
Don't force your client to communicate your way. It won't go well.
On Influencer Marketing & Going Viral
We use vanity metrics. We share photos of ourselves with our own quotes.
We share stuff because we think it will spread. This is rampant in our industry.
Scott says the biggest issue with influencer marketing is we don't disclose. Influencer marketing is giant. It's the buzz term of the day. The problem is we're not even disclosing it. The Kardashian crew may or may not disclose when they talk about their protein shakes. Everyone is posing with things they've never taken in their life.
Or we're getting excited because a photo of nightstands with a witty caption went tremendously viral. Except the photo that got immense shares didn't have the logo of the furniture brand.
So guess how many sales that furniture brand made? "You damn well know it's zero."
Twitter reach doesn't matter. Vanity metrics don't matter. Sending a tweet to 185,000 people? You probably really reached 1.8 people. Don't pay attention to vanity metrics. Don't be fooled by going viral and thinking you accomplished something.
On Newsjacking & Ethics
There's a right way and a wrong way to do this. He's armed with the wrong way. Don't leverage Gene Wilder's death. Don't build Coke displays that look like the twin towers, or use piles of mattresses to do so. Don't leverage it, because you don't need to capitalize on these events to market.
Scott brings up Bell Mobility Inc., which had an app that allowed you to see your bill, pay it, etc. Universal truth in the room: Everyone hates their phone company, cable company, and airlines.
Bell had a ton of 2-star reviews. How do you hide bad reviews? Dinosaurs in the room know to issue a new version (seeing reviews for only the new version, first) or reissue the app in a separate app store listing.
All of the sudden, Bell had 89 ratings averaging 4.5 stars. He asked, "How the hell did that happen?"
And he realized there's a plethora of wonderful glowing reviews. He's excited. First one is from Mike, and it's glowing. No human talks like this. Sounds like a marketer, and there's an exclamation point at the end of it.
Steph says much improved, likes the new look. Faster and easier to use!
Another one ends in an exclamation point, mentions looking forward to future releases and says user friendly. Oh hell no.
Another says they're able to manage their bills. No one's excited about managing our bills. 
Scott looks up the people leaving the reviews using a fancy schmancy tool called LinkedIn. And they're all Bell employees, shocking no one in the room. All of the positive reviews were at the top, because they'd marked their own reviews as "most helpful."
Scott publishes: For Whom The Bell Mobility Tolls. Bell gets hit with $1.25M fine.
We do not get to recharge our integrity every quarter or every year. It is not a renewable energy source.
The system works on trust. We have to hold each other accountable, because Scott doesn't want the Internet to be like this. We have to care.
Be Right, First.
Today, everything moves so quickly, because we have to be the original source. We want the traffic to come to us. In our race to be first, we can hurt things. We can break things. And "you can't put the toothpaste back in the tube once you go viral."
Someone tweeted Scott a post of a store whose sign said "MLK Day Sale: 25% off everything black." He called the store to confirm. He published the post. It took 90 seconds to confirm before he put it out there.
When you tweet, blog, or share, be a journalist. We need real journalism back. We need to be sourcing things. Confirming things. Trusting things.
The apology for wrong information never catches up to the original information put out there. Scott has no problem putting horrible people out of business, but he does have a problem with hurting innocent people.
(Also, he requests that we all stop sharing the Free .Disney Cruizes contest pages.)
His final message:
By all means, be first. But… 
Be Right, First.