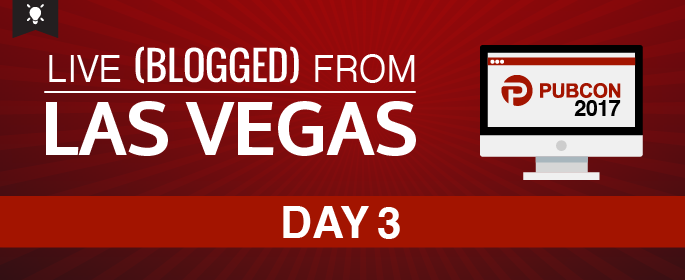 Chatting this morning we have Bruce Clay, Greg Gifford, and Kevin Lee. Three guys who know what they're doing, and one guy is responsible for hiring me 11 years ago and gave me my start in marketing (hi, Bruce).
Bruce is up first to rattle off 41 Signals & Ranking Factors for Local Search. He says his presentation is twice as long as he has time for. He's publishing a blog post this week to go with it. He says to get it for free.
Google Local
Google is in the business of making money. Good does not care if WE rank or not. Google cares only that there is a quality site that answers the query to the total satisfcation of the end users.
Housekeeping Signals
Branding – attract traffic and mentions – be trusted as a reference
Domain Names – Propertly represent your brand and business without spam or looking fake — avoid EMD penalty.
Optimal Landing Pages – Proper information always helps.
Hosting – Speed, availability, maintained software
CMS – WordPress is 72% of all recent installs and 10X closest rival
Compatability
@Domain
Keywords & Content Gap Analysis
Detailed Competitive Review – know what competitors are doing, what words they're using, etc. Be the least imperfect.
Content Creation – Siloing/themes
Testimonials – if you don't have a testimonial you are generally not going to ran You need them and you must earn them. He says local videos are a differentiator.
Content Creation Strategies – Attract local expert links
Creative Local Videos
Local keyword optimization – Include local keywords to solidify Google's understanding of your location and help you rank for local keyword queries
Schema – According to Searchmetrics, pages with schema markup rank an average of four positions higher in search results
Schema NAP + W (name, address, phone and website)
HAWK Updates – Places and organic ranking have removed "same address" filtering
Add a Google Map to your Contact Page/ Footer
Long-tail rankings
Local relevance
Information in the local pack
Technical On-Page SEO – City in title, schema, do not stuff, reading level and complexity
Local link building – you cannot rank in the city without city links. Unique IPs, unique domains, unique whois but for your local area
[missed – someone asked me a question 🙁 ]
External Links
Local Directories
Competitors
NAP + W consistency
Google My Business Optimization
Add your site to Google Maps
BBB
Local business listings
Citation building and reviews
Location pages
Press Release
Social – mentions and content marketing
Touch your followers
Become the local expert / teacher
Offer local discounts
Online and offline conversion tracking
Ranking in the Local Pack
Risk: Google Home Services
Google is now certifying and guaranteeing services at the top of the page.
Next up is Kevin Lee.
He's going to talk about how important it is to dominate the entire SERP. You must control the local SERP. Your website is only part of the puzzle. A lot of the searches that are done are a result of curiosity someone had about your business. It's important to dominate your search for as much of the funnel as possible. For that reason your content and your SEO efforts cannot be exclusively about your website. Your website is not the thing that can exclusively dominate the SERP. You're lucky to get 2 or 3. You want to think about all the other touchpoints that you have control over that speak about you in a positive light as opposed to potentially negative light.
Remember that SEO is a meritocracy. If you don't belong there, your chances of being able to be there on a consistent basis are pretty low. Your risk goes up dramatically as you try to be somewhere you don't belong.
Calculate your odds when you create a piece of content in terms of where that content should live. In many cases, an industry trade association or magazine is going to outperform that site so you're better off not putting that content on your site. You're better off putting it somewhere else.
Sometimes you do actually get your own site to rank, so exclusively publishing your content on other sites isn't a good idea either.
Think about what you do when you're ready to buy. You tend to explore the Google SERP and make sure the business you're interested in is there. It's a trust check. If you don't own the SERP but you're competitor wins.
Think of all the places that people learn about your company. Local results combine with general domains.  Google will intermingle news coverage, so PR coverage matters, too.
SEO isn't purely a marketing function. Other departments have information that can help. Some departments may be able to help SEO with little additional effort on their part.
Next up is Greg Gifford.
He has 92 slides to do in 15 minutes.
There are a lot of local ranking factors but there is no miracle pill. It's doing a lot of things, over a long time.  We're here to talk about a different approach to local ranking factors. We have all these different sources of what everyone else is telling you that you should do for local ranking. That doesn't make sense to him. Last year, the guys at Local SEO Guide conducted an indepth study of 10 verticals and studied the map pack results. It's great that they're sharing it, but for his clients, he's out there actually testing what works. Don't take any of these sources of gospel. No one can tell you what will work foryour site except yourself. Test everything. Different verticals are treated differently by Google, They have different strengths of ranking factors. The kind of stuff you need to worry about if you live in Wyoming is different than if you work in downtown New York.  The things that work for you may not work for other people. use these studies as a guide for what you want to go test for yourself so you can figure out what will work for you.
Perfect example: Geo-term optimization. Doesn't work for others, but it kills for him and his car dealership sites.
If you take everything as gospel, you're doing a disservice to your client. You might be missing something that's a huge game-changer.
A few quick tips abou content signals
Content Signals
Unique content doesn't matter anymore. If everybody is unique it's no longer a differentiator. Geo optimization works for some, but not for others.  Truly localized content works for everyone. Make your content actually local. Look beyond standard site pages. Share useful local info on your blog. For his clients, half the blog posts he pushes out have nothing to do with the business and are just about the area.
Link Signals
Think small, don't think big. Local links are the secret goldmine of link building. It's the closest thing that will come to a magic bullet. Most people really struggle with link building. Screw trying to create a big asset and doing PR outreach to try and get hundreds of high DA links. You don't have the budget or the ability to do that. It's not realistic. Instead, go after local links. In local SEO, we don't care about domain authority or trust flow. If it's a local link, he wants to get it. Be involved in the local community. Take advantage of relationships that already exists.
Great local link opps:
Local sponsorships – find 5Ks, find marathons.
Local charities. You're not buying a link with money, you're buying it with time.
Local links/organizations
Ethnic business directories
Local guides
Neighborhood watch sites
Child seat installation spot
You need unique links to win, but going after your competitor's links is still a good place to start. It's also going to devalue your competitors links because its no longer valuable to your competitor.
How do you actually get links
Pull your links and your competitors links from your link tool of choice
Pull links from similar businesses in other cities
Research all the local opps you can find
Put everything into a super detailed spreadsheet – list opp, cost/investment, timeframe and contact informatin
If links cost extra and they're not included in your monthly retainer and let them choose which ones to go after.
Rinse and repeat every 3 months