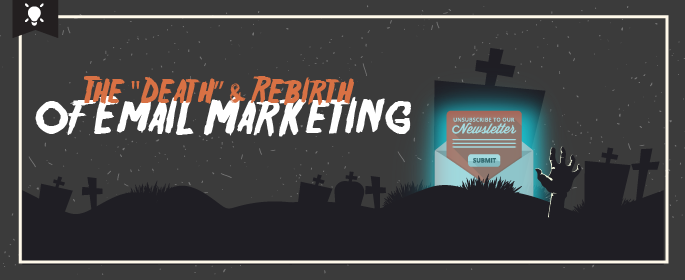 If you haven't heard, Facebook has started testing an alternate newsfeed for unpaid business page posts. The rollout has been slow but in the countries it has been tested in, the results aren't looking too promising for small businesses.  It's now even more important – no, necessary – that small businesses build and cultivate email marketing lists as their own personal assets rather than relying on third parties, like Facebook, to drive web traffic and sales.
Déjà vu, anyone?
If you remember a few years back, 2013 to be exact, it was announced that Gmail would be rolling out tabs. It was Gmail's way of sorting promotional and emails from social media into other categories outside of the normal inbox. At the same time, marketers were finding success in other areas. Organic page reach on Facebook was still relatively unaffected by Facebook's large-scale advertising push, which would occur later that year, Youtube was still relevant, and new social media business tools were sprouting up left and right. Email marketers were concerned that email as a promotional tool would go the way of the dinosaur as a direct result of these new tabs. The news sparked a massive panic, it was prophesied that email campaigns wouldn't reach intended audiences and would be buried beneath all the other promotional spam the average Gmail user received. But, it turned out people like having their inbox sorted for them, and today about 45.1% of Gmail users will take a peek at their promotions tab at least once a day.
We weathered that storm and we found ways to thrive in spite of it
Not only did email marketers come up with creative ways to ask inbox users to prioritize them in their inbox, the news sparked innovation and was the driving force for new breakthroughs in automated email marketing, lead generation tools like exit-intent technology, and strategies that paired your email lists with your ad campaigns. For the first time since Gmail was launched, email was something people were talking about and building strategies around, rather than just "blasting" their audiences.
What a time to be alive!
Like all things, email has had its share of ups and downs, but considering the recent news that email clients like Emma and Campaign Monitor are being sought out by large investment groups, it's safe to say that email isn't going anywhere anytime soon. This is why small businesses need to tap into email and other free, local resources for strengthening their marketing presence.
Some things are beyond our control
When you promote your business through a third-party network, you have no control over how and IF that network will decide to share your promotions. When Facebook first monetized, small businesses saw a major dip in organic web traffic and through the years they have had to rely on their core audiences to share their promotions to reach anyone without a paid placement. Today, we're facing what appears to be the absolute eradication of organic reach for business pages.
Enter: pay to play…
We're now entering the end of an era – Facebook as a free promotional tool. It's been in the works for quite some time but Facebook for business is now fully monetized and your business will need to be smart about how to proceed if you want to reach your audiences without it costing you a fortune.
Small businesses have two options if they want to overcome the recent changes:
Option 1: Promote your posts (at the very least)
If you have any budget for advertising, promoting your posts is a great option. Just a few dollars each will go a long way with promoted posts. Facebook will tell you exactly how much of your reach came from paid versus organic in Facebook Insights, so you will be able to determine how effective or ineffective those organic posts would be without the paid boost.
You could go that route but, if you're like most small businesses and lack the budget to spend on promoting every time you post something, then you will need to develop personal assets rather than relying on outside sources.
Option 2: Build, Segment, and Nurture your Email lists
The main reason why email refuses to die, and why it's still one of the most effective methods of promoting goods and services, is that it relies on relationships versus hard selling techniques.
Email is just as much of a resource as it is a promotional tool for your list segments. Your entire list (hopefully) has opted into updates from your business and they rely on you for updates on products and news that's relevant to their individual industries. Ultimately, when the time comes, these contacts will trust you over the competition because you've already cultivated a relationship with them. They know you, they've stuck around through all of your cheesy subject lines and animated gifs, they've clicked your calls-to-action, they've forwarded your email to a friend, and they've replied to your catchall, "info@" email address.
So, here's your challenge, should you choose to accept it: develop your email list:
Add more subscriber opt-ins on your website. Be creative with messaging, placement and tactics
Install one of those annoying (yet effective) opt-in pop-ups on your website
Blog more or start blogging, if you haven't already
Deliver content that's valuable to your specific demographic
Be consistent and send a weekly, monthly, or quarterly newsletter
Experiment with free email automation tools like Mailchimp or Constant Contact, and build a drip campaign with free content delivered to someone who requests information
Reduce the cost of Facebook, Twitter and LinkedIn advertising and use the list segments you've created to target specific individuals directly through custom and lookalike audiences
When done right, email marketing can generate new business, call people to action and deliver your message without the need for spending large sums of money. Achieving these results will depend on how dedicated you are to building your own personal network and establishing relationships. If you can do that, you'll never worry when a third-party network changes its approach. Instead, you'll learn to rely on your team, your website, and your cheesy subject line puns.