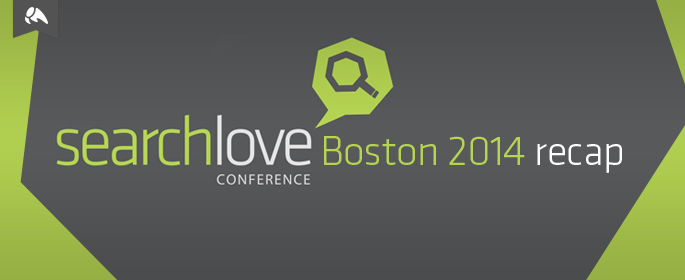 SearchLove Boston 2014 offered an incredible array of speakers with insight on everything from technical data analysis to general branding strategies. Both the lineup of speakers and the topics discussed represent the changing world of online marketing, as it has really become all about simply doing effective marketing.
Here are a few major takeaways:
An emphasis on people: we need to move beyond measuring superficial "engagement" or counting clicks to identifying the behavior and concerns of the specific audiences we are reaching.
Little talk of "traditional" SEO tactics: "linkbuilding" and on-page optimization were barely mentioned, while speakers emphasized building a brand that people want to follow and using data to analyze everything possible about users.
Representation from a wide range of fields: speaker specialties included areas as diverse as brand positioning, data analysis, UX design, and video.
While every session was valuable, I picked a few here to summarize.
Matt Brown, Senior VP of Special Projects at Moz, addressed getting out of the rut of just following what the rest of "the SEO herd" is doing. He warned about information cascades, where people just follow the actions of others without reaching their own conclusions. Online marketers are just waiting for Google and Matt Cutts to tell them what to do, while not paying enough attention to the future of search that Google is focusing on. In looking ahead, he talked about planning a non-HTML strategy for wearables like Google Glass and using tools like JSON-LD which can pass data to Google without HTML.
Josh Braaten, Director of Inbound Marketing for Collegis Education, talked about "How to Build a Data-Driven Company." Companies can learn a lot about their customers by collecting user data and looking beyond surface assumptions on what are the most important issues. He suggested sending users surveys where messaging is customized depending on what feedback is given. In one of his example, if customers had a poor experience, they see a "We're sorry" message with direction on who to contact to give feedback.
Justin Cutroni, Analytics Evangelist at Google, revealed some new features coming to Google Analytics that will allow online marketers to better focus on individuals vs. just looking at sessions. Tracking the same user across multiple devices will now be possible, too. Often, the data shows a disproportionate amount of revenue coming from a small subset of users, so we should focus on identifying those users instead of focusing on revenue per visit. He also talked about the importance of reporting on assists and not just last click conversions (showing where sources indirectly contributed to conversions even if they were not the final touch point).
Joanna Lord, CMO at BigDoor, talked about measuring and increasing customer loyalty. We should focus less on channels and tactics and more on studying consumer behavior. Investment in customer loyalty should start as soon as prospects come in contact with a brand and continue throughout their interactions, not waiting to start until after they have already become customers. She shared tactics to reach people throughout the customer lifecycle of discovery, comparison, decision, and evaluation. As one tactic to reach people in the earlier stages, getting a "humble brag" from other satisfied customers speaks volumes more than just what a brand says about itself.
Rand Fishkin, co-founder of Moz, challenged marketers to be skeptics: not just going with everything Google or other online marketers say, or even accepting the results of an A/B test as applicable across the board. In fact, he revealed that companies that test more than others don't even necessarily see a higher conversion rate. He encouraged marketers to move beyond a mindset of just testing button colors and copy variations to identifying customer problems and running tests meant to solve those problems.
Darren Shaw, founder of Whitespark, offered a practical presentation on boosting local presence in search. For Google+ Local pages, natural reviews are crucial, with five required to achieve a star rating in search results. He recommended his own company's review handout generator as well as Get Five Stars to help with getting legitimate reviews. He also cautioned against over-optimizing local listings, as tactics like mentioning a city in the description can hurt you. Choosing relevant categories and getting keywords in reviews are positive factors that can help rank. For on-site ranking, he recommended creating location-specific pages, using city and target keyword in the URL, with the business name in the title tag, as well as creating long-form content for local service pages. He also emphasized the importance of local citations.
Marshall Simmonds, founder of Define Media Group, presented on using log files to examine how Googlebot is crawling a site. Log files offer far more complete info than Webmaster Tools and provide guidance on how Google sees your site structure, as well as what pages they are and aren't finding. A tool like Splunk can help to analyze this data. Marshall suggested looking for peaks in crawl timing to know when to release content, as well as showing how log data may not match up with your assumptions. For example, the content Google crawls the most might not be the most popular content on your site.
In summary, these were just a few of several excellent sessions over the two days. For more, you can see slides from all the presentations. Thanks to Distilled and all the speakers for a great conference!