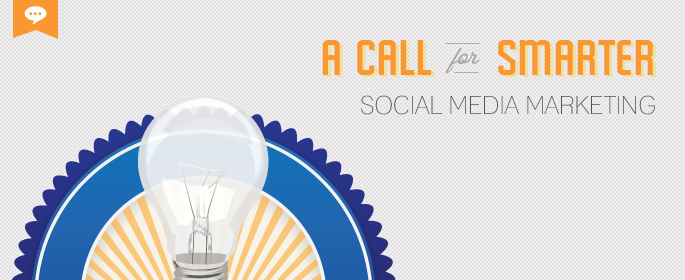 So the point where the mere mention of social media marketing makes you want to punch someone in the throat?
That.
That's where I'm at right now.
Social media has been hurting my head lately. There was this. And then that. And then #Sandy happened and brands lost their minds. It's social media stupidity all piling on top of each other. No wonder social can't get no respect among "serious" professionals.
But we're to blame. We are the ones using social media to embarrass ourselves and the brands we represent. We need to be better.  It's time to promote smarter social media marketing.
How do you do that? It starts with something we're all a little obsessed with here at Overit. Creating a process.
Our process for social media looks something like this:
Build a Smarter Framework
There was a time when it was perfectly acceptable to get involved with social media without having a plan in place. You were given a pat on the head for simply being daring enough to enter the social waters. But that time needs to be over. Today, you need a framework based on:
1. Identifying key performance indicators: Why is your brand getting involved in social media? Know this before you create your first profile.  Don't tell me you're doing it because competitors are there. I want to hear an ROI-backed objective. This could be:
To build another lead generation channel
To strengthen a specific marketing campaign
To increase brand awareness and reputation
To shorten your sales cycle
To increase overall customer satisfaction
You know what's not on that list, things like "increase followers" or "engage in conversations with customers". It's not that these items aren't important, they are, but they should lead to bigger ROI-tied objectives. Otherwise you're not marketing on social media; you're bullshitting on social media. Find a friend for that.
2. How you'll measure KPIs?: Once you identify the metrics important to your business – know how you'll track them. Create the formulas and the baselines you'll need to know NOW before interaction starts.
For example, if you'll be tracking leads that generate from social media, you'll want to familiarize yourself with the Google Social Reports launched this past summer designed to help you track where social media entered the conversion cycle and get real dollar amounts tied to activities. Or maybe you'll want to consult a tool like SimplyMeasured to help you put baselines and metrics in place.If you're using social media to strengthen a specific marketing campaign you'll want to compare how this campaign performed against earlier campaigns, and divide that by the cost of the social program.
3. Create an internal pipeline: Once your social media strategy kicks off, you're going to be swimming in information. You'll get customers using social to ask product-specific questions, to track orders, to give kudos, to complain, to ask about billing, to get general product information, to ask about the company stance on X, or to ask you if you're a dog or cat person [dog]. They're going to have comments and feedback related to a host of different issues – and they all need to be addressed by someone within your company. Figure out your internal pipeline for how this is going to happen and how issues will be handled. Otherwise you risk ignoring the people who are talking to you. That's not social. That's rude.
4. Know how social fits into existing marketing": Social media can be used as a significant value add to your marketing efforts, or it can sit by itself in a corner collecting dust.  For the latter not to happen, a plan needs to be created to determine how social media fits into your overall marketing efforts. That's how you will truly benefit from social media signals and everything else social has to offer your brand. Social media isn't an island and it's not a separate entity. Attempt to treat it that way and prepare to be underwhelmed by its value.
Listen & Participate Smarter
You don't have time to hang out in social media all day. As VP of Strategy at Overit, I barely have time to visit my desk, let alone Facebook. And that's why we need to rely on social media tools to help us participate smarter. Using tools may initially sound like you're doing social media wrong, but the truth is every minute NOT spent having to hunt down a mention is a minute you can spend engaging with a customer . Tools allow you to focus on the interactions that matter and automate the tasks that a monkey could do. Like tweet links.
Depending on the size and scope of your organization, your tools of choice may differ. Smaller organizations may find decide to use a combination of Google Alerts, Hootsuite or Trackur, while slightly larger organizations may opt to use paid tools like Simply Measured, Raven Tools, Vocus or a list of others. It matters less to me which tools you use, and more that you put something in place you'll use.
Areas where tools may be helpful?
Finding and monitoring mentions
Scheduling updates
Finding content to share via social media channels
Measuring activity and conversation analysis
Understanding best days/times for updates
Competitive analysis
Tools can help you identify areas of your social campaigns which aren't working or new opportunities which may exist. However, your brain and your own common sense will always be the best tool in your arsenal. Use it in conjunction the tools you may pay for.
And again, tools will not replace the need for you to be present in your social encounters, they'll simply help you manage your process.  I may rely on Buffer to help me find, share and manage my Twitter presence, but doesn't mean it's on autopilot either. Social media "works" for me because I've taken an active role in building my accounts.
Take Smarter Risks
This is where much of social media fails. Social media isn't just about using the right tools and getting the right policies in place…it's about adopting a social business culture and taking risks that are going to benefit your brand.
Use social media to respond to people talking to you, for customer service, and to answer questions. But also use social media to be vulnerable, to expose your brand, and to give people something to hold on to.
Erika Napoletano gave an incredible TEDx talk recently about what it really means to unpopular. If you haven't watched it here, it's embedded below.
In her talk, Erika challenges businesses to open the door, show some leg, and to invite people into the warm, gooey part of who you are. That's the good stuff and it's how you'll attract an audience. Sex sells. But so does showing people you're not afraid to be who you are and giving them a story they want to hear.
That doesn't mean to be a raving lunatic or to let it all hang out, either. I've written and spoken a lot about being strategically authentic , and why I believe that's the sweet spot we're all aiming for. Know who you are and you you're not, and polarize with a purpose.
Hire Smarter
This tweet? This was not a social media tool problem. This was a hiring problem. KitchenAid hired someone to manage their social media accounts who did not have the maturity or the intelligence to use social media properly.
Don't get me wrong, I've said things on Twitter that others have found distasteful and I've lost clients based on things that have appeared on my Twitter account – but there is a difference between being polarizing to attract the right audience and being an idiot. That tweet was not inappropriate because it came from a corporate account. It was simply inappropriate.
Know who you're hiring before you put them in a public position. If you wouldn't trust them to answer the phones and speak directly to your customers, you shouldn't be giving them the keys to your social media presence.
I think it's time we all demand more from social media marketing, both in what we'll accept from others and what we're putting out ourselves. This is the basis of our social media marketing services.  But what say you?