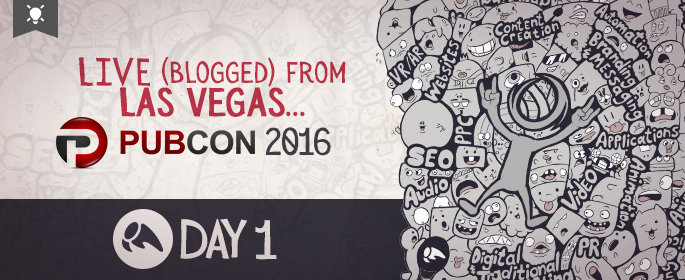 I'm embarrassed to admit how little I've used Snapchat, which is why I'm pretty excited for this next session.
First up, Kat Haselkorn, of Go Fish Digital. Snapchat's not a passing trend.
She's a pretty terrible photographer, she admits, so she fails at Instagram. But Snapchat is more fun and frivolous, less demanding of your photo skills.
It's a wonderful place for cat gifs and photos of burritos, like much of the Internet. However, there's more to it. And many misconceptions (it's not all about naked pictures that disappear, like we thought). Snapchat is used for creative purposes, for keeping in touch with friends.
People also think it's confusing and there's a high barrier to entry. Taking pictures in a school bathroom is not the only use case. Plenty of people over the age of 30 have figured it out.
Snapchat passed up a major purchase a couple years ago. But guess what – it's valued tremendously higher today. Monthly active users are on the rise. Facebook, Instagram, Twitter… Snapchat is just behind them. In fact, Snapchat may have more engagement than Twitter. The signs are pointing in that direction.
You can reach teens. You can reach "young millennials." But the reach across the 25-34 age bracket is on the rise.
Only 1% of advertisers are using Snapchat for marketing, but interest is growing. So let's cover the basics, so we can get started.
Here's how to use Snapchat. 
Take a photo.
You can add a geofilter.
You can add lenses (have you seen the puppy faces, the rainbow tongues? These.)
You send your photo to a select number of friends, or add it to your public story.
Once they view it, it disappears, one of the quirkier parts of Snapchat.
Story: A series of photos that get linked together that show off your day as you go along. These posts last 24 hours.
Ads: Newer, and still evolving.
What sets Snapchat apart?
Interactions on Snapchat are not public by default. There's no pressure to present your best self (or look really tan in every photo). These are meant to be seen quickly, but not referenced multiple times.
There's no record of interactions – no social ripple effect. Can't reshare favorite snaps.
It's heavily image focused, with a very limited word count. There's no way to share links.
There's no way to find interesting users – you must search by name/brand/etc.
Snapchat makes money the following ways, as advertising expands. Expect these methods to change and grow. 
Right now, ads can be baked into stories.
They also offer sponsored filters and geofilters (you can make your own!)
Sponsored stories are available.
Snapchat also offers premium features to users, such as more replays.
There are revenue-sharing deals with publishers.
Some advertising methods to watch for include: 
Sponsored snaps
"Suggested brands" – these would be a huge opportunity for brands to raise awareness of their accounts
Premium vertical video content supported ads or subscriptions could be coming
Quick news update on Snap, Inc. The parent company just rebranded, and announced they're launching Spectacles. This company is growing and doing a lot right now. 
5 don'ts from Kat:
Avoid non-adjusted, horizontal snaps. Don't make people have to rotate their phone. Remember the standard view is vertical.
Don't use the 8 second-default length snaps. You can adjust this to lower, to match people's attention span.
Avoid long, boring stories. Stay away from repetition. Keep your stories short (she recommends 30 seconds or less).
Skip excessive fan takeovers – quite often, people don't enjoy them, or they don't represent your fan base well.
Don't expect your photos to disappear. They can be screen captured. They can live forever, so use common sense to avoid situations like these.
Another example: Snapchat faced its own backlash when it set up a Bob Marley filter, which essentially just became blackface.
What are some best practices?
Make your profile public, to gain more visibility
Distribute your Snapchat QR code on other social media accounts
Post stories when you go to events or do something cool, but…
…keep all that promotional material to a minimum – you will lose followers
It's okay if you don't post that much – focus on quality, not quantity
Metrics You Should Track
Views (are your snaps getting seen?)
Story completions (are people viewing your whole story?)
Number of screenshots (are people capturing your images for later?)
Number of snaps in the story (how many are you posting, what amounts get the most views?)
Length of snaps/story (see what seems to get the most engagement – what works best for you)
Time of day and day of week performance (always good, on any social media platform)
Key Takeaways
Don't use the same tactics you use on other social media channels
Go behind the scenes without being overly personal
Consider advertising and whether it's right for you
Track and measure metrics over time
Again… stay away from extensive corporate promotion.
Kat's final point: People don't want to be overtly marketed to. Make it so they get to know you, without noticeable sales speak.
Focusing On Creative… 
Next up is Christina Baldassarre, covering "Branding, One Snap at a Time." She's the brand strategist & managing partner of Zebra Advertisement.
Snapchat is a cool thing, she says. She focuses on how to leverage filters, color choices, and imagery.
There are a lot of filters to try out. Regular, black and white, all the way to showing off the time, speed… and sponsored filters. 
There's no follower count like on Twitter, so your baseline for engagement is to check out views. In her experience, engagement peaks when she uses a sponsored filter (a sign of how Snapchat's algorithm works? Maybe so).
Snapchat's custom geo filters allow you to choose how long it'll be available, where it'll be available and more. You have to accurately describe where you want the filter to be available, and be the first to claim it for the time period that you're requesting it. This takes planning ahead! They have to get approved by Snapchat, so allot time for that.
She notes that you can layer filters (3, at max). So layer that time filter over that Starbuck's branded filter. You can also access unlimited color filters through a simple trick – want a faint white overlay filter? Type a faint white "A" (or any other letter) and make that letter an incredibly large font. You can also make sure you custom color filter overlays match your brand colors.
You can also take advantage of frames and solid backgrounds, as well as use separate colors for individual words and letters. Why care about color? Color makes an impact! Two different color shades can have an impact on conversion rates. Two different fonts can, as well. This all requires creativity and testing.
Did you know: There are 30% more faces on Snapchat than on Facebook and Instagram. Why does this matter? People respond to faces differently than they do other images, and there's data to back that. Close shots of people's faces looking into the camera convert better than photos of people who are looking at each other.
Conclusion
We heard a bit on why to use Snapchat, how to use Snapchat, and some tips and tricks to be creative and successful on Snapchat as a brand. Questions in the room revolve around case studies and personal experiences using Snapchat on brand campaigns. One quick thing to note is that Snapchat provides clear information on its current advertising options, along with advertising policies.
We also heard a bit about Instagram Stories and Snapchat. The general consensus is that they're similar, but different enough, and they will likely continue to coexist. What does that means for your advertising? You'll have to track where your audience is and which is best to build engagement, which will remain something individual businesses will need to decide on their own, based on their strengths, existing followings and where they want to focus.