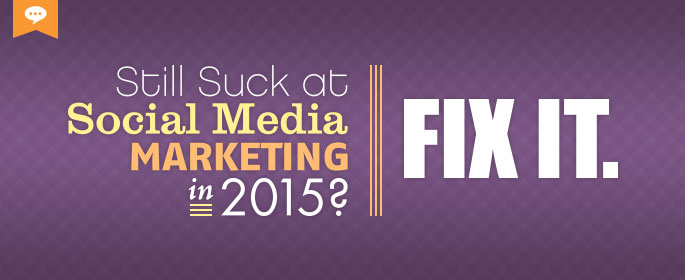 How'd your social media efforts work out last year?
Did you connect with the audience you wanted? Were you able to drive traffic to your site and increase leads from the right types of customers? Did you enjoy it? Or did social media just kinda… sit there, not doing a heck of a lot for you?
If it's the latter, don't feel too bad. You're not alone.
But it doesn't have to be that way anymore. Let's make 2015 different and give it a happier social media ending. Below are six things you can start doing today to increase social media ROI over the next 12 months.
Pay For Social Marketing
I'm not saying to hire someone to manage your social media implementation (though social media marketing services exist and, hey, there I am in a video). I mean don't shy away from paid social media advertising – opportunities like Twitter Ads, LinkedIn Ads, Pinterest Ads, etc. Paid social offers businesses – especially small- and medium-sized businesses where initial awareness is key – a great opportunity to stop throwing your message out for free to 800 million people and, instead, to pay a small amount to send it to the 50 or even 500 people who really matter to you.
It's not rocket science. It's just smarter marketing.
If you haven't used paid social media advertising before, all of the major social networks offer opportunities for brands to get into the action for relatively inexpensive prices.
For example, Twitter Ads offers a number of ad campaign options that can help you gain followers, drive people to your website, increase tweet engagement, attract leads or a host of other opportunities. The ad types are nice, but it's the audience targeting that really helps marketers get value for their dollar, being able to target based on geographic area, gender, 350 interest categories, who they follow or even to find Twitter users currently sitting in your own CRM.
Not too shabby.
Facebook Ads are often considered the main dog in the paid social fight, and with really good reason. Armed with data on more than one billion people, Facebook lets advertisers tap directly into it to find the people most relevant to your business – targeting by interest, job title, age, zip code, marital status and soon by level of FB passive aggressiveness (probably coming). You can even upload your own prospect list to Facebook to target to specific faces. There are a variety of ad types to help you customize your campaign to a specific need.
See the details over there on the right? They add up to exactly the person you want to reach.
Current data says a customer needs to see your ad 15-20 times, with the same messaging, for them to remember it and to get them to act. Being able to use social media advertising as a way to reinforce that message has become really effective. Facebook has gone on record saying users will see fewer promotional posts beginning January 2015. If you intend to market on Facebook, you need to use paid advertising.
Use More Video
In September of 2014, Facebook announced it was generating a billion views a day, with views increasing 50 percent from May 2014 to July 2014, and surpassing YouTube for the amount of video watched on desktop. Much of this growth can be tied back to Facebook's decision to auto-play videos in a user's news feed, but even if the numbers are inflated, users' love for video is not. We still go to Facebook to be entertained and to be informed – and video is, increasingly, a way to give them both. And with organic reach on Facebook dying – you gotta do something to stand out. Video's a great option.
If you want to up your social media game in 2015, start creating online video. That includes:
Bite-sized content
Short, quick bits that allow you to show a process or give fast information. Brands like General Electric and Oreo have been incredibly successful with short-format video like Vine.
Brand Content
Brand content explains who you are, what you're passionate about or maybe why it is you do what you do. This video illustrates why today's sales cycle is broken and the revolution that needs to take place to fix it.
Explainer Videos
Explainer videos give you the chance to walk your audience through a process or an issue, allowing you to answer questions, simplify a complex idea or thought, or help them understand what comes next.
H&V Collision | Full Explainer Video from O Studios on Vimeo.

Common Core – Test Refusals Hit Main Street from O Studios on Vimeo.
Video doesn't have to mean huge budgets and high production – we work with clients of ALL budgets and ALL audiences. It just needs to be engaging and to tell a story.
Think of Mobile
Despite evidence mobile is taking over search (and the world), marketers are still pretty mediocre at it. In the linked post, Brian Solis notes that "mobile is no longer the second screen, it's the first screen."
Go reread that quote from Brian. Maybe type it up, get it designed and hang it somewhere. It should become your mantra.
Design for mobile. Make mobile a prominent part of every aspect of your marketing campaign, but pay special attention to it when you're thinking about social media and the content you're creating for social media. Realize when you are trying to get content shared, it is most often consumed on mobile first. Think about your own actions – what device are using when you're creepin' Facebook and Twitter in bed, sitting on your couch or at a fancy restaurant ignoring your date? You're on your phone.
Over at Distilled, Will Critchlow penned an absolute Must Read with Build Different Things – Why You're Not Done When Your Website Is Responsive. In his post he talks about why you can't simply make content responsive and think you've solved the mobile problem. Read that post, then live that post.
Ecommerce Integration
Twitter and Facebook are both testing "buy now" buttons. Soon you won't have to leave your snark-fest Twitter feed to buy something you didn't really need in the first place (Nessie Ladle, anyone?). The opportunity for advertisers is endless – capturing consumers ready to act quickly.
This opportunity hasn't rolled out for the masses yet, but it's coming. Start planning now.
Have A(n Integrated) Plan For It
By now it seems silly to even ask this question but… you do have a plan for social media, right? We're not still going into this flying by the seat of our pants with no idea who we're trying to reach, what our goals are, why we're using certain networks and how to talk customers, right?
Thank goodness.
What about the rest of your marketing efforts? Do you know how social media fits inside them?
Things simply work better when they're working toward a common goal. You shouldn't create a piece of content without knowing how it will affect social media. You shouldn't plan a website, without knowing how social media fits into it and how it will help the business achieve its larger goals. That integrated strategy, the plan for how you're gonna reach customers across touchpoints, is what's so often missing, not only from social campaigns but for larger marketing campaigns. It's 2015. You have to be smarter than that.
Get your team around a single table and talk about what it is you're doing and how you can help one another across departments.
One Last Plea: Get A Better Avatar
It's 2015 – your social media avatar should not be you drinking a beer, you shouldn't be half-naked and you shouldn't be doing something your mother would hit you on the back of the head for doing. Be smarter than that. Get a new headshot, one that shows you in the light you wish to be cast.
It's a new year and the choice is yours. You can use social media to drive traffic, to increase leads and to build the authority of your brand and your people. Or, you can flop with it, you can let it go stale and you can continue to do everything that didn't work last year.
Why not be better this year? The tips above will help get you on the right social media foot in 2015.