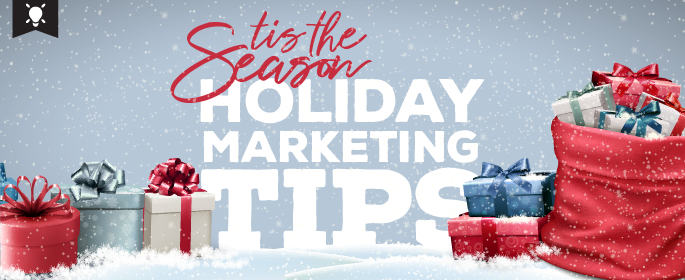 As the cold weather starts to roll in, we're reminded of what's coming… the holiday season. The upcoming months are not only the busiest of the year but also when the most spending occurs. Most retail marketers are heading toward the largest business and profits of the year and it's important to make sure your marketing campaign isn't left in the dark this winter. Is your holiday campaign going to be ready?
Want to make sure you're on track? Here are 5 tips to keep in mind this shopping season.
1. Review last year's data.
First, review what promotions and sales worked best through the 2016 holiday season and keep those in mind for the 2017 season. This may seem obvious, but it is imperative for moving forward and improving in the 2017 season. Statistical techniques are based on the assumption that any existing pattern will continue into future seasons if it isn't changed by outside factors such as market share and new entrants. First, look at what marketing strategies worked and what did not. Be sure to filter out what was not effective for this year.
Customers love sales. Sales and promotions that were successful in previous seasons tend to be successful in future seasons. Shoppers are bombarded with ads and promotions everywhere they look during the holiday season. Be sure to find ways to use that old ineffective data and update it into something more effective. A personalized promotion may provide better results so a customer will not feel as much advertised at, but rather advertised to.
2. Plan ahead.
The #1 cause of chaos when preparing a new campaign is getting a late start. The summer is when you should be planning the type of products and promotions you want to display during the holiday season. If you start your marketing plan late into the season it will be over before you have the insights to help you adjust for successful performance. This is where planning ahead comes in. The earlier you start, the sooner you can test different mediums and strategies. Starting early entails a flexible and open-to-new-ideas approach in order to plan out the actions you will take if certain scenarios occur.
However, if you're just reading this now… the best way to start planning is to map out the holiday season on a calendar. Map out dates and deadlines of when strategies should be implemented and track their results. Design your promotion plan; decide who your promotion plan is targeting and how you will do this. Is it through e-mail? Social media? Paid-advertising? You may need to plan and launch your campaign simultaneously, but make sure you measure and report what areas worked best to reach target customers and what fell flat. Take notes for the following year (see #1)!
3. Be authentic to your brand.
If a holiday sale or promotion doesn't make sense, skip it. If you want to donate proceeds to a charity, pick one that you're passionate about. Don't do something just to do it. This may even mean skipping the holiday-specific promotion altogether.
No one knows your brand better than you do. Most brands establish guidelines that will keep messaging consistent throughout all branded material for a season. Your brand identity, depicting how your brand should look, feel, and sound on channels that provide experience for your customers should remain aligned. If a promotion does not align with your brand, don't do it. Consider your audience. You should be catering to them and if they will not find the promotion applicable, your holiday campaign will be unsuccessful.
Of course, each year this strategy may change a little. It is imperative to keep up with the times, maintaining the consistency of your message and keeping the brand alive.
4. Use a variety of channels.
Like any other campaign, you're not going to reach every audience by using one tactic. Tap into all of your different channels, like email, public relations, social, online advertising, etc. and build a campaign with many touch points at many different times throughout the holiday season. Your target audience and demographic should tell you which channels you should be focusing on. Decide what approach best aligns with your brand and holiday marketing campaign this season.
Some ideas:
Cater to mobile users as you decide what tactics to implement. Last year, Black Friday alone generated $1.2 billion in revenue on a single day just by purchases made through mobile devices.
If you want to attain some reach and gain exposure during the holiday season, try Instagram. Startups and businesses have been taking to this application by way of "influencers," or accounts that have a large following and influence to do their advertising.
Look at channels your competitors are missing! There are many different sites that are not utilized as often, including YouTube and Pinterest. These sites generate millions of visits every day. Look at channels that may not be utilized as often and follow that path to add a mix of different channels to your campaign.
5. Continue past the holidays.
Take advantage of the holiday shopping season to introduce your brand to customers, not just your products. Then keep in touch with them afterwards and cultivate them into long-term customers.  Position your product and brand as a lifestyle, not a one-time purchase. Every holiday season, a company aims at targeting a customer's wallet, but how many target their life past the holiday season?
Developing customer loyalty has never been more important than in this age of social media. Customers have actually become your brand ambassadors, which is where customer longevity plays an important role. Take the holiday season to introduce your brand if you haven't already and continue to interact with the customer post-holidays. Allow yourself to expand your marketing beyond promotions for just one season. You will open the door to more possible campaign ideas to run throughout the year. Encourage customers to continue brand interaction up until the New Year by holding a New Year's resolution contest, or having polls and surveys that constantly keep your brand top of mind with the customer.
Remember that planning your holiday marketing campaign ahead of time can radically change your results for the season. If you stay open-minded and keep your customers as the focus of your campaign, your efforts will go a long way.