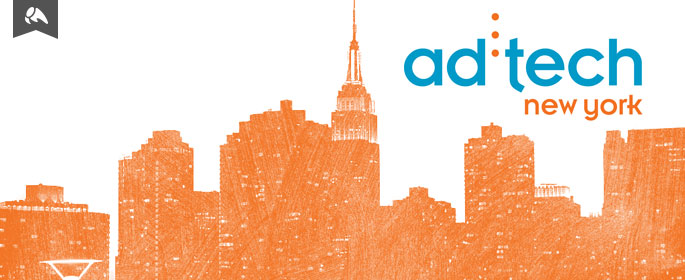 We've reached the last session of ad:tech NY Day 1. Still with us?
Good!
Our last session today is all about how to dress up your website in a way that serves your users. Providing your customers a rich user experience requires knowing what your visitors need and how they navigate and interact with the site. Our speaker, Stephanie Balderrama, is going to walk us through some common website errors and how to fix them. 
Ready?
Stephanie starts. Everything today is digital. No platform is immune at this point. Our phones have it. Our laptops have it. Those we inspire to pull into this realm are getting there.
Given the link between digital innovation and market relevance, the stakes for getting it right are very high. The key is to know your customers. Discovering and understanding your customer's unique characteristics, motivations and their needs is crucial in developing any design. It doesn't matter if you're crystal clear about your product if you don't know your customers. It's very hard to build or design for someone if you don't know them.
Things to pay attention to:
What is the purpose of this site: Users often struggle to determine the purpose of most sites. Be clear on what users want to do and what YOU want them to do. Present clear and obvious choices, direction and paths – don't infer a course of action, present one.
Realize that time is NOT on your side. You have three to four seconds to establish relevance, interest and an initial interaction point. You should be asking yourself:
Who is your target audience?
What characteristics describe them?
What are known workflow patterns, preferences and issues?
How will the application be used and should this impact the design?
Your site must be visually compelling: Consumers expect to be visually entertained or compelled by sites and applications. This is especially the case with those currently using tablets and e-readers. Users expect designs to have evolved beyond the "traditional" website and are looking for more linear and fluid design elements.
…however, it must also be usable: Graphic and fluid-based layouts are initially engaging, however, they can quickly become overwhelming if there is not a clear hierarchy within the screen – understandable hierarchy, clear starting points and obvious points of functionality and navigation are still key. No one wants to get in a car and wonder where the steering wheel is.
"Overwhelming" equals quick exit off the homepage: Many of today's sites have such busy dynamic leads and/or such a heavy focus on new content that consumers aren't getting far on the page. Most users are not noticing or taking action on any secondary groupings or collections that would surface additional content or features – diminishing the site's overall value.
Dynamic lead gains attention, but can stifle browsing: The dynamic lead (ie your homepage carousel) is unquestionably a good place for highlighting content, and there can be some rotation to it. However, if it's too crowded or moves too rapidly, it is the only area that gets full vision attention outside of a few headlines.
Easy access to features and content: The days of stringing users through multiple screens in an effort to up page views are gone. Users expect instant gratification and will abandon course or jump to an outside search in an effort to expedite the access.
Functionality must be noticed to add value: The search field, the sort tool and other key functionality must be noticeable and obvious to the user. In many instances, these items are excessively discrete due to minimal sizing, lack of color and/or poor placement. Give people the tools and assets they need. Respect what your users want to do on screen.
Tabs work well: Sites with tabbed navigation for primary browsing paths are generally deemed more user friendly than those that have more traditional static upper or left-hand navigation themes.  Tabs used to be the red-headed step children of navigation, but they've matured nicely.
Information hovers work well, too: In addition, hover features give more information about a particular piece of content without having to click through to the individual page. Consumers find this type of navigation appealing, noting it seems faster and more convenient.
Consistent functionality expectations across platforms: Expectations in terms of placement of key functionality is similar across platforms. For example, consumers consistently looked top of screen for search and to the left or mid rail for sorting tools and functional options.
(Internal) Search results must be comprehensive but easy: The more consumers have to think about how to read or interpret search results, the less likely they are to continue – or will opt out to an alternative search solution (Google). Use internal search as a platform to be comprehensive about the other things you offer.
Broader search terms are imperative:  Most sites do not accommodate broad searchers. These queries returned no results, or strange results and drive users out of the site.  If users can't find what they're looking for on your site, they will leave your site to find it elsewhere. Help them surface related content in an organized, effective way to keep them on your site.
Global search can be frustrating: Sites and apps that only offer global searches put the onus on the consumer to sift through all remotely relevant content. An example, consumers are often frustrated and confused when they see songs, books or apps in their search results when looking for a movie or TV show title.
Curated content appeals to users: Consumers like the idea of curated content being available – making it easier and more efficient for them to find relevant content and explore options. Content groups based on learned likes, similar themes, genres, etc, surface content that users wouldn't have thought to look for and are likely interested in. Additionally, they like that the service does the work for them.
However, poorly curated content can cause brand backlash: When content seems poorly grouped together into a collection, self serving to the service or the range of collections offered is lacking, consumers react extremely negatively.
You are NOT the user: When designing your site, make sure you know the audience you're building for. Users must be comfortable with the design to absorb it. Basic and familiar elements should still exist in the new design and should be clearly located and easily accessible. Evolve behaviors – don't just completely change the old ones. Thread new elements into existing patterns of usage. Make it usable… intuitive and simple functionality appeals to all user levels.
And that's it. We're off for some conference drinks and chatting.