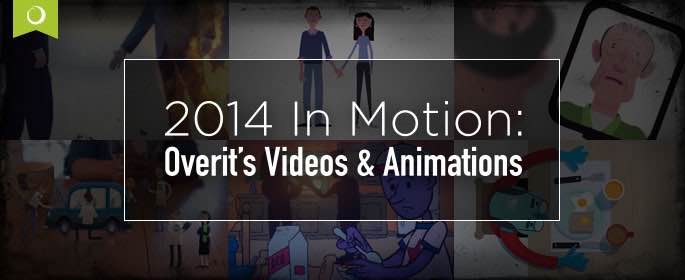 There's been plenty of buzz in 2014 about how important video is to brand's marketing efforts today.
As you probably know by now, we're big fans of video at Overit, and enjoy the opportunity to include video of all styles within our integrated digital marketing campaigns. This year was no exception. Here are a few of the Overit motion team's favorite projects from 2014.
Video Asks You to Be a Part of the Revolution
Overit recently worked with Qvidian to launch the Revolutionize Selling campaign. The focal point of the campaign's new website, the video seeks to inspire salespersons and businesspeople to reinvent and refresh stale sales processes, using the company's manifesto as the script and a combination of live action footage and motion graphics matched with unique (dare we say revolutionary?) sound design.
[youtube]https://www.youtube.com/watch?v=xY640q2zuWo[/youtube]
Motion Graphics and Video Showcase Importance of Words
Every day, kids face bullying in their schools. Albany County District Attorney David Soares wants to put a stop to that, through PSAs running online and in Capital Region movie theaters. His two anti-bullying PSAs showcase kids encouraging children their age to speak up and speak out against bullying. Motion graphics help showcase the message that words, negative and positive, make an impact, and that what you say makes a difference.
[youtube]https://www.youtube.com/watch?v=eShx-4YtgoU[/youtube]
[youtube]https://www.youtube.com/watch?v=H8YVeiBUtMk[/youtube]
Whiteboard Video Educates Parents
Not sure what to think of mandated tests in your child's elementary school? NYSAPE's whiteboard video, illustrated and produced by Overit, tells you what you can do if you wish to decline having your child participate. Here, the popular whiteboard approach to video production allowed us to showcase information in a simple and easily-digestable manner.
[youtube]https://www.youtube.com/watch?v=URkNzkADnIM[/youtube]
Animation Introduces Safe Drug Disposal Brand
Have old, unused medicine lying around your house? MyOldMeds wants to make sure you dispose of it in a safe and secure method, so it poses no risk to anyone else inside or out of your home. Our launch of the MyOldMeds campaign included the creation of an animated PSA that explored the dangers of leaving unused or out-of-date medication accessible to others, and taught viewers what they should do with these unneeded medicines. The use of animation made the video eye-catching and engaging, increasing the likelihood PhRMA's new brand would grab the attention of the intended audience. Fully embracing the potential for multi-channel marketing, this video has been promoted on the website, on social media and in an ongoing online advertising campaign.
[youtube]https://www.youtube.com/watch?v=vQR9OvgFhb0[/youtube]
Video and Animation Combine to Explain a Process
Processes can be a bore to hear about, and especially to read about. But when you're choosing which collision repair center to work with, you kind of want to know what happens when you hand over your keys. So we used animation to explain.
H&V Collision Center's animation begins with a customer filmed on-camera, walking through her house to her kitchen table. As she tells you her story, the animated scenes play out in front of her.
[vimeo]https://vimeo.com/97751253[/vimeo]
[vimeo]https://vimeo.com/99631293[/vimeo]
Feel better about where you're leaving your car?
Animations Raise Public Awareness about Problem Gambling
With more casinos coming to New York State soon, KnowTheOdds stepped up its work raising awareness about the warning signs and risks associated with gambling disorder. 2014 included two new PSAs for the campaign, both departing from the original live-action PSAs for a new animated approach.
[youtube]http://youtu.be/2-q69fDXD24[/youtube]
[youtube]http://youtu.be/cMogebVGC1s[/youtube]
"ANGIE!" We had a great time working with Rensselaer Honda on their television campaign, launched during the Olympics. Variations of the following commercial showcased specials throughout the year.
[vimeo]https://vimeo.com/85835944[/vimeo]
Add Video to Your 2015 Digital Marketing Plan
We're looking forward to next year's projects. Have ideas for your company's next video – or need help coming up with something? Let us know how we can help.