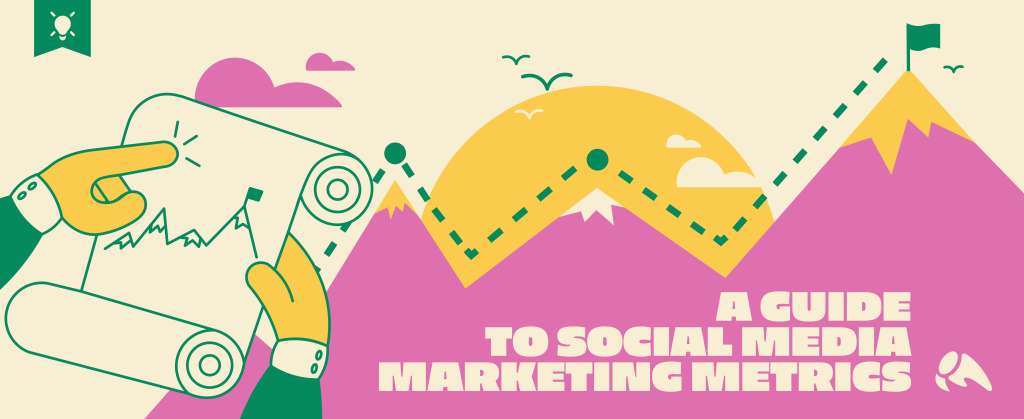 I like to say that social media marketing is both an art and a science. There's an artistic and creative side with conversational words and striking visuals. But then there's also the science – the data that drives your social media strategy. At launch, use data to understand your audience, establish goals, and create a content calendar. Over time, use data to see how your content is performing and make adjustments to your strategy. The purpose of this blog post is to help you understand:
What social media metrics are
Why you should track them
Types of metrics to track
How to measure metrics
How to report metrics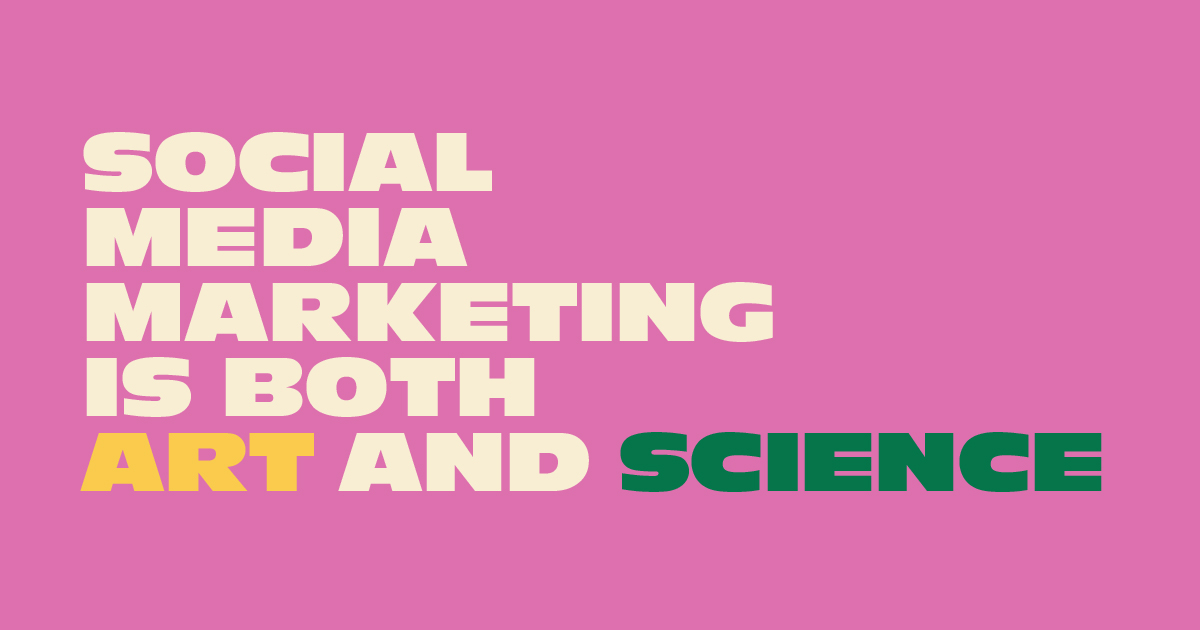 What are social media metrics, and why should you track them?
Social media metrics are quantitative and qualitative data points used to measure the performance and effectiveness of your brand's social media presence. These metrics provide valuable insights into how well your social media strategy is performing and how it aligns with business goals. Why is it important to track social media metrics? There are a few reasons:
Social media metrics can inform your business strategy. According to Sprout Social, "90% of business leaders agree their company's success will depend on how effectively it can use social media data and insights to inform business strategy."
Social media metrics can prove the ROI of your brand's social media strategy. The decision for a brand or organization to have a social media strategy is a no-brainer. But, Sprout Social says social media teams find that showing and proving the ROI is a challenge. Tracking and reporting on social media metrics can help when you have people you need to report to.
Social media metrics can help measure brand health. Analyze various social media metrics to give your business or organization valuable insights into brand perception, reach, engagement, and target audience impact.
Types of social media metrics to track
So much data – so little time! There are many types of social media metrics that you can track, but you don't need to track them all. Social media metrics vary for each business or organization based on size, platform, investment (organic vs. paid), and marketing goals. Let's talk about the different types of metrics you can track and what analyzing them can tell you.
Audience growth metrics
Clients like to look at follower count. It's easy to see on the surface but doesn't tell the full story about the success of your social media strategy. That's why it's often referred to as a vanity metric. Take it a step further. Pay attention to the following audience growth metrics:
Audience size is important because it shows how your social media channels are performing. While it is a very surface-level metric, it is still important to track.
Follower growth measures how many new followers you gained over a reporting period. You'll want to make sure your follower growth hasn't stalled or even declined. If it has, then it's time to adjust your strategy and try something different.
Follower growth rate measures how fast or slow your audience is growing. You don't want stagnant growth.
Brand awareness metrics
Is building brand awareness an important marketing goal? Tracking brand awareness metrics shows how your social media strategy is working plus it identifies areas for improvement. Examples of brand awareness metrics include:
Audience growth rate. It's not just follower count. It's how many new followers you earn over time as a percentage of your total audience.
Impressions are the number of times people saw your content. If someone looks at your content more than once, your impressions will be higher than your reach.
Reach is the number of people who see your content. Reach is different than impressions because it looks at the number of unique people who see your content.
Brand health metrics
Social listening is a great way to check your brand health. It involves looking at and analyzing conversations and trends related to your brand. Any insights from the following brand health metrics can help you see how your brand measures up to the competition, anticipate and prepare for any crises, or just what people are saying about your brand in general:
Mentions include organic social media mentions in posts or comments tagging your brand. Regular social media monitoring tracks and finds mentions. A social listening tool can also help you see which common keywords are also mentioned with your brand. You can analyze these to see if they are positive or negative.
Sentiment (audience sentiment or social sentiment) looks at how people talk about you online – are they saying positive or negative things? Some platforms can even track emotions associated with what people are saying: joy, fear, anger, sadness, and disgust.
Share of voice provides insights into the extent to which your brand dominates (or doesn't dominate) the industry conversation. Usually, a third-party social media analytics tool can help you calculate this.
Conversion metrics
Conversion metrics are very important when you need to prove social media ROI. The following examples of social media conversion metrics can help your team track the success of social media campaigns – both paid and organic.
Conversion rates measure how often your social content starts the conversion process. Make sure your conversions are trackable by using UTM codes. The conversation rate comes from the number of conversions divided by the number of clicks.
Conversions are when someone takes a desired action. For social media, this means seeing an ad or a post and then purchasing something, downloading something, or signing up for an event.
Engagement metrics
Social media engagement metrics are important to track. Each of these metrics can help show if your audience is interested in your content and which content types your followers find most interesting. These insights can help inform future content calendar creation. Examples of social media engagement metrics include:
Engagement rate is usually calculated by the total engagements a post receives divided by the number of impressions. If your post has a high number of impressions but a lot amount of engagement, you can infer that it didn't connect with your audience. Your engagement rate can show if your content is resonating with your audience.
Likes, comments, retweets, reactions, etc., can be vanity metrics. They're easy to see on individual posts, but overall, you can see which posts are successful and get the most engagement and analyze the reactions.
Shares can also be vanity metrics, but they are also valuable. If your audience wants their audience to see your content, it means they find it important. It can also help with your brand awareness goal.
Paid social metrics
Paid and organic social media should not compete but work together. According to Statista, the social media advertising market is projected to reach $207.10 billion (yes… billion) in 2023. Examples of paid social media metrics you should track include:
Cost per click (CPC), the name says it all – how much it costs for every click you receive.
Cost per thousand impressions (CPM) is how much you have to pay per thousand impressions. (Note: CPM stands for "cost per mille" with mille meaning one thousand, not "cost per million" which you might guess.)
These metrics show how your paid dollars are spent and whether you are getting strong ROI. Look at this over time to ensure you're optimizing types of content and whether you need to refresh ad copy or imagery.
Video metrics
Social video metrics track the performance of your video content. Sources and trend reports tell us that videos tend to get more engagement than static posts. Social media metrics reporting tools will separate video metrics. This allows you to compare and get valuable insights. These include:
Video views show how many people have at least seen the start of your video.
Video completion rate is a little more important because it shows who has watched your video from start to finish.
Use video metrics to justify content creation, whether to create more social media videos or see which types perform best.
How to measure metrics on social media
I gave you a ton of different metrics to help you decide which metrics to track. Now that you have those in front of you, it's time to figure out what these metrics mean and how the results translate to you and those to who you report. Here are a few quick tips:
Choose which metrics to track based on which matters most to your business, based on your business and marketing goals.
Define these metrics – what they are, what they mean, and why they matter. Having a glossary of these terms keeps all stakeholders – internal and external – on the same page.
Tell a story with your data. It's one thing to present data in the form of words, numbers, graphics, and charts. But it's also important to provide takeaways and how these metrics fit in with the big picture. Examine trends, interpret the data, and show you are going to use the findings to inform your strategy moving forward.
How to report your social media metrics
Don't try to measure metrics by hand! Use available tools or research to find a social media tool to help. Every major social media platform has free built-in analytics tools (e.g., Meta Business Suite). The only drawback is that you have to do a lot of back and forth to grab all the metrics from each platform and put them in a central location. A social media platform or third-party reporting tool can assemble all your social media metrics in one location and help you create reports to present. Decide how often you want to report. Some reporting cadences are monthly, others are quarterly.
If you have any questions about social media marketing metrics and how to use them to create a data-driven social media marketing strategy, reach out to The Overit Crew today. We use a proactive, strategic approach to ensure that the ROI you witness on social media is as tangible as the ROI from other channels.