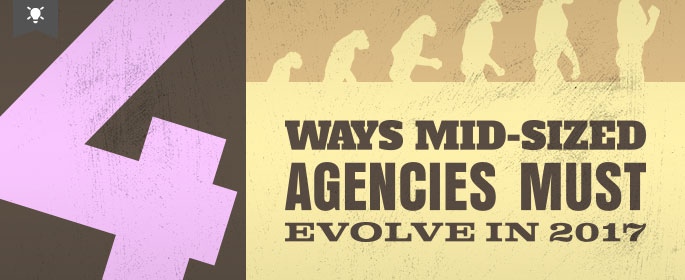 The calendar tells me that it's been almost three months since I joined Team Overit as Chief Operating Officer. After a career spent helping businesses create smarter, faster, leaner systems, the transition to Overit has been a natural one. Overit and I share many of the same passions, interests and beliefs about what not only what makes a leading creative agency, but how to evolve the mid-size agency model to provide greater value to our clients and employees.
As we head into 2017, our team has spent a lot of time thinking about what it means to be a creative agency today, and where we need to drive things to push forward. Below I share just some of the conversations we've been having internally. I'd love to hear your take on them, as well.
The Changing Role of the Small to Midsized Agency
Proactively Acquire The Skillsets Clients Need
I know. You're thinking, "wow, great insight, Paul! Can I have my money back now?" But keep reading.
We believe that it is the agency's job to bring tools to the people (our clients) who aren't classically-trained in what we do. That's how we bring value – by acting as our clients' missing piece, accomplishing what they wouldn't be able to do on their own. Whether that is organizing a fully-integrated marketing campaign, taking the load with content marketing, or, hey, even providing access to a full recording studio, by acquiring the skillsets clients need you are able to establish yourself as the partner they need and can rely on. You build not just trust and competency, but a genuine relationship.
For some agencies, this means acquiring skillsets through internal trainings. Taking existing staff and giving them the education and the tools needed to grow their skillsets and to do more.

For other agencies, it means actively recruiting new talent who specialize in the tools and tactics that clients need or, even better, that we anticipate they will need in the future.

For others still, it means going out and recruiting not key talent but acquiring whole companies. Overit is no stranger to this approach, having acquired a public relations firm and a graphic design company in 2011 and 2012, respectively.
Be Passionate About Collecting Expertise
Overit prides itself in not being a vertical creative agency. We don't want to only take on healthcare clients or higher education clients or clients in the automobile industry. We think having a diverse client portfolio makes us more creative, presents more opportunity for growth, and it means our clients never have to wonder if they got our best idea or the best idea we didn't sell to their top competitor.
But that doesn't mean it isn't our job to be experts in specific verticals.
One thing I knew about Overit before I ever showed up for a job was that they do a lot of work with associations. I knew of great campaigns the team had run for New York Problem Gambling Association (work), for PhRMA, and many others. Overit might not be an agency focusing on just that vertical, but it doesn't mean they haven't established expertise in it. I've seen the awards in the boardroom. It's pretty impressive, actually.
As a small to mid-sized agency, if you want to compete with larger firms, you need to become an expert in the verticals where you want to work. If you have clients in those areas, great. Create showpieces that you can use to win like-minded projects or that can be used to open the door for a possible Agency of Record relationship.
If you don't have client expertise in these verticals, find nonprofits in that vertical and donate your services or offer them at a discounted rate so that you can create those showpieces.
More than just doing the actual work, do your homework. Learn about the areas where you want to play. Host a monthly Lunch & Learn where you invite someone who has experience working with the types of clients you want, or prospective client themselves, to come in and talk to you about their industry, the problems they face, and the things they are trying to solve for. Assign Account Managers or members of your Strategy team to become the resident expert in healthcare, or the Go To person for home services. Make someone responsible for the agency's knowledge and find ways to disperse.
At Overit, we use Slack like as our agency lifeline. We have channels dedicated to different purposes and we're constantly sharing news stories, blog posts, whitepapers, videos, interviews, etc. Develop a culture that is passionate not only about the work, but about your clients.
Make Small The New Big
We're a 40-person agency located in Upstate New York. When we compete for national bids, it's not uncommon for us to be considered the small dog in the fight, up against agencies three- or four-times our size. There are two ways to approach this:
Make apologies for it
Use it as a creative selling point
We'd like to strongly encourage you to do the latter. It's time for small- to mid-size agencies not to hide from their size or to create different voices to represent made up people when you answer the phone (we've all done it), but to own your smallness. Because it's an asset, at least we believe it is.
Because we are small, we can take more risks. Risk-taking has allowed us to be early adopters of new technology like virtual reality.

Because we are small, we don't have cookie-cutter packages. Small agencies are less likely to be working under a legacy model that requires clients buy into a set package of services. We sell strategy and the tactics that support it, not four banner ads, two videos, one billboard and a free pen set.

Because we are small, we are flexible, constantly coming up with fresh ideas. We don't have the "luxury" of being specialists capable of just one trick. Employees of a small agency are expected to be cross-trained, cross-passionate, and cross-awesome.
Develop a risk-taking culture
Just a few weeks ago, we put a large notepad up in the Overit kitchen and asked employees to write down their favorite Overit moments of 2016. One item that made that list, one time that put a smile on all of our faces was that we took more risks this year.
We went after projects we didn't think we'd have a hope of getting – and got them
We pursued passion projects – launching a new alternative weekly in the region, sponsoring our fourth TEDxAlbany event and more.
We went hard on virtual reality and new technologies and pounced on holes in the industry.
These are things that have not only defined who we are as a company, but have shaped it. When you empower your team to take risks, beautiful things happens. Things that not only help you to retain clients and employees, but that define who you are as a company over time.
When it comes to evolving the mid-sized agency approach, these are the values and the items driving our actions.
What say you? What changes do you think the agency model needs to see in order to remain competitive? We want to hear it.