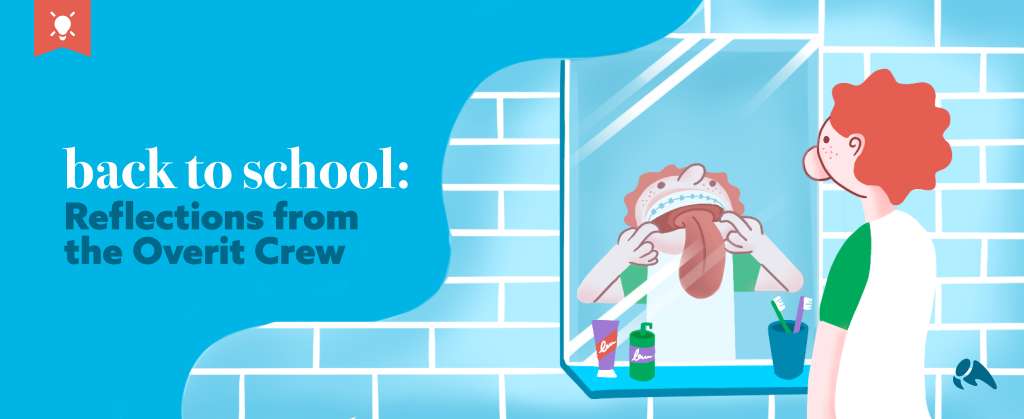 With back-to-school season upon us, it's hard not to feel nostalgic. So, some of our crew decided to reflect back on our own paths and how we ended up here at Overit! Marketing and advertising tend to be eclectic fields, full of interesting people from all backgrounds. Journalism, television and film, theater, teaching, graphic design, the music industry, events, and tech are just some of the backgrounds represented at Overit. Of course, learning doesn't stop when we finish school, so we're pretty lucky to get to learn from different people every day. Enjoy our trip down memory lane!
"I WAS SUPPOSED TO BE FAMOUS. But my acting professor said I was too organized to act. True story. So here I am, utilizing the communications degree that my parents forced me to also get, instead of starring next to Margot Robbie in the new Barbie movie."
"My professional path to Overit was pretty weird… I originally got my Master of Science in Secondary Education with Spanish and Social Studies certifications. I taught for one year at Albany High School and Bethlehem Middle School, but I immediately knew teaching wasn't my passion. So I did the logical thing and moved to Chile, becoming a reporter for the Santiago Times. Since then, I've taught Business English in Spain, been a Program Coordinator for Latin America and the Caribbean at UAlbany, worked in development for RPI, and finally found myself as a Senior Account Executive at Overit!"
"I'm a journalism graduate who was worried about being overeducated and underemployed but found a home in content marketing because of my ability to write directly, fact-check, and meet deadlines. If you have a gift of writing, you CAN put it to good use outside of news. And I learned you can be "bad at math" and still work in marketing."
"Well… I always drew stick figures and sports cars as a kid, so I figured some sort of school that would enhance my sketching abilities would be the best fit. I started with architecture first but quickly realized that there was too much math involved. I tried to take it down a notch by enrolling for a Computer Graphics degree, but ended up being bumped into my second major, Communication Design… Then I that degree to do jobs in the Pharma Ad industry. After a decade a and half of working on some… questionable… drug products, I felt my soul needed to be redeemed and I got Overit."
My parents always talked about the church Overit resides in when I was growing up. We lived across the street on Sycamore when I was an infant, so I have a little bit of our family history rooted in the church itself! My grandparents got married at the Church when it was St. Teresa of Avila Church. My father AND brother were both baptized in the church before it changed into this really cool media agency! When I had the opportunity to apply to Overit, I thought it would be a great chance for me to grow professionally, and it just felt a little like fate, knowing the history my family had with the building itself 😊
Katie Sorce
Marketing & Content Strategist
I never had one thing I always knew I wanted to do, but I knew it had to be something creative. At various points, I wanted to be an author, an actor, and a film director since I've always loved reading books and watching movies. I ended up going to college for Mass Communications, focusing on TV and Film production. Video editing is still one of my passions today! I've also been fascinated with social media ever since I joined Facebook around 2009 in high school. After working in marketing for a bit after college, I really wanted to grow my skills, so I ended up getting a Master's in Communication with a concentration in Advertising. I love marketing because it combines so many disciplines all into one: writing, design, video production, editing… even a bit of acting when I get in front of the camera 😎
I graduated with a degree in print journalism, knowing I was entering the workforce when traditional newspaper jobs were hard to come by. I tripped into a marketing career as a Technical Writer at an SEO company in California, where I built a reputation for sharing outspoken but on-point insights. After a few years, I moved to the Capital Region and stretched my entrepreneurial legs by forming an SEO agency serving national clients. I joined Overit to be part of a larger, more integrated team where the words I write, and strategies I develop are brought to life with impactful creative, motion, video, and sound. I've spent the past decade+ of my career helping our clients find human ways to solve business problems, and I can't imagine being elsewhere.