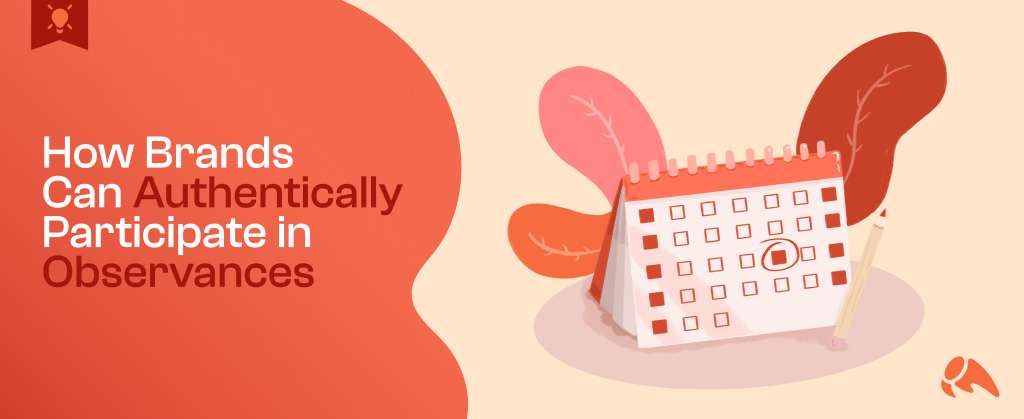 Last month was Women's History Month, an annual declared month highlighting the contributions of women to events in history and contemporary society. In recent years, we've seen brands attempt to take part in these diversity heritage months. Some have done a commendable job, while others have made missteps and have paid for it by being trolled heavily on social media. (We're looking at you, Burger King!)
In conversations with clients, we're often asked to help find creative, relevant ways to celebrate these observances and even whether or not to celebrate them at all. Let's dive into why brands feel the need to participate and whether or not they actually should. And because we're connoisseurs of brand, campaigns, and all things marketing, we'll look at which brands did a good job this year with their Women's History Month campaigns.
The role of observances in your brand's marketing
This statistic from Sprout Social really stood out: "According to a Q1 2023 Sprout pulse survey, 74% of consumers believe that social media has increased accountability for brands." Consumers are looking for brands to be transparent and accountable, but they are also savvy and can spot when you're not being real and authentic. For observances that recognize serious topics, brands have to think about how they can tie in authentically and highlight their positives. Doing so can accomplish three goals:
Join in the conversation of a larger trending topic, therefore boosting engagement.
Highlight your brand's involvement in a social cause.
Humanize your brand.
Women's History Month 2023: 3 Campaigns That Stood Out
Here are a few real-world examples of brands that effectively highlighted positive contributions made to Women's History Month creatively, on-brand, and across multiple channels.
Buick is a brand owned by General Motors, a longtime sponsor of the NCAA Tournament, and Buick has a high percentage of female buyers. The brand was able to use the timing of Women's History Month plus March Madness to create a fully integrated marketing campaign.
Why we like it:
Relevance: The brand comes out right away and touches on an important issue that women athletes face – visibility. The stat they give is that "While over 40% of athletes are women, they get less than 10% of the media coverage." They then state the mission of their campaign and how they aim to support women. Partnerships: Buick partnered with five women athletes as faces of the campaign, plus a continued partnership with a female-owned media company.
Storytelling: The campaign features engaging videos with the athletes, plus a great conversation between a women's sports media expert and Buick's VP of Marketing. Plus, Buick created a #SeeHerGreatness challenge on TikTok to encourage audience participation.
Taking action: As part of this campaign, Buick pledged to place equal spending on ad spots for both the men's and women's tournaments, plus they propelled viewers to watch women's games by sending anyone who clicked on a Buick ad to the ESPN Women's College Basketball Watch Hub.
This year, Miller Lite (Molson Coors) is really flipping the script on sexist beer ads. Football fans might remember the infamous "Catfight" ad, a lighthearted but potentially cringe ad where two women wrestle over whether Miller Lite has "great taste" or if it's "less filling." Fast forward to 2023, and they are committed to cleaning up their past.
Why we like it:
Relevance: The beer industry as a whole has a history of showing sexist ads, and Miller Lite is a known culprit. Therefore, it was very easy for Miller Lite to insert itself into this narrative.
Storytelling: The brand was very effective in finding a story. They told the history of women in the beer industry, how ads were once sexist, and how they plan on changing things. Plus, the ads themselves, while tackling a serious subject matter, take a lighthearted approach, staying on-brand and sticking to their brand voice.
Taking Action: Not only is Miller Lite drawing attention to their wrongdoings and taking accountability, but they are also showing how they are going to fix the issue by buying back all of the beer industry's outdated, sexist displays and posters and donating five times the amount spent buying back these ads to a nonprofit that supports women in brewing. (Bonus points for the imagery of grinding ads into fertilizer to make hops!)
Partnerships: Their partnership with the Pink Boots Society demonstrates that the brand is committed to supporting women in the brewing industry.
During Women's History Month, we've witnessed how organizations attempt to highlight their Diversity, Equity, and Inclusion (DEI) efforts. PepsiCo is a standout example. Their campaign complements their organization's DEI campaign – "A Space to be You" – their commitment to fostering a diverse workforce. Images of 28 PepsiCo frontline employees – including truck drivers, warehouse staff, and merchandisers – replaced traditional beverage brands on the sides of trucks servicing North America
Why we like it:
Relevance: PepsiCo has undergone a multi-market TV and digital advertising campaign featuring women in frontline careers. The idea is to promote representation – women seeing themselves in roles to see what doors are open to them.
Storytelling: There is a narrative that a frontline worker is not a job for a woman. Through its campaign, PepsiCo wants to break that misconception and educate women on what this career would look like.
Taking action: PepsiCo is supporting this campaign with actions, including programs designed to support and advance women at all career stages, plus reiterating their process for ensuring pay equity across all employee groups.
The big takeaways for all brands – large and small!
Of course, we know that campaigns like the ones shown above require a large budget, and most of these brands have a strong national (and international) reach, but there is one major takeaway that can be gleaned from this – being authentic does not require a big budget!
Keep the following points in mind:
Be real. If you don't align with a particular observance, then skip it. A few years back, a client in the health insurance industry wanted to participate in Black History Month because the topic was "Black Health and Wellness." As an organization, they did not have any specific initiatives to address health disparities in their community at that time, so I recommended that they skip it rather than try to force a fit.
Find a connection, but don't force it. Sometimes, this is a no-brainer. Like if you are a healthcare brand, participating in a health observance is a great way to show how your organization helps patients and the community. But if it's not there, remember, it's okay to sit this one out.
Remember, actions speak louder than words. Are there ways in which your organization has taken action to make a difference? For example, if you are a transit organization, talking about your sustainability initiatives on Earth Day is worthwhile.
Find a way to tell your story. It doesn't have to be complicated. For example, the ladies of the Overit Crew provided quotes or short videos about what it means to #EmbraceEquity in marketing. We shared these on our social media stories on International Women's Day to give unique perspectives on what this topic means as it relates to being a woman in the marketing industry.
Of course, the same applies to any observance, not just ones related to serious topics. These more serious topics are opportunities for brands to highlight positive contributions to social justice causes, DEI, and the environment, just as long as you stay authentic and on-brand. You can always participate in a more lighthearted, playful observance, too – think National Puppy Day or National Taco Day – if it works. We look forward to seeing what brands come up with for observances this year and beyond!