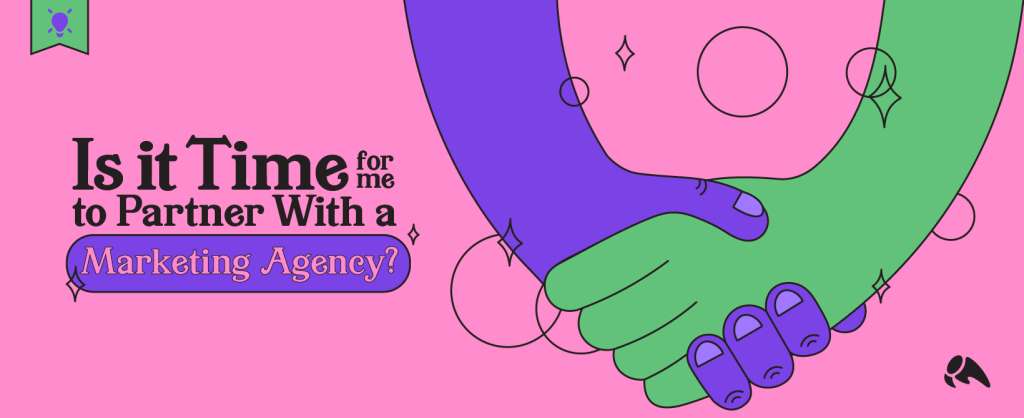 Whether you're a small business without a clear marketing plan or a large company that feels like your marketing just doesn't cut it, marketing agencies are transforming brands for a reason.
Marketing is the fuel that makes businesses fly. Starting a company is the easy part. Marketing leads to longevity and financial success. It's both tactical and creative.
Many businesses work with marketing agencies to handle their full spectrum of marketing, while others hire marketing agencies for a select few services. 
Keep reading to determine if and how you work with a marketing agency to bolster your brand's efforts.
Common Reasons Brands Choose Marketing Agencies
Have you been mulling over the idea of hiring a marketing agency? You're not alone. Here are the most common reasons that businesses opt for a marketing agency.
They don't have the time or manpower to run the full-scale of marketing internally

Leads generated and sales aren't as high as they would like to see

They don't have the budget for an in-house marketing team

They lack the right skillsets

They don't know which strategies are going to lead to a high ROI

Their competitors are doing a better job with marketing

They don't know what is working and what is not when it comes to marketing
Even if just one of these reasons is a pain point for you, you need a marketing agency. Let's dive into what that looks like.
What Marketing Agencies Offer
Whether you're going to hire an agency for all of your marketing efforts or you're going to hire an agency to offset your current efforts, it's important to know what exactly a marketing agency offers.
Of course, each agency is different. But here are the most common services:
Social media marketing

SEO

Branding

Video and audio production

Content creation/content marketing

Lead gen

Website development

PPC ads

Email marketing

Marketing strategy 

Graphic design

PR

Media buying

Influencer marketing
Again, you can hire the agency of your choice for one or all the services that will round out your efforts. 
Are Marketing Agency Partnerships Economical?
Considering the fact that businesses can't succeed without marketing, agency partnerships are extremely economical. But the question that comes up a lot is whether brands should hire an internal marketing team or outsource to an agency.
There are pros and cons to both avenues. Agencies are already marketing experts and can start moving the needle quickly. In-house teams are more agile. That's why most companies utilize in-house teams AND agency partnerships.
To make the best decision on your business's marketing, determine how much you can spend.
When it comes to how much your business spends on marketing efforts, a good rule of thumb is 5% of your total revenue. This number will clarify how much you should spend on marketing.
Once your budget is determined, you can have serious conversations with agencies and find out how and where you will utilize their expertise.
Finding the Right Agency for Your Needs
Once your budget is defined, you can start reaching out to agencies. They will help you clarify goals and give you a thorough understanding of the marketing landscape.
I encourage you to do a few calls with different agencies. Find one that knows your industry and has innovative ideas that will fuel your brand's marketing efforts.
Do your research. Look at each agency's portfolio, client list, case studies, and service offerings. They should be readily available on the agency's website.
You can also ask others in your industry for agency recommendations. If you know someone who had a good experience with an agency, chances are you will too.
It's also smart to check out online reviews of the agencies you are considering. Of course, there are Google Reviews but you can also look on Facebook and agency publications like Clutch and Agency Spotter.
If you really want to get a feel for an agency's work, ask them for references that you can contact and verify their good experience and results.
What You Can Expect From Marketing Agencies
An agency will arguably transform your business. If they don't, move on to a different agency.
Choosing an agency is a great starting point but you don't want to remove yourself completely from your brand's marketing strategy. After all, you are the one in the trenches and an agency is only going to know what you tell them about your brand and target consumers.
Marketing agencies can be pretty autonomous but they're used to working with brands who want to be super involved so that part is up to you.
The right agency will keep your marketing efforts on track, give you weekly updates, determine and track KPIs, contribute innovative ideas, and ramp up your sales.
Do you think it's time for your business to bring on a marketing agency? Contact Overit today for a free consultation and learn why we've been around for 30 years and have powered thousands of brands.