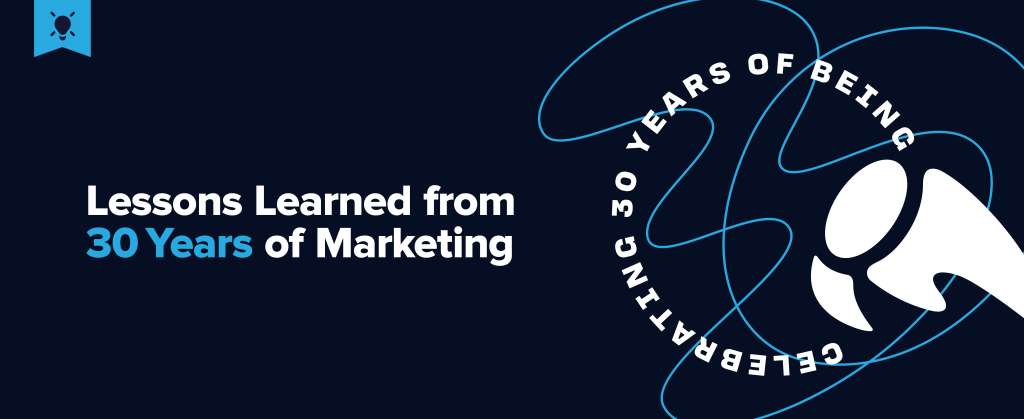 This month, Overit celebrates 30 years in business!
It's hard to wrap our minds around how much the state of marketing, advertising, and the world has changed over that time. In 1993, the internet was entering the mainstream. The video game DOOM was released on disk for personal computers, Jurassic Park was playing in theaters, Adobe first developed the PDF, and Overit was creating CD-ROMs.
With a fascination for technology and this new internet thing (dial-up!), our founder, Dan Dinsmore, set out to discover how the internet could work with video, audio, motion, and design to build brands. Something that sets Overit apart from other agencies is that pushing the boundaries of technology is something we've done from the very beginning–it's baked into our DNA.
This is why we're not afraid of the changes that will continue to come our way! Whether it's the invention of the banner ad (1994), the rise of e-commerce (eBay and Amazon, 1995), social media (MySpace 2003, Facebook 2004), the smartphone (2007), or ChatGPT (2022), we'll continue to adapt our skills to help our clients grow their brands for years to come.
Blast from the past: Here is the oldest snapshot of our website from November 1996! Yep, the internet looked just a little different back then.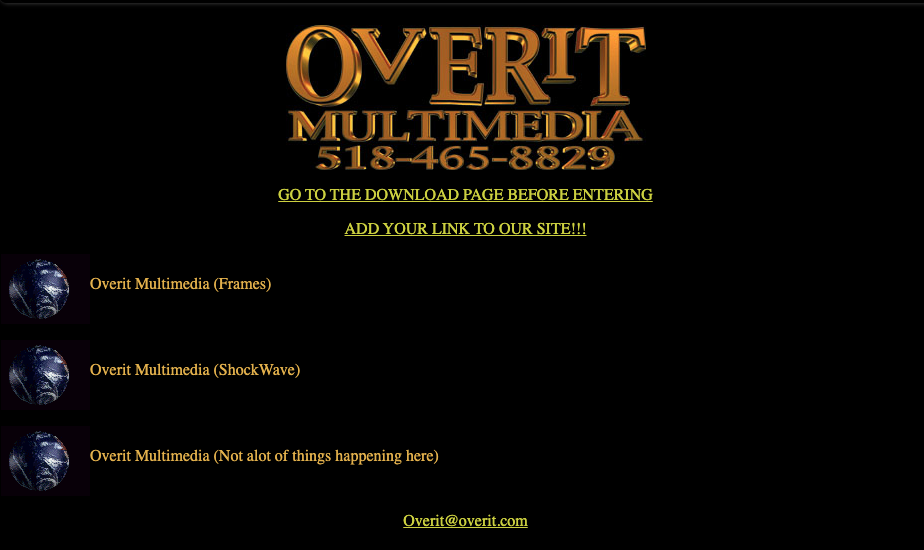 We recently hosted a panel event with the Captial Region AMA chapter (also celebrating its 30th anniversary!), bringing together some industry vets to discuss what has (and hasn't) changed over the past 30 years and theorize what the future might hold. Here are some takeaways from that thought-provoking conversation.
A good idea is always a good idea. Just the way we digest it changes.
Our Director of Design, Doug Bartow, reminded us that even though the medium we consume content in may vary (a TV commercial vs. a social media ad, a print magazine vs. a webpage), at the core is still just a good idea. Good ideas come from research, creativity, and gut instinct, all things AI can never fully replace.
Our VP Paul Fahey shared that when working with a local college, prospective students who visited campus on rainy days were less likely to enroll. So his team created umbrellas to hand out during rainy tours with a message saying the college was still beautiful even in the rain. Paul added, I don't think an AI could develop that idea.
Even though there's more clutter in the media, there's also precision.  
The constant double-edged sword of modern marketing is that there is so much competition, clutter, and channels to choose from. But this is where your research comes in. Once you determine your audience and where to find them, you can use precise targeting to reach them and reduce waste. The example Paul gave was reaching golfers. Back in the day, you could run a commercial on ESPN to reach sports fans, but you were hitting many people with no interest in golfing. Now, you can place ads on a golfing website, a golfing e-newsletter, or a Reddit thread, or if you want to air a commercial, there's a channel dedicated solely to golfing now. 
Audiences are more savvy and see through "fake marketing."
Kelly McMurray, founder and Creative Director at 2communiqué, brought up another double-edged sword: Consumers have been exposed to more and more marketing messages and have become skilled at detecting BS or ignoring marketing altogether. If they don't have an ad blocker, they know which messaging to scroll past, when to hit the "skip now" button on YouTube, and exit the pop-up as quickly as possible. This has given rise to content marketing and native advertising, aka ads that don't look like ads. This also gives marketers a big opportunity. To be more creative, to create content that delivers value to their audience instead of just selling something. As some marketers say, to "surprise and delight." This is another area where research is paramount. You must talk to your audience to understand what kind of content would be most helpful or appealing to them. Then, use your data to verify if you were correct.
I can tell you what hasn't changed. Being nice to people. 
Don Purdy, Director of SUNY Albany's School of Business MBA for Executives Program, reminded us that even though we live in the digital world, human connection is still the most important part of building relationships. Whether with your clients, potential consumers, partners, employees, or anyone else you interact with, remember to take a second out of your day to be kind. Yes, automation and AI can help us do our jobs more efficiently, but don't eliminate the human element. After all, your unique human element is probably what drew that person into your circle in the first place. 
How will AI impact marketing?
Finally, here's a collection of predictions from our discussion on how AI will impact the industry from our panelists and audience members.  
You'll be able to create stuff faster but still need the skills to do it well. 

I don't think it will replace the human element, but hopefully, it will help us be more effective. 

If AI gets too good… I think people might rebel against it. 

I think there's an opportunity to show realness and rawness. If you show imperfections, it helps your human work stand out more among the "fake" work. 

There will be more demand for really good writing. 

I think people will start wanting physical items again, like mail, magazines, books, printed photographs, CDs and vinyl. 

People want authenticity. People will be able to see the difference between AI content and human content. 
Lessoned learned from 30 years of marketing
The ever-evolving landscape of digital marketing challenges us to adapt and innovate. But at the core of marketing will always be solid research that sparks a good idea. While AI promises to revolutionize the industry, it can never replace the human touch of creativity, intuition, kindness, and connection. At Overit, we're excited to see what the next 30 years will bring. 
Now, let's party!
Don't miss our 30th Anniversary party happening on October 26, 2023! Get all the details and grab a free ticket here!


Even more Overit Nostalgia: 
The Origins of Overit Media WRGB Interview, circa 1999
Dan discussion the early days of Overit and where we got our name on the Get Overit Podcast 
Behind the Scenes: An Interview With Overit's CEO 
Article: Dan Dinsmore's seen a lot of change in media and marketing. He says it's only going to speed up.