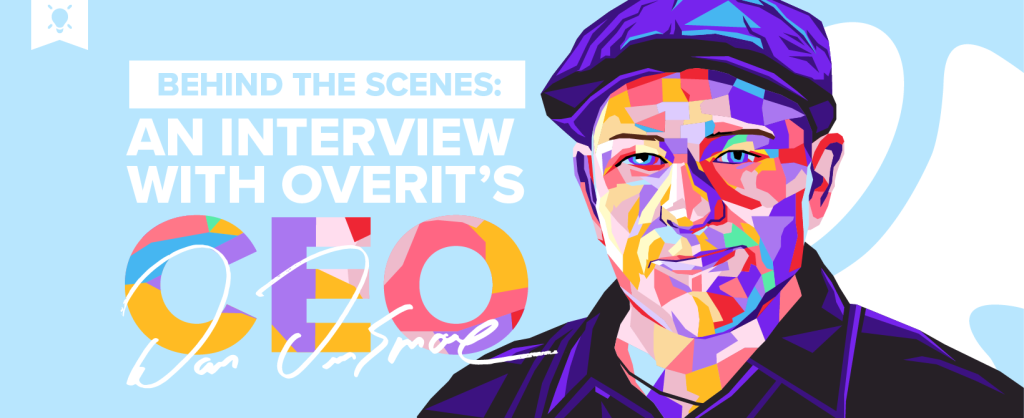 Twenty-nine years ago, Dan Dinsmore, the CEO of Overit, started the agency you now know as your go-to disruptive agency that blends creativity with data.
Want to get to know the brains behind the agency? You're in luck! I interviewed Overit's CEO for this post so that you can get a feel for our brand's values and history to inspire other future business owners.
If you enjoy this interview and want more of Dan, you can connect with him on LinkedIn, as he regularly shares thought leadership content and ideas.
Where it All Began
A lot of people ask how Overit became the powerhouse it is today. And where Overit began is quite interesting.
Q: What inspired you to create Overit and turn it into the powerhouse it is today?
A: I was inspired by technology and creativity. I was a touring musician and found the integration of creativity, storytelling, and technologies an excellent means to work while away. I also wanted to do something that integrated marketing, music, and the visual arts in a new way. I always stay engaged and am fascinated by trying new and interesting ways to engage people.
Q: Which strategy would you say was the strongest when gaining clients and getting traction when you first started Overit?
A: I think honesty, transparency, and hard work. Caring about what you do and enjoying helping others become successful is very important. It's still what is most important to us today. The other main thing that got us traction was we were doing things others were not.
Q: What did your career look like before you started Overit?
A: As I mentioned, I was a touring musician. I also did research and analysis for a marketing company for a bit. Outside of that, it has always been Overit.
Q: Are there any digital marketing mistakes that you made early in your career that you learned from?
A: A mistake I made early in my career was trying to utilize social platforms without real reasonings or goals in mind—a bad move.
Setting Overit Apart From Other Agencies
Part of what I personally love about working for Overit is that Dan has instilled company values into the company culture. We live and breathe creativity and data thanks to our strong foundation.
Q: What would you say sets Overit apart from other agencies?
A: The level of service, creativity, and capabilities to act as a true extension of our clients' organizations separates us. To get a little more into the weeds, our level of growing businesses has an incredible success rate. We have invested in marketing attribution analytics and a strategic approach to content marketing using audio, video, and other creative strategies. Last but not least, the people at Overit really make a difference. It is a place where people care and put their heart and soul into the work. I believe that part of our culture is one area that has brought a great deal of success. 
Q: What does being a disruptor mean to you?
A: Leveraging capabilities in new and exciting ways. Thinking for yourself and not just following trends. Think and dream. Approaching solutions from a truly creative place not influenced by safe trends and tactics. (Read more about being a disruptor here).
Q: Which strategies do you think Overit implements the best?
A: I think there are two biggies. Brand Strategy and Growth Strategy are where I believe we shine. The agency's roots are truly in the quality and the wow appeal of our Creative, including unique offerings like animation and motion design. So I'd be remiss not to mention that as well! 
How Overit Keeps Up Morale As a Team
Just last month, Overit was awarded one of the Best Places to Work by the Albany Business Review. So I wanted to dive into how Dan keeps his staff so dang happy.
Q: What strategies do you implement to recruit and retain talented employees? 
A: I think it goes back to culture and care. Great people are attracted to big dreams, big goals, honesty, and caring for each other. Creating that in a workplace environment is an extension of who you are. Walk the walk.  
Q: Which company values are the most important to you, and how do you get your employees also to embrace these values?
A: Trying to show by example is important. We are constantly working on ways to instill the values into our work and our work processes. Again, could you live it? Our values go hand in hand. 
Let's look at Dan's advice on the values he passes on to his employees: 
Don't Be A Bystander
We do what needs to be done. We are accountable to ourselves, to each other, and to our clients. 
Be Positive, Respect Others
We support, help, and, most importantly, respect one another.
Challenge the Status Quo
We are leaders. We don't follow trends; we set them. We are not afraid to ask questions or offer a different way.
Produce Quality, Always
We measure success by the quality of work we produce. 
Exceed Expectations
We show clients their value by going above and beyond their needs.
Support the Community
We recognize that we are part of a larger community and seek out opportunities to support our community.
The Future of Digital Marketing
Wonder where digital marketing is headed? Who better to ask than the CEO of a thriving digital marketing agency!!?
Q: Where do you see the future of digital marketing headed?
A: I see media conforming to a unified platform. All your media will be accessed in numerous ways but more unified. I also see AI being utilized for everything from media optimization to automated call centers. Also, the self-service model will evolve quickly. 
Q: Can you share a few technology tools that you use to help Overit succeed in 2023?
A: We have developed Overlytics, a tool that measures all of our channels and service success. We also just deployed a new communication tool called Ējento Connect.
What Inspires Dan?
I don't know about you, but I always am looking for new ways to be inspired. So I asked Dan a few questions about what inspires him.
Q: If you had to pick one person who inspired you to start a creative, disruptive digital agency, who would that person be, and why are they inspiring?
A: That's a tough question. There are so many. It really ranges from Nolan Bushnell and Ted Dabney, Steve Jobs, Walt Disney, Eddie Van Halen, John Bonham, and Michael Jackson. Yeah, that's about right. 
Q: If you had to choose your "dream client," which brand would that be?
A: There are many types of dream clients. If I had to choose one off the top of my head,  I would love to work on something innovative for Disney.
Q: What advice would you give business owners like yourself to avoid burnout?
A: Try to take breaks and turn it off. When you own the business, you are always on! I think making sure to take time for yourself is key. Also, learning things outside of your business is helpful. 
Q: Can you share a digital strategy that you in your personal life admired and share why it caught your attention?
A: I admired the customer journey from Apple. As soon as my new computer was delivered, I got a call and a text seeing if I needed any help setting it up or anything they could do. I know this process was discontinued, but it really intrigued me. 
Inspired by Dan and want to see how is agency can power your brand in 2023? Book a free call with him today!