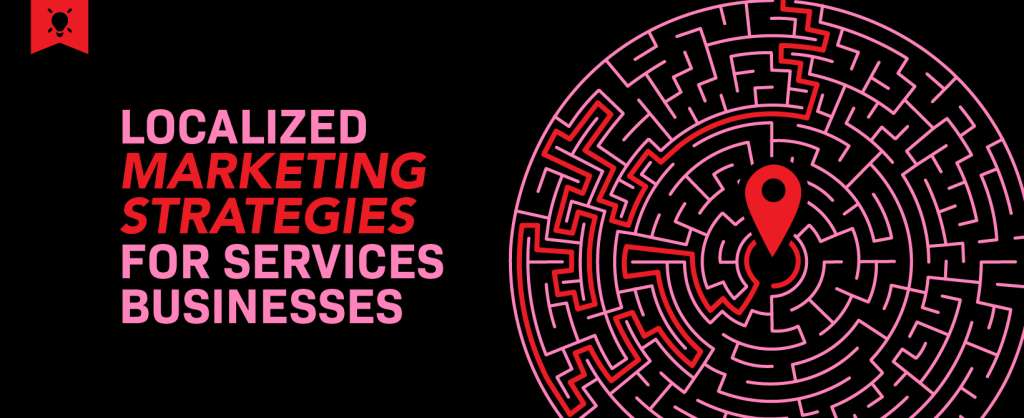 When I moved to Denver, I found myself in need of new service providers. And I realized I had to find new ways to identify and vet the right service providers. Being in marketing, I reverse-engineered their marketing strategies and found some commonalities with the service providers I chose.
After all, local services businesses require different marketing approaches than national product brands. Localized marketing involves targeting a specific region and audience demographic. Usually within a 50-mile distance.
Often, localized marketing is a blend of traditional marketing and digital marketing to ensure you are reaching your target audience on multiple channels.
The key to local marketing is to hone in on your buyer personas and really get to know the behavior of your target audience.
With a super specific audience in mind, localized marketing works really well when done right. And what does the right way look like? Let's dive in.
Earn Online Reviews
With 92% of consumers reading online reviews, it's a strategy that deserves priority.
Incentivize happy consumers to leave an online review on your website, on social media, on Google, etc. 
These reviews can be leveraged in both organic and paid content. Customers will seek out the reviews, hence the organic piece. And brands are having great success with leveraging reviews in their other marketing strategies, such as social media marketing and email marketing, which I will dive into shortly. 
When I moved to Denver, I Googled local service providers and then directed myself to their reviews before hiring them. Many consumers are like me and seek out reviews after brand awareness.
Embrace the Community
Consumers yearn for brands to align with their values. Being an active participant in your local community showcases your human side.
Consider volunteering, raising funds, joining clubs, etc. to get active where your consumers already are.
Stay up to date with community events and if you're feeling really friendly, run a booth at your city's next festival.
You can also embrace online communities like Facebook groups.
Explore Your Options on Google
One of the most effective ways to market to a local audience starts with signing up for your free Google Business Profile.
Your business profile will help you get found in search and gives customers the information they need when they are seeking out your services.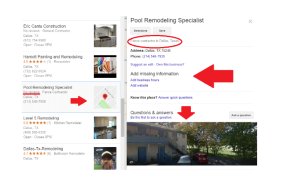 To really amplify your presence on search, invest in Google Ads.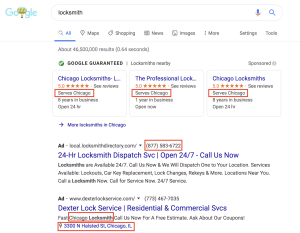 Your Google My Business profile will capture organic traffic while ads allow you to really amplify your brand.
Localized SEO
SEO optimizing your website ensures that consumers find your business when they are searching for a particular service in their city.
Leveraging Google Trends, identify keywords your target audience uses and implement them in your website copy, blog posts, tags, etc.
SEO changes fast, and it's a beast to keep up with, so if you want to learn more about SEO, check out this guide.
Keep in mind that 82% of people have googled for a business using the phrase "near me" showing the importance of SEO so that these savvy consumers find you.
Advertise in Public Spaces
I noticed when I moved to Denver that I was more open to traditional advertising channels because I felt part of the community.
Find out where your target consumers are spending time and get your brand placed strategically.
This can be as simple as a flyer in a coffee shop or a billboard in Times Square.
Social Media Marketing
Social media marketing is a quick way to grow your presence. Each platform has localized targeting functionality making it an easy way to connect with your target audience. Just keep a few best practices in mind:
Leverage third-party endorsements

Be strategic with hashtags

Answer questions quickly (customer service is now happening on social)

Engage with your audience

Post 3-5 times per week

Capitalize on thought leadership instead of branded content

Analyze metrics and scale based on what you see resonating
Build Up Your Email List
Email marketing is a great way to simultaneously nurture past customers and future customers.
One thought leadership email per week and one special offer email per week is the sweet spot.
Consider creating a lead magnet to capture more email addresses to nurture. This can be a landing page where they sign up for your newsletter, blog posts, specials, etc. Or it can be a piece of downloadable content that people enter the email address to get the content. 
Get creative and think of ways that you can capture the email addresses of your target audience by giving them value.
Local PR
News and media is not dead!
Connect with local TV stations, radio stations, newspapers, etc. to get the word about your services out there. Consumers on a local level are still engaged with these outlets and rely on them to keep them "in the know" when it comes to the city they live in.
Print Advertising Is Still a Thing
A lot of service businesses send promotions to all new residents. This is usually through the mail via print.
Consider things like flyers, magnets, stickers, or even a business card. Be sure to keep it visually engaging and don't forget to include your phone number and/or website.
A lot of service companies send out physical or digital coupons as they create incentive for purchase and allow them to track their efforts via coupon redemptions.
Local Business Directories
Local business directories just may be your best friend. They allow consumers to find you when they are ready. 
Directories are different for every niche, but here are some to consider:
Local Chamber of Commerce

Yellow Pages

Better Business Bureu

Angie's List

Home Advisor
Enlist Local Influencers
Influencers have a targeted and already engaged audience. They have built trust and following through their creative content.
Consumers trust influencers' recommendations because they look at influencers as peers making their recommendations really actionable.
You'll want localized influencers who have an affinity for posting about your city and community to ensure great results.
You can find these influencers by partnering with an agency or getting an influencer marketing tool to run it in-house. Just Google "influencer marketing tool" and you'll see there are a ton and the majority of them offer a free trial so that you can find the tool that works best for your brand.
Create a Referral Program
Word of mouth recommendations are going to get you far. Of course, if you offer great services, this will organically happen. But, why not scale it?
Incentivise your happy consumers with a discount or a gift card for each new customer they bring in.
A little can go a long way, I think you will be surprised.
Dedicated Landing Pages
Have multiple locations, multiple services or multiple buyer personas? Create landing pages catered to different audiences. This allows you to implement a targeted approach to your messaging, which converts better than broad messaging that may be tempting to use.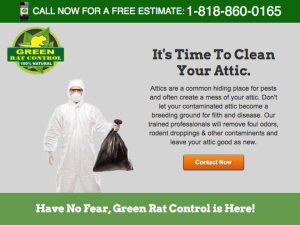 Final Thoughts: I Have the Information But What Do I Do Now?
I tried to jam everything I know about marketing service companies in under 1,500 words. So I wouldn't be surprised if you have questions. It's what I am here for so feel free to contact Overit at any time and learn how our agency can scale your localized marketing strategy.
If you don't work with an agency, be sure that you dedicate enough hours to implement all of the best practices that I outlined above.
At the end of the day, if you think like a consumer like I did when I moved to Denver, you'll be in great shape because consumers crave authentication from brands.
Want to stay in the digital marketing loop? Follow us on LinkedIn to stay up to date.