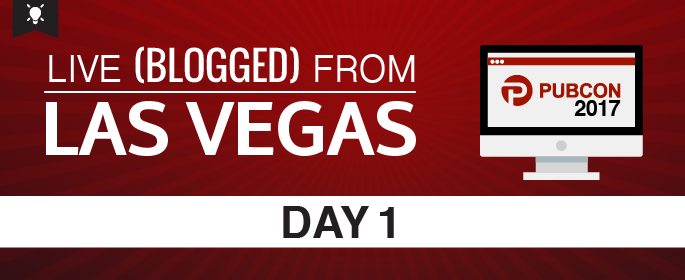 Still here. There's really no better way to end a day than trying to keep up with Aimclear's Marty Weintraub so that's what we're gonna go. Brace yourself, this is gonna get nuts. I'll do my best to keep up.
Marty's sharing his current Spotify playlist and the music he's really into. Marty says this is his 9th Pubcon. If you would have asked Marty years ago if he thought he'd be able to take his customer list or actions that deem "success" and then do FB targeting around them and all the different ways that would exist to reverse engineer them – he wouldn't have believed it.
Marty shows the Custom Audience page within Facebook. He talks about the importance of taking a Custom Audience and then studying it. Set your Audience, then add filters to it, and take inventory of how many people it took out to tell you how many people are in that Audience.
Marty says it's the most amazing time in the history of the earth to be a marketer. You can target almost anything, for anyone, in layers. Following, retargeting, remarketing is pervasive. It's everywhere and it's filtered. You can decide to filter NOT everybody but only the people who make 100k and buy outdoor sports equipment. Creative is everything.
Filter retargeting means you don't retarget to everyone, only the one who match certain qualifications. He likes remarketing to purchase intent because that's a real buying signal. He likes the whole idea that in order to remarket to these people they have to be looking to make a purchase in the next 30 days. Duh, he says. Ka-ching, ka-ching.
When we think about psychographic targeting we think of Google. Google has piles of search data and they build their psychographic objects. Facebook has Facebook, People do a lot with a lot of things on Facebook and Facebook has partnerships with other companies and object creators. They know a lot about you, whether you tell them about yourself or not. FB makes psychographic objects formed from other stuff. LinkedIn doesn't have purchase affinity things. Twitter does. On Reddit, you target sub-reddits.
Psychographics aren't limited to paid, they're also for organic. Think about where the Internet gets information about you. He doesn't want an Amazon Echo or a Google Home. The stuff he says at home is private. Its become really sophisitcated because of all the layers. There are financial qualifications. IfF you're selling retirement community stuff, you only want to market to people who make a lot of money, have an interest in rental properties, and who are actively researching pre-retirement planning. He blows our minds showing all the differet filters you can create. He cautions to use exclude functions to make sure there are no conflicts in your personas.
Twitter has weaker targeting options. You can't do the layers. You can't say "and this and this." Someone saying that having a smaller data set is just as good…is something they tell people with smaller data sets.
Lookalike Modeling – It's an amazing place to look. The Audience Density report is so tight that you can see what FB did when it takes the lookalike from the original Custom Audience. Engagement retargeting is the bomb. If you use complex targeting to send people to your website, it can cost $1.50. If you keep them inside Facebook to watch a slideshow or a video you can do it for pennies and you build an internal list of people who engage with the video. Hit them enough times and they'll start searching for you. Marty calls brand search lakefront propety.
Psychographic Analysis For Complete Custom Audience Clarity
Core FB Targeting Elements – Marty gets really excited about the options to target by behavior. Such as, anniversary, automative, B2B, charitable donations, consumer classification, digital adctivities, expats, financial, job role, media, mobile debive, user, multicultural, purchase behavior, residential profiles, seasonal events, travel.
Personas should add up to at least 20% of the whole audience. Market to the whole audience. Market to the persona bucket Go vertical with creative
Cause KW Search Early
Analyze PPC Conversion-Keyword Psychographics
Target Facebook ads to psychographic elements
Feature "conversion queries" in ad creative, bigly
Remind users they're nearing the keyword search
Siphon off KW searches before they occur
Reduce search frequence