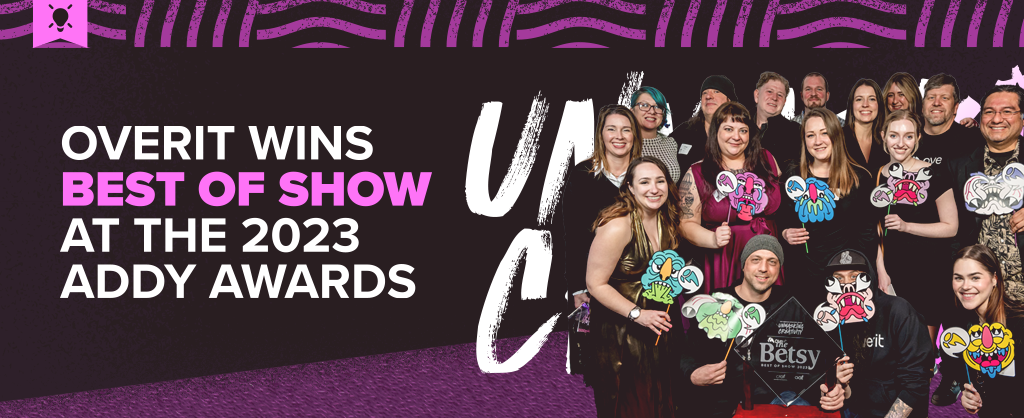 Overit has taken home the 2023 Betsy Award for our work with Thomas Pest Services! This is our second video production Best of Show award in three years at the Capital Region ADDYs. (In 2021 we won for our Ellis Medicine Surgery spot.) We're so incredibly proud of our team for their work on the thirty-second spot. Watch below!
The spot was part of Thomas Pest Services' Summer 2022 Campaign, which sought to increase brand recognition, sales, and local market share for the company.
Campaign background
Thomas Pest Services is a family-owned, local business here in the Capital Region, and exists among a long list of competitors in a crowded market. This includes national brands and many local competitors who invest heavily in traditional advertising. Since 2019, Overit has helped reposition the brand visually and through messaging and increased Thomas' presence in the digital landscape. However, the brand was not as equally represented in conventional traditional advertising compared to heavily-entrenched local competitors.
It was time to make our play. We created a campaign to be highly visible on TV, radio, streaming, and outdoors during the prime seasons of the spring and summer to remain top-of-mind as consumers found pesty pests in their homes and property. To be extra sticky, we introduced a new sonic brand (jingle) for the pest control company.
Culture sets companies apart
"We treat little things like big things" is more than a tagline. It's one of the company's core values and guides the service they provide and how they interact with customers. Thomas wants customers to trust they are not only the leading authority on pest control in the area but also a highly-skilled team that takes the safety and concerns of their customers seriously. "We treat little things like big things" served as the theme for the campaign.
A thirty-second commercial brought this theme to life from the point of view of an anthropomorphic ant. We see our ant protagonist investigating its environment, antennae twitching toward the camera, only to face the wrong end of a booted foot. "Got 'em!" says co-owner Bill Clark from Thomas Pest, and we end on motion graphics with the Thomas truck, the catchy jingle with the words emphasized on screen, and finally, the brand name at the end.
The reaction
Since the campaign launch, Thomas saw a 20% revenue increase year over year and a 27% increase in new sales!
But what did the judges think? Here's what John Topacio, Copy Supervisor at Evoke, a global healthcare marketing agency, had to say:
"This piece stood out in its simplicity. Both in execution and idea. I was visually drawn in from the first few frames. I really wanted to know where this little ant was going! At the very end, I was rewarded for my time with a little bit of a smile. This was one of the best local ads I've seen–period."
Read more about Overit's work with Thomas Pest Services here.
Ready to create your own award-winning content?
At Overit, we create video content that engages, informs, and delights your audience. No matter your industry, video can bring a whole new life (and a new set of potential customers) to your business. If you want to be like Thomas and see an increase in your revenue, let's talk. Learn more about our video production services and check out our work.