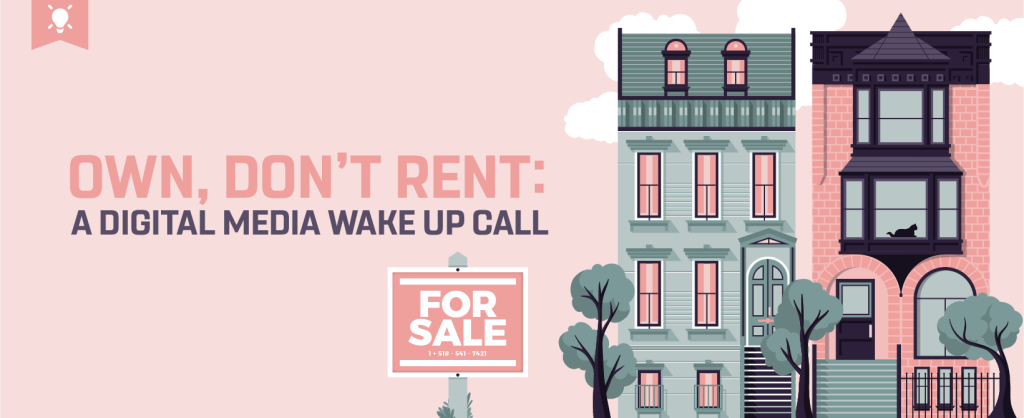 Recently, advertisers and business owners had a bit of a rough day when Facebook and Instagram went down for six hours, the largest outage in the company's history. Luckily, the platforms did indeed come back on, and life returned to normal. But it got us thinking at Overit about digital marketing's reliance on mega-platforms like Facebook for distributing content and running sales-driven ads.
The truth is when you use third-party platforms to push out content or run ads based on location, interest, or other demographics, you don't own that audience. You're renting it. And what you're renting can easily be taken away. Between the instability and lack of control on social platforms and the phasing out of third-party cookies, this year has shown us that owning your audience is more important than ever. That means housing all your content on your website (or a platform you own like a newsletter or podcast) and making sure people can opt-in to hear from you through email or text.
So own your content, and then diversify it across the platforms you don't own. 
Diversify Your Marketing Mix
You do not need to stop advertising on Facebook or other third-party sites.
Yet, this outage and the arrival of Q4 presents an excellent moment to examine your total marketing mix to determine if you are allocating too many resources to any one channel. Putting all your eggs in one basket–whatever that basket might be–is never a good idea.
Instead, look to:
Build a strong brand.
Be known for more than what you do. Differentiate. Add value. Having a strong brand makes you less reliant on outside sources because your customer isn't looking for a product or service like yours. They are looking for you. Measure brand strength through KPIs like direct traffic, branded queries, share of voice, and high CTRs on content assets. Consider adding a public relations or influencer campaign to brand build and balance out more product- or service-focused messaging.
Build your home base. 
Your website. Your blog. Your newsletter. Your podcast. These are vital marketing channels because they represent platforms you own and control. Invest in making them stronger and getting them to work better for you.
How can you improve your website to better showcase your value to the end-user?
What's a great content piece you can close out Q4 with and repurpose in a dozen different ways?
Put that content on TikTok. Advertise on Spotify. Be where your audience is, and then make sure that content connects back to your home base in some way.
Build your lists & ownable touchpoints.
RSS was once the pre-eminent channel for owning eyeballs without requiring a website visit. Now we have email marketing and SMS and automation to serve as a direct line to our customers, but only if you actively collect this information. Build your lists–again, lists you will own–to ensure you are not bound to someone else's traffic, terms of service, or data. Create your own connections so that if an unforeseen situation arises, you can pivot quickly.
Build a diverse paid strategy. 
This isn't about abandoning Facebook or paid advertising, as both can be crucial to growth. But be aware of what your paid mix looks like and seek opportunities to create more balance if it feels heavy in any one direction. You can use the data you have from Facebook to build well-targeted audiences on other platforms. Identify new platforms that may capture different, unexpected attention (we're big on native advertising). Use paid to strengthen organic and your home base.
In a company meeting last week, our CEO Dan Dinsmore emphasized, "Content will always rule the day. The most important thing is the content itself. Not the platform."
Make sure you are creating quality, engaging and helpful content for your specific audience, and that it leads back to sites and properties you own. Now, we're not saying don't post or promote this content on Facebook. You absolutely should. Just don't rely on Facebook (or any platform) as your only way people can find you.
And don't be afraid to go old school either. Can you reach your audience through the mail? Through radio or TV? As digital privacy becomes a bigger issue, it will be interesting to see if there's a resurgence in traditional media that won't have the same restrictions.
[An earlier version of this post appeared in Into & Overit, our bi-weekly marketing newsletter. Subscribe here.]
Watch the Video: