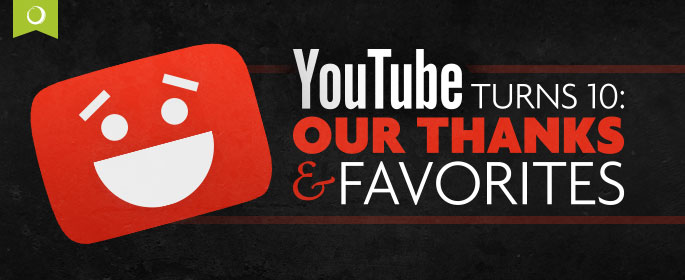 Hard to believe it's been 10 years since YouTube was founded!
But that's the reality – on February 14, 2005, three guys wanting a place for people to share videos online founded YouTube. After an amazing period of rapid growth, it was only a year and half later that Google acquired the brand from its founders for more than 1.65B in Google stock.
And 10 years later, it hasn't slowed down.
More than 300 hours of video are uploaded to YouTube every minute. 
One of the first videos I remember seeing on YouTube was one I probably would have never seen otherwise, and it's always stuck with me.
[youtube]https://www.youtube.com/watch?v=kfPTGTGLA3E[/youtube]
To celebrate YouTube's 10th birthday, I asked around the office for some more favorites, and some thanks.
Lawrence Basso thinks you can't have a 10-year recap without showcasing the first video ever on YouTube, "Me at the zoo."
[youtube]http://youtu.be/jNQXAC9IVRw[/youtube]
And of course, the video with the most views ever.
[youtube]http://youtu.be/9bZkp7q19f0[/youtube]
Lisa Barone: Wow, I mean, there are so many things I want to say right now. YouTube…thank you. Thank you for Charlie, for the wedding dance heard 'round the world, for little girls who aren't afraid of monsters and who befriend dead squirrels, and for all the time you've consumed when I should have been doing more productive things.
Patrick Branigan: "Thank you for still being free. I don't know how long you plan to have that last but… thank you for 10 years of free-to-view media."
Patrick points us to the "I Feel Great" spec ad for Nutrigrain. Never an actual brand ad, the spoof by an up-and-coming writer/director for his reel was created in 2003, and gained millions views once it landed on YouTube.
[youtube]http://youtu.be/Y6rE0EakhG8[/youtube]
Tim Jensen: "Allstate's Mayhem Commercials have to be my favorite brand videos watchable on YouTube, although I'm not sure I could pick a single favorite." These are pretty amazing.
Sarah Szewcyzk: "Favorite brand video ever – GoldieBlox (original video unavailable now). Favorite video of all time – BatDad!
Jaimyn Chang: "I appreciate YouTube because without it I'd have to buy music through iTunes."
Paul Hook: "Favorite brand video – Terry Tate, Office Linebacker for Reebok." A Super Bowl ad from 2003, its 2006 upload has more than 14M views.
Alison Krawcyzk: "All I could think of was Jimmy Fallon's thank you note writing music …which is probably why I want to thank YouTube for being the platform where I can absorb information without actually having to read or use the information. I've watched people teach blowing dry hair, skeleton Halloween makeup, hip-hop dance routines, burpee exercises and so much more. Only some of this information I've actually used."
Alison's a fan of the "73 Things You Never Knew About/73 Questions" series by Vogue, calling it a "fun, quick video that promotes the current issue. Plus you get an inside look at some of their cover models' homes, which  is great!"
We're all thankful for YouTube, for serious marketing reasons, but also for the fun it's brought us. We'll leave you with Nick Hansen's submission to the list, no commentary needed.
[youtube]https://www.youtube.com/watch?v=4WX58CZwyiU[/youtube]
Thanks, YouTube.