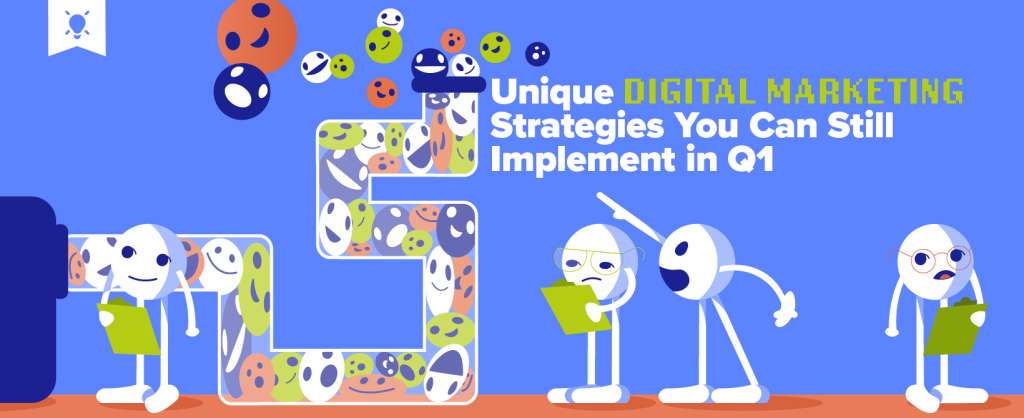 Well, 2022 was a whirlwind, and I don't know about you, but I am still crafting my marketing goals for 2023. And since January is halfway over, it's important to implement marketing strategies in Q1 that are actionable within a short period.
It's no secret that the internet is cluttered with marketing approaches. And at the same time, consumers want to learn about new products and services more than ever. There's a caveat. Consumers want authenticity from the brands they align with and want to hear from third-party peers.
Modern business owners and marketers succeed when they leverage thought leadership for brand awareness and third-party recommendations of their company for conversions.
Let's look at five strategies you can still accomplish in Q1 that will set you apart from your competition.
An Industry Research Report
People are intrigued by data. Whether in the B2C or B2B space, you can create an industry research report for thought leadership and lead gen.
Start by coming up with a topic that would interest your target audience.
Next, survey your target audience. We use PollFish and have turned our surveys into reports like our 2023 Pest Control Digital Marketing Report. 
Once you have your data, write a cohesive report, design it, and promote your report via a landing page and digital PR efforts. 
A Video Testimonial
Remember that third-party recommendation that consumers crave?
A written testimonial works, but prioritize video testimonials to get your brand out there. Consumers are seeking and digesting way more video content than ever before.
A little incentive can go a long way. Offer gift cards or discounts to happy customers willing to give a video testimonial.
Keep in mind that consumers want authenticity in video content from brands, so don't worry about overly producing your video.
Make your testimonials easy for your target customers to find. Use them in your email and social media marketing, and post them on your website. Trust me; you will get better results leveraging this type of content than self-promotional branded content.
Publish Thought Leadership Content on a High Profile Publication
You need to be a thought leader to build credibility with your audience. 
No matter your company's niche, you need to be an expert. There are plenty of ways to establish thought leadership. I've had success posting on high-profile publications. You know your industry, so you probably already know the publications your target audience reads. You just need to reach out and learn about partnering.
Sites like Entrepreneur, Forbes, and trade publications charge fees for posting. I think it's worth it when the budget allows it. Smaller or mid-level publications will let you post for free as long as you have something interesting to say.
One thing to keep in mind is that thought leadership isn't self-promotional. You will simply find a pain point in your industry, address it and tell your readers how to solve it. You can mention your company in your bio.
Partner With Targeted Influencers
Influencer marketing isn't new, but it sure is hot!
Influencers have an already engaged audience who wants to hear about your products or services.
Equip influencers with the basics about your brand and what you want to achieve but give them the creative freedom to share their experience with your brand authentically. They know their audience better than you do.
Don't just rely on an influencer's organic audience to grow your brand. Leverage influencer-generated content in paid social for maximum exposure.
To find the right influencers, consult your buyer personas. Look at which platforms your target audience spends their time on, their pain points, and what topics will resonate with them to craft influencer personas.
Create a Piece of Interactive Content
Interactive content is a great way to engage your audience. With short attention spans, consumers want content that they can actually engage with.
Creating interactive content can be as simple as a quiz, poll, or calculator. The goal is that your audience feels like they can actively participate in their content consumption.
Interactive content gets more conversions and shares than passive content. Not to mention, marketers who implement this form of content report great results.
Conclusion: How to Implement These Creative Ideas Now
Do any of these strategies resonate with your target audience? The beauty of these five strategies that I just talked about is that they don't require much time if you know what you're doing.
When planning and implementing your marketing strategy for 2023, you will see the best results by focusing on thought leadership and third-party recommendations. Marketers and business owners should help their target audience through every stage of their buyer's journey.
If you don't have the bandwidth to execute these great ideas, Overit can help. Simply contact us today for a free consultation.