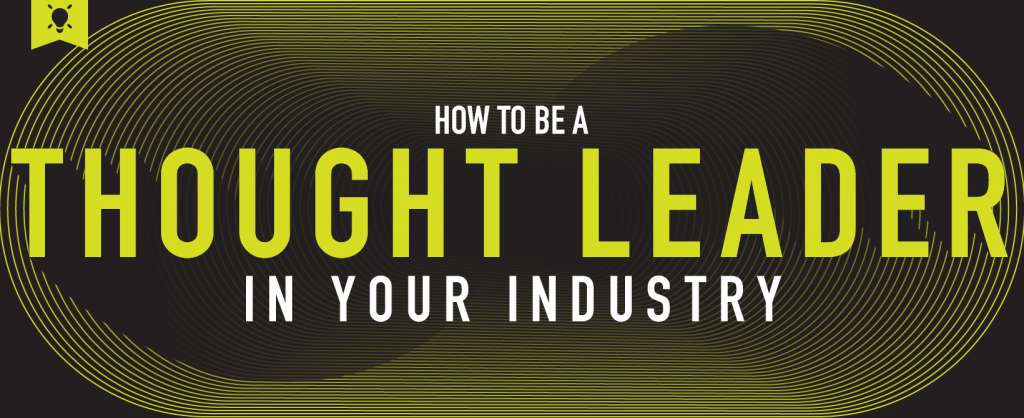 Through thoughtful delivery, thought leadership makes you a valuable and trusted asset to your target audience. When potential consumers see you as an asset, they are more likely to purchase your product or service.
But to be a thought leader, you have to think outside of the norm. In this post, we will explore the basics of being a thought leader, but be sure to think outside the box and get creative! Thought leaders are driven by innovation. Are you up to the challenge?
When establishing thought leadership, there are two options:
To grow your personal brand and position yourself as a thought leader 

Position your brand as a thought leader
Both options can be super effective, but we believe that humanization comes from an actual person, so, for the sake of this post, we will focus on thought leadership on a personal level.
First of all, what is thought leadership? 
We're marketers, so let's look at what thought leadership means in a marketing context. I like this definition from Hubspot: "Thought leadership is a tactic content marketers use to build credibility for themselves or leaders in their company. The main goal of thought leadership is to become recognized as an expert and used as a go-to resource in your field." 
According to SEM Rush, 65% of businesses include thought leadership in their content marketing strategy, and another 30% plan on doing so soon. By creating helpful, educational content relevant to your industry and effectively promoting it, you can become a thought leader in your industry.
Why is thought leadership important? 
There are many reasons why thought leadership is important. 
It builds trust

. As an expert in your field, building trust is the backbone of landing new customers. According to

LinkedIn Marketing Solutions

, "64% of buyers say that an organization's thought leadership content is a more trustworthy basis for assessing its capabilities and competency than its marketing materials and product sheets." People view a thought leader as someone they can trust, and this trust extends naturally to the brand they represent. 

It helps with brand awareness

. Thought leadership helps with branding and convinces your target audience why your brand is a great option for their needs. If you're a new or little-known brand, thought leadership is a good brand awareness tool. A recent survey from

LinkedIn and Edelman

found that "57% of buyers say that thought leadership builds awareness for a new or little-known brand." The strong connection between the thought leader and their brand distinguishes the brand from others. Additionally, the person and the brand become closely linked.

It engages consumers before they purchase your product or service

. With thought leadership, you can engage consumers before they purchase your product or service through engaging with them. Engagement keeps your brand top of mind and when consumers are ready to make a purchase, they'll think of your brand as you will have already built trust. In fact, the LinkedIn and Edelman survey found that "53% of buyers say it's important for new and small companies to produce thought leadership if they want buyers to consider working with them." Therefore, thought leadership becomes an authentic way to grow your business.

It's budget-friendly and cost-effective

. Most of the thought leadership strategies will not cost you any budget besides the time you spend positioning yourself as an expert in your industry. 
Elements of Thought Leadership
Thought leadership requires you to be the leader. Hence the name. Consider the following key criteria of a successful thought leader.
Expertise

: Become an expert in a niche relating to your industry

Insight

: Knowing what will happen in your industry before your audience does

Experience

: Convey your own journey and findings

Inspiration

: Translate an idea in a way that inspires your audience to think differently

Opinion

: Take a stance and stand by it

Transparency

: Complete honesty and authenticity are the foundation of thought leadership

Creativity

: Find a perspective that your competing brands don't embrace

Humanization

: Use your personal experience to relate with your audience

Originality

: Always be unique and don't regurgitate information that already exists

Consistency

: Thought leadership is an ongoing effort and well worth it
Types of Topics That Build Thought Leadership
Just starting your thought leadership strategy or feel like your efforts could be more impressive? That's an easy fix. Here are some inspirational topics you can embrace to power your thought leadership efforts:
Statistics and industry research

Your personal experience

Quote other thought leaders

A unique perspective on your industry

Trending issues that affect your industry
Types of Thought Leadership Marketing Strategies 
Content fuels every brand's thought leadership strategy so it's time to start writing!
This can be in the form of a brand's blog, guest posting, writing eBooks, etc. Content topics can also be repurposed for more leverage.
As the author of thought leadership content, you need to be strategic. Use your content to promote other content. Think of guest posts linking back to an eBook or other content piece you've produced for your industry.
Worried you're not a good writer? You can hire a ghostwriter so that you can publish content under your name. More businesses probably do it than you realize.
Before creating thought leadership content, make sure you truly understand your audience. Analyze their behavior and pain points and craft your content around those topics.
Digital PR
Getting your name out there via other publications helps tremendously with thought leadership.
Sign up for HARO, a PR website where journalists put out queries. Usually, they ask for a quote or tip and will link to your website or LinkedIn profile.
If you really want to hit PR hard, sign up for a Muck Rack subscription and identify contacts in your industry. Reach out and offer yourself for any upcoming articles they have in the works. Aim to pitch news-worthy insights to get in front of new and qualified audiences.
Events
Events are a great way to build thought leadership:
Network at virtual and in-person events to get your name out there.

Apply to be a speaker at industry events of conferences. Getting in front of large audiences does wonders for your reputation 

Speaking at webinars doesn't cost you anything. Just make sure that the person hosting the webinar is willing to share the email addresses of all the attendees so you can nurture them with your

marketing automation

efforts.
How do you find events? Research and sign up for trade publications in your industry. They often host events that your audience attends.
Social Media
A solid social media presence is crucial for amplifying your thought leadership. Your industry will dictate which channels to be on. Usually, a solid social media strategy includes a mix of Instagram, YouTube, TikTok, Facebook, and LinkedIn. Here are a few social media best practices: 
Implement social listening so that you can weigh in on topics that your target audience posts about.

Remember, thought leadership is all about having a unique and consistent view of your industry. Social media can quickly promote your perspective.

Identify hashtags that your audience follows and incorporate them into your posts when it makes sense.

If your budget allows, use your thought leadership content in paid social posts. They can perform way better than branded ads.

Be sure to make video social media posts part of your strategy. Consumers are digesting more video than ever before and you can read our guide on the topic

here

.
Communities
Consumers tend to go with community-minded brands. So expand your footprint by joining online and offline communities. Communities for niches within your industry can be found on Facebook and LinkedIn. For example, our Overit team is part of digital marketing LinkedIn and Facebook groups. You should also consider some in-person communities such as your local chamber of commerce.
Influencer Marketing
Want to capitalize on audiences that are already engaged? Identify thought leaders that have the audience you are seeking out. This is also known as influencer partnerships. 
Keep in mind that your ask needs to match your give. Meaning, you can't just ask an influencer to post about you or share your content without giving them something in return. You can post something from them on your own channels, compensate them financially or offer exclusive information.
Engage with influencers on social media so they recognize your name when you reach out to them.
Thought Leadership Marketing Best Practices
We've defined thought leadership and made the case for why you should try it. Now, let's share a few best practices. 
Know your audience.

Understanding your audience is crucial for success in any marketing strategy, and the same applies to thought leadership marketing. It all begins with knowing your buyer persona. A buyer persona is a detailed portrait of an individual who embodies your intended audience. Here is a

great free tool from Hubspot

for creating a buyer persona. 

Be active on social media.

Meet your target audience where they are, and it is likely that they are active on social media. Social media is a great brand awareness and authority tool. It's free to post (aside from your time) and easy to engage with others. Figure out which platforms your audience is on. 

Mix up the type of content you post.

It's one thing to have a strong blog, but you have to take it a step further. Post the blog on social media with commentary. Interact with influencers. Create explainer videos. Guest blog. Appear on podcasts. 

Be real.

Don't oversell. People can see through overly promotional content. 

Pay attention to competitors

, but don't copy them. 
Final Thoughts: How to Become a True Thought Leader
Thought leadership is all about challenging people to think differently. With the strategies we outlined above, thought leadership is tangible. Keep in mind that content creation is the backbone of thought leadership. And not all leaders are good writers so don't hesitate to get a ghostwriter.
Revisit your buyer personas to capitalize on topics that will convert and inspire. You want a solid understanding of your audience before you start posting in order to capitalize on your efforts.
Find your opinion and voice in your niche to stand out. Embrace the process of being a unique voice in your industry.
Since content creation is the backbone of thought leadership, many brands are partnering with agencies like Overit to help with their content strategy. Contact us today for a free brainstorming session.