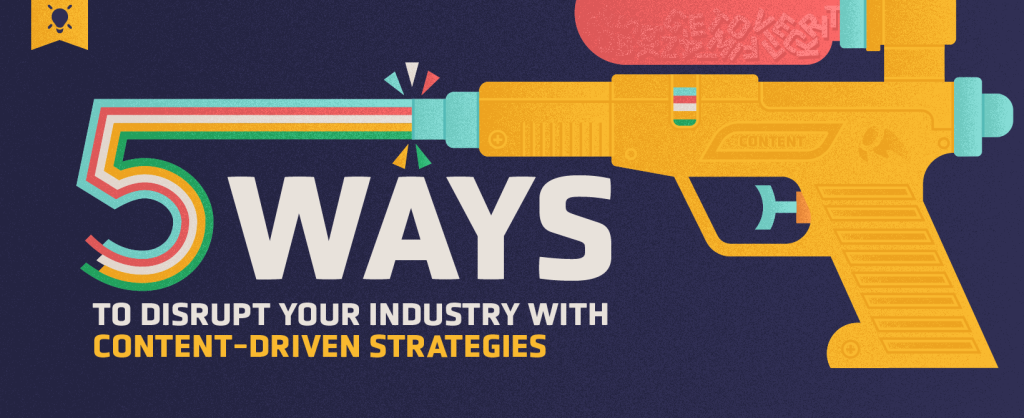 Powered by RedCircle
Disruptive content aka replacing the status quo and creatively reaching your target consumers, has the power to transform and grow your brand rather quickly.
Disruptive content challenges norms and delights consumers in brand-new ways. The modern-day consumer hates self-promotional content, and it's your job to convey your brand's story authentically–and with some edginess. 
Dominating your industry is crucial but also extremely challenging. Luckily, disruptive content can give you the edge you've been looking for, so let's dive into all things disruptive content.
Why Should My Content Be Disruptive?
In today's world, consumers are intelligent. They know when they're being "marketed" at. As marketers, we need to find new ways to keep our brands top-of-mind, and one of the best ways to do this is with strategic disruptive content. 
Disruptive content gets engagement, generates leads, and makes consumers take notice of a brand. And as marketers, isn't that our biggest goal?
Your current audience and the audience you're trying to reach crave being surprised and even delighted. You can deliver these desires with disruptive content and create a memorable brand image. 
Disruptive Content Strategies
Content strategies that are now normal for brands were once considered disruptive. Think about influencer marketing and social media marketing. They were shiny and disruptive a few years ago. Now a brand can't succeed without them. Will your brand be ahead of the curve?
Stack up against your competition and wow your target audience with these five disruptive content strategies:
Look at what your competitors are doing and do the opposite. Stay competitive to stand out in your saturated industry. 

Don't throw traditional marketing out the door. Use strategies that have worked for your brand in the past. Promote your disruptive content just like you would promote your content in the past.

Publish your disruptive content on a variety of platforms. Here are some to consider:

Social media

Your brand's blog

Guest posts on third-party blogs

Videos on your website

In your email marketing strategy

Don't be afraid to try something new and experiment with different strategies. Just because you want to implement disruptive content doesn't mean it will work immediately. Try out a few tactics and analyze the data, and use that data to refine your disruptive content continuously.

Be authentic and creative. Today's consumer values these things from the brands they support. In fact, they expect it. 
Examples of Disruptive Content
In 2013, La Croix started working with micro-influencers and the everyday consumer to earn UGC to feature on social media and their website. By 2018, their sales doubled, and a lot of this success is attributed to their unique yet authentic approach to publishing relatable social media content. It worked so well that if you visit their Instagram, you can see that the brand still uses this tactic.
Volvo implemented disruptive content on social media during The Super Bowl in 2015. Instead of spending $5 million on an ad, the brand took to Twitter. They challenged their audience to tweet using the hashtag #VolvoContest whenever they saw an ad for a different car manufacturer. By doing so, it entered them to win a free car. Not only did Volvo create buzz on Twitter with this approach, but their sales also went up 70% after The Super Bowl.
Consider the risks Red Bull takes in their video content. Stunts have made consumers notice and associate living adventurously with the brand. Their slogan, "Red Bull Gives You Wings," matches the brand's marketing with their video content. Check out their website for some death-defying content.
When HBO launched its app HBO Go, it did so with content that stepped outside what consumers expected. Instead of hammering the point "you can watch HBO from anywhere," they put out a series of content that spoke to awkward moments often experienced when watching HBO shows with the family. In their promotional content, they featured members of families watching the same shows in different rooms of the house, as HBO shows are often risque or gory–awkward to watch with your family. 
Considering Your Audience
A thorough understanding of your audience will help you plan and shape your disruptive content. A great place to start is by asking yourself the following questions:
Which social media channels do my consumers spend most of their time?

Does my audience like blog posts or prefer to consume videos?

What are my target consumers' biggest pain points?

How does my product or service help consumers?

What brand expectations do my target consumers have?

What can I do to surprise my audience without alienating them?
Final Thoughts: How do I Get Started With Disruptive Content?
To create disruptive content, you need to be a risk taker. You must also combine your disruptive content with traditional marketing strategies and apply data-driven insights. This requires some experimenting, and it is a whole lot of fun.
If this approach to marketing makes you nervous, you're not alone. Sometimes it is a good idea to partner with a content marketing agency that can guide you in the right direction and produce amazing content for your brand. Of course, I'm biased, but Overit is a great option if you're looking for agency help. 
If you feel comfortable, you can start creating disruptive content today using the best practices I outlined above.
However you go about it, have fun thinking outside the box and reaching new consumers with disruptive content.
Want to weigh in on disruptive content best practices? Share your thoughts with Overit on LinkedIn!