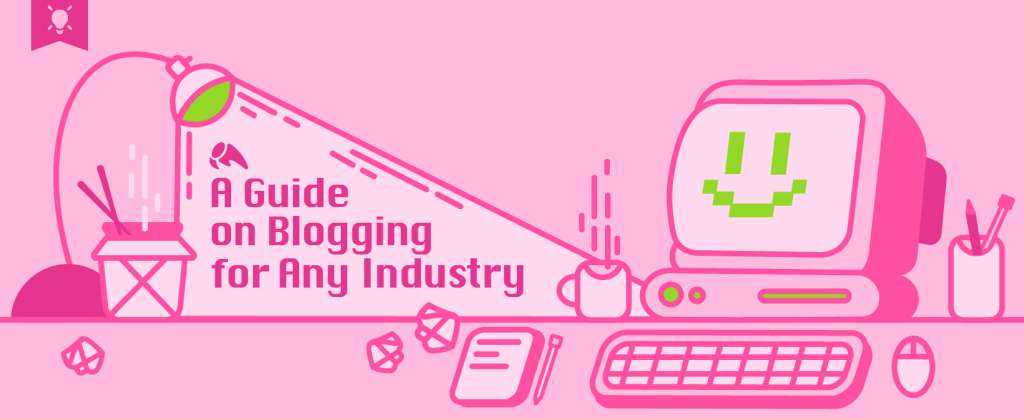 This week, I'm blogging about blogging!
I started blogging 13 years ago when I lived in India and loved it so much that when I returned to the states, I started blogging freelance for brands. And now, I've published over 1,000 blog posts in my career, so I feel I have many insights to share.
If you don't have a blog for your company yet, you should. And if you already have one, sharpen your skills with this post.
Why Should My Company Have a Blog?
There are many benefits to blogging for your company. It's fun and you already know your industry and target consumers so what is stopping you?
Blogs give you a

home base

Blogs provide

thought leadership

Blogs establish brand awareness

Blog posts are great for fueling your email marketing efforts

Blog posts make for great social media content

Blogs increase traffic to your website

Blogs engage current and future consumers

Blogs are good for

SEO
Strategically Setting Up Your Blog
Some brands create a new website to run their blog on, while others set the blog up directly on the website.
We recommend youset your blog up directly on your website so that you get the most SEO value from posting consistent new content.
Work with your website developer to add blog functionality to your website.
Here is a checklist for getting your blog up and running:
Give your blog a descriptive name

Place ads/graphics about your company on the sidebar (you'll see that traffic comes into your blog that has no idea what your business does)

Put your logo at the top of the blog for consistency

Add a subscribe form on the sidebar

Come up with a tagline that describes what your blog is about

Upload all the bios and headshots of who will be publishing

Create an editorial calendar
Identifying Topics
Your blog should always provide thought leadership to your target audience.
Don't publish posts that just promote your brand. This will cause your audience to drop like flies. An occasional post highlighting an employee, an award, new things at the brand, etc. are fine, but you want to limit those.
Identifying blog posts that are going to resonate with your current and future audience all starts by analyzing buyer personas. If you don't have buyer personas yet, here is a free tool from HubSpot to create them.
Consider the common pain points your buyer personas experience and write posts that speak to those pain points.
Do keyword research to understand what your target audience is searching for and how they are searching for it. This can also help you to identify gaps in the search results where you could gain additional rankings.
Come up with topics that establish your brand as a thought leader in your industry, and rite timely industry news blog posts. You can even consider newsjacking.
You can also survey your current audience and ask them which topics they wwantto see on your company's blog.
Lastly, check out what your competitors are doing. Of course, you won't copy their posts, but you can get some ideas.
5 Blog Writing Best Practices
Once your blog is set up and you've come up with topics for your blog, you're ready to go!
If you are a little intimidated by writing the blog posts yourself, check out this wonderful guide on how to get started with writing.
Wheater your posts will be written by yourself, a team, or an outside agency, here are some best practices to keep in mind.
Get yourself familiar with the structure of blog posts. Your paragraphs should be short and to the point, your post should be broken up by headlines, there should be a CTA at the end of your post, and you should write conversationally.

Post at least once per week on your company's blog. This keeps your audience engaged and eager for your content.

Gather tips from experts and incorporate those into a post or do a roundup post with manyexpert tips. Link to the experts and tag them on social and they will be sure to share your post with their audience, maximizing the traffic to your blog. See an example of when I did that

here

.

If you quote a statistic or fact, cite the original publication for the data you are referencing and link to your source.

Incorporate your team and even freelance writers to vary the voice on your company's blog. Multiple perspectives are engaging and reach different audiences.
Promoting Your Blog Posts
If no one reads your blog posts, what is the point of crafting awesome content?
Since content doesn't promote itself, be sure to promote each post every time you publish on your company's blog.
Share your posts organically on all of your social channels. When sharing to Instagram, in your caption you want to say "link in bio" and make sure you actually update the link in the bio every week.
Leverage your blog posts as a reason to email all of your contacts. Share your weekly posts with them as it positions your brand as a thought leader in your space and will keep your brand top of mind.
You can also partner with like-minded creators. Agree to share their blog posts on your social channels and ask them to do the same.
Lastly, identify blogs in your space that aren't competitors. Reach out to the publishers and ask if they would take a quality guest blog post from you. When you land your guest posting spots, you can link to blog posts that you published on your company's blog.
Final Thoughts: Get Started Blogging Today
As I mentioned, blogging should be fun! If you're ready to have some fun with your company's blog, be sure to follow the tips and strategies that I went over. Dive into your buyer personas, identify topics that resonate, and promote your posts like crazy.
If you don't have the time to craft posts or you don't think you have the right skills, you can always hire an agency like Overit to produce your content.ou can decide if your agency is a ghostwriter and you have the option to publish posts under your own name. This is quite common.
Want to stay in the loop with all things digital marketing? Follow us on LinkedIn for some timely and actionable insights.