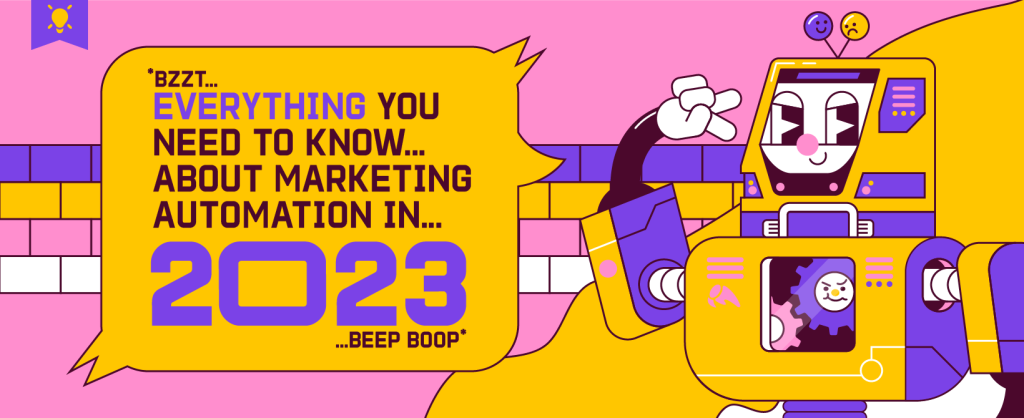 Powered by RedCircle
When you read the phrase "marketing automation," do you cringe a little bit because it sounds super technical and relies on artificial intelligence? If so, you're not alone. 
It has been both exhilarating and terrifying how much marketing has changed in a few short years. We've watched the power of inbound leads, social media marketing effectiveness, email marketing personalization and more. The biggest change has probably been the availability of marketing technology that helps brands keep a pulse on all things marketing. As marketing automation technology is at our fingertips, it plays a huge role in shaping modern marketing practices and seamless interactions with your audience.
We are here to tell you that marketing automation is a must-have for all successful businesses. It's not as complicated as it sounds; it's pretty tangible. Once implemented, you will save hours and provide actionable data about your target consumers and clients.
For this friendly marketing automation guide, we drew insights from our collective expertise here at Overit and have compiled this thorough post for you which tackles everything you need to know about marketing automation as you head into 2023. Enjoy!
What Exactly is Marketing Automation?
The short answer is that marketing automation uses tools and processes to replace repetitive marketing tasks.
The long answer is that marketing automation is used to move leads through your funnel, retain current customers and glean data-driven insights about your audience. What you gain from the data produced by implementing marketing automation will allow you to refine your marketing approach continuously. It's efficient and can be personalized when done correctly.
Areas Where Your Business Can Be Automated 
You're likely already implementing marketing automation and don't realize it. Let's explore areas of marketing that you can efficiently automate without losing that personal touch that consumers love…
Streamlining content downloads to deliver content after someone fills out a lead capture form

Sending out newsletters

Segmenting leads for marketing purposes

Qualifying leads for the sales team

Implementing drip campaigns based on a new contact's criteria or behavior

Personalize your emails utilizing your lead segmentation process

Social media posts and engagement can be automated

Manage, collaborate and promote on all things content creation

Answer simple questions with a live-chat bot

Reports on marketing efforts can easily be generated at your desired frequency

Internal communication utilizing tools like Slack

Project management across teams, departments, locations, etc.

Syncing data across multiple applications
Signs You Need to Invest in Marketing Automation
Not sure if you need marketing automation? If you experience one or more of the following pain points in your marketing efforts, then your business needs to embrace marketing automation.
I don't have enough time in my day to accomplish everything that I want

I want a streamlined way to present sales with qualified leads

I want to scale my email efforts without losing personalization

I wish I had more time and tools to nurture leads

I have trouble presenting data on my marketing efforts
It's More Creative Than it Seems
At the end of the day, we all want new leads. Keep in mind that if you implement creativity, the leads will come.
We've covered the technicalities of marketing automation, but let's not forget that marketing superpowers are derived from combining technical knowledge with creativity. 
Since marketing automation involves segmenting contacts, you can cater things like emails, texts, social messages, etc., to different audiences. Use their industry, role, location, and more information to personalize your communication. Just because AI is going to improve your processes, your efforts can still be personalized.
Another area you can get creative is by designing a nurture flow for all new leads that come into your business. Based on your set criteria, these drip campaigns can be tailored to different lead characteristics.
Marketing automation is also extremely adaptable. You'll immediately gather data about your audience and what makes them convert so you can use these insights to constantly refine your automation efforts.
Crucial Marketing Automation Data
Sure we can tell you how crucial marketing automation is for your business but let's face it, we are data-driven people. So let's take a look at factual marketing automation data points to convey our thesis.
As you can see, the data pertaining to marketing automation makes it apparent you either need it or you need to optimize your efforts if this data doesn't align with your results.
Using Insights From Marketing Automation Data
One of the many benefits you will get from implementing marketing automation is that you'll collect data on your audience's behavior.
You can use this data to thoroughly define and examine what resonates most with your consumers, allowing you to become exponentially more efficient with your strategy.
Gain clarity on which messaging resonates best with your audience

See which strategies move leads through the funnel

Glean insights on what strategies convert

Collect audience demographic data to use to target the right people

Know which channels/platforms your target audience prefers
I'm Convinced, What Do I Do Now?
Ready to save time while generating new business and retaining your current business? You have two options.
You can implement it in-house with the right tools. Plenty out there offer free trials so you can find the right ones for your business goals. Keep in mind that you may need a few tools in order to automate emails, social media, client services, etc.
2. You can hire an agency that understands your goals and has proven itself in this space. Luckily, here at Overit, we have a team of marketing automation experts that can bring your marketing automation goals to fruition.
Do you have any marketing automation tips to add? We'd love to read your insights in the comments below!