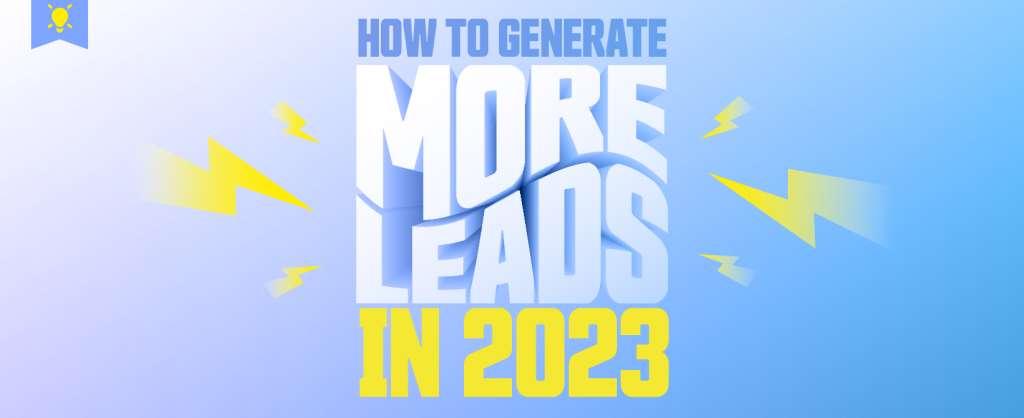 Lead gen involves attracting your ideal customer to your business with the goal of eventually converting them into a customer. It's not about immediate sales, it's about keeping your funnel full. You can then implement marketing automation to nurture and convert leads into customers.
Though lead gen is often associated with B2B brands, it also has a place in B2C brands, such as generating leads for a service you provide or even having audience members sign up for your newsletter or blog.
While easy to understand, implementing lead gen efforts can get tricky.
Without leads, you can't earn customers. And without customers, where will your brand stand? No pressure…
Create a Lead Magnet
Lead magnets are the foundation of your lead gen efforts, so I'm tackling this first. All of your other efforts will support your lead magnet. Look at it as your "hub" for lead gen.
A lead magnet is a landing page that encourages your target audience to provide their contact information. Usually, a lead magnet leverages a piece of downloadable content or promotes an event your ideal customers will sign up for, like a webinar.
You want to ensure that the content you gate with a lead capture form is enticing enough for someone to give their email address. Simple content like blog posts shouldn't be gated. Think of ebooks, research reports, white papers, and tutorials that can fuel your lead magnet.
Simple forms convert better, so try asking only for their names, company, and email address. You can get more information from them when you engage with them and/or convert them.
Offer Something for Free
Free content is great but let's think outside the box.
What can you offer for free in exchange for contact information? It can be a sample of your product, a trial of your service, a special offer, and more. 
Promote your special offer just like you would promote your content.
Partner With Influencers
Influencers have an already engaged audience. They are also viewed as peers by their followers, making their brand recommendations hold a lot of weight.
Seed influencers with your brand goals so they can implement the right CTA. For example, do you want them to drive their audience to your webinar? Or maybe you want them to link to your research report? Or perhaps you want them to bring attention to a special discount from your brand?
Don't be afraid to stray from simple brand awareness and work with influencers with more specific goals, like lead gen.
Social Media Marketing
Social media used to be "nice to have" and is now crucial when consumers are vetting brands.
Again, you'll want to be specific with your CTAs. If you want to generate leads from your social media posts, they need to point to your lead magnet.
You can do a lot with organic social media marketing, but if the budget allows, paid social is a great way to scale your lead gen efforts.
A good rule of thumb is to organically promote content like blog posts and then use paid social to promote your lead magnets.
Embrace SEO
SEO dictates how consumers organically find your brand in their search results. If a potential consumer is Googling a question related to your brand, a good SEO strategy will ensure that your brand pops up in the search results.
Start with an SEO audit, gather your keywords, optimize your content, and watch the organic leads start coming in.
Make sure your lead magnets are SEO-worthy so that they appear in search results. Focusing on high raking landing pages will convert better since they are more targeted to different audiences.
Networking Events
Networking can be done online or in person. Research industry-related virtual and in-person events.
Facetime, although traditional, is still very important to potential customers. Just be friendly and personable, and you'll be sure to leave a lasting impression.
You can take networking to another level and speak at said networking events. This establishes thought leadership and offers another layer of opportunity as it's a good talking point while networking. Plus, you will already have established credibility.
Implement a Referral Program
Tap into your existing customer base to land new leads.
Create a referral campaign where you incentivise your audience to provide your brand with referrals. Many brands offer a small incentive for each referral and a larger incentive for referrals who convert.
Pair your referral campaign with email support to uncover the perfect partners for this strategy.
Leverage Social Proof
Consumers trust a third-party recommendation more than a self-promotional message. No surprise there.
Since consumers are researching your brand, make your third-party recommendations AKA your social proof, easy for them to find.
Leverage things like testimonials and case studies in paid social, in email marketing and on your website to get your target audience to trust your brand and provide their contact information.
Guest Post on Relevant Publications
Guest posting is a strategy that provides a way for you to be a thought leader. It's traditionally associated with brand awareness.
Shake things up, reach out to like-minded publications, and pitch your post idea. In your guest posts, link to your lead magnet to route audiences to a place that converts.
Next Steps: Ready to Generate More Leads?
Your brand can't gain the competitive advantage without a healthy supply of leads to nurture. 
As you know, consumers sometimes take a bit to make a purchase decision. Having a good leads database means you can keep the communication going with potential consumers, increasing the likelihood they will convert.
A lot of your efforts for lead gen will involve content marketing and if you need assistance with this, there are agencies like Overit that can help you. Contact us today for a free consultation.