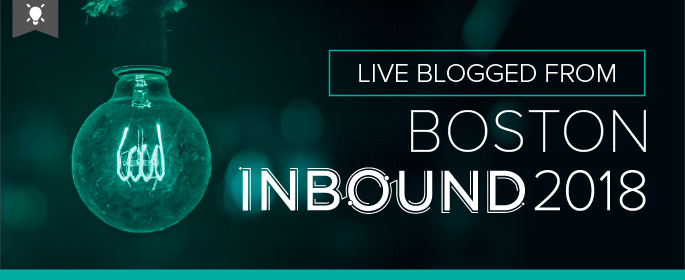 In this session, we're hearing from CEO and Chief Revenue Scientist Mike Lieberman of Square 2 Marketing.
Mike starts the session by asking the audience to stand up, then sit down if they haven't met their revenue goals (not "I had a good year", but hitting the actual GOALS you set) for 2017, Q1 of this year, Q2 of this year, and Q3 of this year.
By Q3, only about 15% of the audience is left standing.
So we see that, even in a room full of people interested in marketing – whether they're from agencies or corporations – there are still issues making sure that the leads we're generating actually convert into sales.
Here are some factors impacting today's numbers:
Sales cycle are taking longer

Prospects are verbally commenting that their decisions are more complex

More people are involved in the decision-making process

If they're not safe, they might do NOTHING

If they don't know the real difference between providers, the cheapest is always the better
A Nielsen study showed that content consumption has increased from 2 hours a day in the 1920s to 11 hours a day in the 21st century.
When you think about it, we are bombarded with messaging. We see it in the mailers that come to our house, across social media platforms, on streaming TV and radio. We are constantly impacted by advertising and marketing communications, making it harder than ever to break through the noise.
More than that, with the advent of the internet, the power moved from seller to buyer. Today's consumers are savvy. They've got the world at their fingertips – literally. They know more about you before they contact you than they ever could've known before. But not just you – they know more about your competitors as well, prolonging the decision-making process by introducing more options and choices.
In the B2B world, a Harvard Business Review study showed that the number of people involved in B2B solutions purchases has climbed from an average of 5.4 two years ago to 6.8 today.
That means that, when you're marketing, you can't just send out one message. You have to tailor your communications to fit the many personas who are involved in the buying process. You have to know not only about your primary decision-maker, but all the other parties involved in making that decision. Who are they? What kind of information are they looking for? What are their personal and professional goals? How can you frame your product or service as the tool to help them achieve those goals? Where are they looking for a solution? How do they want to be communicated with? You not only have to answer those questions, but about more people than ever before.
Mike shared a new way of looking at the buyer's journey, called the "Cyclonic Buyer Journey". It's comprised of the following stages, with which departments are responsible in parentheses:
Pre-awareness (marketing & sales)

Awareness (marketing)

Education (marketing)

Consideration (marketing)

Evaluation (marketing and sales)

Rationalization (sales)

Decision (sales)

Delivery (service)
What this tells us is that you need a synergistic relationship between your marketing, sales, and service teams – especially between marketing and sales. If you're not working together, you're behind the times and you're going to miss sales. That sounds harsh, but it's true. The companies that are rapidly growing right now have found a way to put customers first and cross-communicate between teams.
Then Mike shared with us this overwhelming image (it's blurry and hard to read – forgive me), but the idea is basically that within all of these stages of the cyclonic buyer's journey, there are multiple initiatives we're setting forward.
So it's not just about each stage, but what's happening within that stage. So in the Pre-Awareness stage, we have things like cold email marketing, account-based marketing, PPC ads, affiliate marketing, trade shows – all of those traditional "top of the funnel" things.
And as we move through the cyclone, we're adding more – more channels, more messaging, more forms of communication. The key to successful inbound marketing is not just nailing the message, but reaching the right person at the right time with the right message in the place where they're looking for it. So you might've written the world's greatest nurture email, but if your prospect is scrolling through Instagram and that's where they're shopping, building a relationship with you, and doing their decision-making, you're missing out.
Mr. Lieberman tells us that if you're not doing all of the things, at least in some capacity, you're probably not hitting your revenue goals, because your journey is incomplete.
Thing is: it's a lot to take on and manage on a regular basis. I haven't met a marketing department to date that was able to handle it all successfully, even with the support of freelancers, consultants, or agencies.
So how are we supposed to close more sales? If doing it all is virtually impossible, where in the whirlwind of things should we be focusing?
Square 2's CEO thinks that one of the best places to start driving revenue is from your current customers – and we don't disagree. As we've all heard, "The easiest customer to sell is the one you already have." If you don't have ways to cross-sell, upsell, actively renew your clients, or get them referring to your business, those are some good places to start implementing some changes to start seeing an increase in your revenue.
From there, we kind of want to work backwards through the funnel – after all, if the problem is sales, and assuming you don't have very few or minimal leads, then focusing your attention on the bottom of the funnel will probably lead to more sales.
So after you've focused on your customer experience and leveraging your current customers as a marketing channel, you'll want to move your attention to the sales process. Where are people getting stuck in the sales process? Are your reps not doing enough follow ups (some studies say between 7-11 follow ups is how many it takes to get a response – so let's not give up too easily!)? Are you sending a proposal out too early? Not scheduling a meeting to review the proposal together? Is the contract your clients sign so lengthy and in-depth that it gets stuck in Legal for a month?
Figure out where the hang ups are, then get to work addressing them. The key here is to remember that your sales team is not BAD – there's just always room for improvement. There is certainly going to be friction as you grow. That's a natural part of the process of change. But working collaboratively will help your company to reach its revenue goals, which ultimately benefits everyone.
Once you're done addressing opportunities for potential within sales, it's time to move on to the middle of the buyer journey. This time is packed with high educational, entertaining content in context (think:  guest blogging, influencer marketing, content marketing, video marketing, etc.).
When you're focusing on this area of your funnel, take a look at the data. Which are producing the best results for the least amount of effort? You might find that video is converting really well, but it takes you 5 times as long to create.
In this process, you might want to look at your stats in a more stage-based way, so instead of looking at overall leads to overall conversions to overall sales, start looking at WHERE people are converting in your funnel. A business intelligence (BI) dashboard is helpful in this process. If you don't currently have one, check out Grow or Databox. Both of these dashboards allow you to measure KPIs in real-time and navigate really easily through data, so you can find exactly what you're looking for (such as how many people converted from your webinar, ebook, video content, etc.).
Finally, we'll draw our attention to the beginning of the buyer's journey. The main focus here to grab the prospect's attention. On your top of the funnel marketing channels, how much does the content you're posting or sharing grab your audience's attention? Is it engaging? Are their clear calls to action to move the further down the funnel?
Alright, there you have it, folks. A lot of great insights on improving our marketing funnels. I really loved this session, because it doesn't aim to solve just one problem, or assume that there is one main problem with your marketing. It's using a very smart (bottom up) and data-driven approach to determine where there are areas of opportunity to improve your marketing and sales, and focusing your attention on the areas that are going to make the biggest difference first.